Buy Android App Installs
Maximize Your Visibility with Our Cutting-Edge Android App Installs and Elevate Your Smartphone Experience.
MegaPacks For Android App Installs
1000 Android App Installs
5000 Android App Installs
10000 Android App Installs
Related Services
Get Android App Installs and Enter the World of Adventure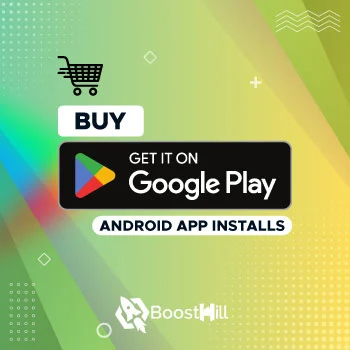 Mobile apps have become an essential part of our everyday life. There is an app for everything, from entertainment to productivity, exercise to finance. With millions of apps currently accessible on the Google Play Store, app developers may find it difficult to get their app recognised and downloaded. This is where purchasing Android app installations can help.
You've probably heard of "App Store Optimization" (ASO), which refers to the process of improving your app's exposure and rating on the app store. The number of installs is one of the most important criteria influencing app rankings. By purchasing app installs, you can give your App an instant boost in terms of its popularity. This can help it rank higher on Google Play Store, making it more visible to potential people looking for apps in your category.
The Google Play Store has millions of apps, so competition can be strong. Using BoostHill to buy android app installs is a smart strategy to keep ahead of your competitors. When you have a strong user base, it creates a sense of credibility and trust that can give your App an edge over others in your category.
Furthermore, many apps make money through in-app purchases, adverts, or premium versions. With more installs, the potential for generating revenue increases as there are more users engaging with the App.
Obtain more App installs from real Android Devices that are non-drop and active through our services!
What is meant by Android App Installs?
"Android App Installs" refers to the process of downloading and installing applications (apps) specifically designed to run on the Android operating system. Google's Android is a popular mobile operating system that drives a variety of devices such as smartphones, tablets, smart TVs, and more. Android apps are created using the Java programming language, as well as, more recently, the Kotlin programming language.
Mobile applications have become a key component of our daily lives, and there are 2.1 million apps available on the Google Play Store alone. With such intense competition, it can be difficult to make your App stand out and attract users. That's where purchasing Android app installs comes in. By boosting the number of installs, you increase the visibility and credibility of your App, making it more attractive to potential users.
Android app installs play a pivotal role in expanding your App's user base and reaching a wider audience. Each install represents a potential user who has expressed interest in your App's functionality. As the number of installs grows, so does your App's visibility among potential users, which can ultimately lead to a larger, more engaged community. So, it means the number of installs directly reflects the size of your App's user base. A higher number of installs means your App is reaching a larger audience, increasing its potential for success.
Digital people prefer to choose the strategy of obtaining more App Installs with the help of online Service providers like us to uplift the number of App Installs for Android Phones.
Why do individuals purchase additional Android app installations?
As mentioned earlier, in the Google Play Store or any other app store, thousands of applications are available to users. It can be tough for new apps to gain visibility. While purchasing real Android app installs, you stand a chance of being noticed by people and gaining more visibility. This method can help expose your App to a much larger audience and increase your visibility in the Google Play Store.
An app with thousands or millions of installs is considered a trusted and reputable app. Users tend to trust apps that have many downloads. The more installed an app has, the higher its chances of being trusted and positively rated. With high ratings and positive reviews, it is easy for an app to establish a formidable reputation, which can lead to more installs.
It is essential to view your App as a business. As a business, your goal is to rank higher than your competition. Buying 100% Legit Android app installs can give you an edge over your competitors. Having more installs can help you rank higher and stand out from others. More installs lead to more visibility, which leads to more downloads and ultimately enhanced revenue.
A significant user base can attract the attention of potential partners, brands, or companies seeking collaborations. Partnerships can range from cross-promotions to sponsorships and joint ventures. Your App's reach and popularity become appealing factors for potential partners, potentially opening doors to mutually beneficial opportunities when it will have thousands of Installs.
So, more Android app installs signify a combination of popularity, revenue potential, market share, and the ability to impact a wider audience. However, it's important for developers to focus on creating a valuable, user-friendly app that genuinely addresses user needs in order to sustain these benefits over time.
Security against Competitors
Purchasing Android app installations allows you to stand out in a crowded market. As the number of app downloads increases, your App moves up the Google Play Store rankings, giving it a higher chance of being discovered by potential users. The more downloads your Application receives, the more difficult it is for competitors to overtake you in the rankings.
Advantages for buying android App Installs
---
Following are a few more benefits mentioned for getting App installs online:
Increase Visibility and Improve Rankings
Purchasing app installs boost the exposure of your App in the Google Play Store. When viewers search for apps in your niche, it is more likely to show near the top of the search results. This improved visibility might result in more visitors to your app and more downloads. Furthermore, more app installs boost your app's rating in the Google Play Store, making it more discoverable to potential customers.
Save Time and Efforts
Building an organic user base is a time-consuming process that requires a lot of effort and resources. Acquiring app installs from us can save you time and effort by providing you with an initial user base and a better shot at gaining organic users. The initial boost in app installs creates a snowball effect, leading to more visibility and increasing downloads over time. This can help you acquire new users faster and more efficiently.
Social Proof and Credibility
People are more likely to download an app with a large number of installs and high evaluations. It creates social proof and establishes credibility for your App. Obtaining app installs can give your App the initial boost it needs to stand out from the competition and attract organic downloads. It can also increase your App's reviews and ratings, enabling you to further improve your App's reputation.
How to Buy Android App Installs from BoostHill?
You can easily get more App Installs from us at affordable prices by following these steps:
Step 1: To get the App installed, you have to select a package available on our website that fits your budget and requirements. Choose the package with the quantity of Installs you wish to buy.
Step 2: Provide us the URL of your App for which you want to obtain Installs. Please provide us with the correct URL.
Step 3: Choose the most convenient payment method for you from our list of options. We ensure to provide our customers with safe payment gateways.
Better App Monetization Opportunities
For developers looking to monetize their apps, buying Android app installs can increase revenue opportunities. App monetization models like in-app purchases, banner ads, and interstitial ads require a large number of installs. App monetization can be challenging without high download numbers, and this is where paid installs can come in handy.
Categories that need to show maximum App Installs of Android
Purchasing Android app installs also invites organic downloads. As your app gains visibility, more users will discover your App through recommendations and organic searches. The more downloads an app has, the more trustworthy it appears, and more users will want to check it out.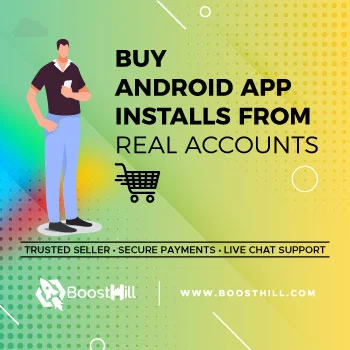 The following list of people need to have more Android App Installs:
Tech and Software Companies
E-Commerce Platforms
Start-Ups and Entrepreneurs
Small and Upcoming Software Houses
App Developers and Publishers
Marketing Managers
Gaming Companies
Content Creators
Education and Learning Platforms
Health and Wellness Providers
NGOs promoting Software Engineers
Increase Your Revenue with More Android App Installs
Buying Android app installations can result in greater revenue. The logic is easy to understand: increased visibility leads to increased downloads, and increased downloads lead to increased in-app purchases. An app has a better chance of ranking high in the app store if it buys app installs. This leads to more visibility and more downloads, which translates into more revenue.
Why should I increase the number of Android app installs?
The number of app downloads is directly proportional to the number of app installs. When users search for apps on the Google Play Store, they are more likely to choose the apps that have more installs and positive reviews. So, when your App appears higher in the search results with a high number of installs, it increases the chances of users downloading your App.
Acquiring more Android app installs is essential for app developers to drive revenue, increase visibility, establish social proof, improve app store rankings, attract investment and partnerships, gather valuable user data, and ensure long-term success in a competitive market.
Getting Android app installs can make a significant difference in the success of your App. It's a cost-effective way to promote your App, increase its visibility and rankings, and attract more downloads and engagement. While it's important to focus on creating a high-quality app, it's equally important to consider how you can increase your App's visibility and user base. By incorporating app installs into your overall marketing strategy, you can give your App a fighting chance in the competitive world of mobile apps.
How to Manually Increase App Visibility?
Improve Your App Store Listing:
Use a compelling app name and an informative, keyword-rich title.
Create an App description that is clear and compelling, emphasising essential features and benefits.
Attach exceptional quality screenshots and videos demonstrating the UI and functioning of your App.
Choose relevant and effective keywords to improve search ability.
Utilize App Store Optimization (ASO):
Perform extensive keyword research to uncover popular and relevant keywords.
Put keywords in the app title, description, and keyword boxes strategically.
Using ASO tools, track the success of your app and tweak keywords as appropriate.
Different variations of your App's symbol and screenshots should be tested to see which ones get the most attention.
Encourage Positive Feedback and Ratings:
To organically encourage favorable evaluations, provide an amazing customer experience.
Prompt users to leave reviews and ratings but do so at appropriate times to avoid annoyance.
Respond to unfavorable reviews with urgency and competence to demonstrate your dedication to user pleasure.
Make most of the Social Media and Your Online Presence:
Build social media profiles for your app in order to interact with your target audience.
Post regular updates, recommendations, and content pertinent to the specialty of your app.
Use customized ads on networks like Facebook, Instagram, and Twitter to reach your target demographic.
Content Promotion:
Start a blog or publish informative articles on the niche of your app.
Share useful information that showcases your knowledge and solves consumer problems.
To broaden your exposure, write guest posts on relevant blogs or websites.
Maximize Your Marketing with Influencers:
Collaborate with influencers in your app's niche to promote it.
Influencers can provide authentic reviews and recommendations to their followers.
App Promotion Networks:
Join app marketing networks that will assist you in cross-promoting your app with other apps.
Collaborate with other developers to share each other's user bases.
Localized Marketing:
Translate your app and marketing materials into multiple languages to reach a broader audience.
Tailor your App's features and content to cater to different regions' preferences.
Offer Limited-Time Promotions:
Create limited-time offers, discounts, or free trials to incentivize users to try your App.
Promote these deals through app store banners, social media, and email campaigns.
Regular Updates and Improvements:
Continuously update your App to add new features, fix bugs, and enhance user experience.
Regular updates show users that your App is actively maintained and improved.
But don't forget this process requires a lot of time and effort. On the other hand, if you order Android App Installs at our website, you get a boost in no time with zero effort.
Why Choose BoostHill?
---
The following reasons explain why you should get Android App Installs from us:
Easy process
We have a user-friendly platform that makes buying Android app installs a breeze. You may improve your App's installs and visibility with a few simple clicks. You do not have to worry about any complex processes or confusing obstacles. Our staff ensures that our customers have a positive experience with our platform.
Cheap Prices
We have one of the most competitive prices to buy Android app installs. We offer different packages with varying prices to cater to different budgets. The pricing is easy to understand and you can be confident that you are getting the best possible deal for your money.
Quality installs and Customer Support
We ensure that our installs are of high quality by employing real users who download and install the App. We also offer customer service if you have any problems or questions. You can reach our customer representative through email or live chat.
Positive reviews
Our past customers have left positive reviews about our social growth services. It demonstrates that we are trustworthy and can be trusted with the advertising of your app.
Frequently Asked Questions
What exactly are Android app installs?
Android app installs are the installations of an app on mobile devices. When a user downloads an app from Google Play or any other app store, they automatically install it on their device.
Is buying app installs legal?
Yes, it is legal to buy app installs from us. Our experts work according to the app stores' policies and guidelines regarding app promotion and advertisement strategies.
Does purchasing app installs affect my app ranking?
Yes, it can help improve your App's ranking, but it is not the only factor that affects the App's ranking. It is essential to remember that user engagement, retention, and positive reviews also play a vital role in your App's popularity and ranking.
When I buy app installs, will it increase my App's visibility?
Yes, since more installations of your App can lead to more users seeing your App in search results, it can increase your App's visibility and exposure. Moreover, with more users seeing your App, it could lead to more potential installations.
How can I select a reliable provider for buying app installs?
Ensure that the provider or supplier complies with the app stores' policies and guidelines. Verify their reviews and ratings, check the user retention rate, and see the provider's history and performance records.
When can I expect to see results after the purchase of app installs?
After purchasing app installations, it may take several days to a few weeks to see results. However, it ultimately depends on several factors, including app category, target audience, and the number of installs purchased.
Is getting app installs from us worth the investment?
Yes, it can be worth the investment as long as you choose a reliable provider and define your target audience correctly. It might help increase your App's visibility, boost your App's ranking, and attract more potential users, which can eventually lead to higher app revenue.
Conclusion
We suggest that you buy Android app installs as it can help app developers achieve their goals by providing initial visibility, improving rankings, saving time and effort, creating social proof and credibility, and being a cost-effective marketing strategy. However, it is essential to choose a reliable provider to ensure the highest-quality installs and avoid any fraudulent activities. Buying app installs is not a shortcut to success, but it is a smart investment that can help you jumpstart your app marketing efforts and achieve your desired results.
Also, this method is an effective way of improving app visibility, building an app's reputation, promoting quick promotion, outranking competitors, and creating more monetization opportunities.
For mobile app developers, purchasing installs is essential for a successful app launch!