Buy Instagram Reach + Impressions
Choose one of our Tailored Packages to Cast Maximum Reach and Impressions on your Instagram posts.
1000 Instagram Reach & Impressions
2500 Instagram Reach & Impressions
5000 Instagram Reach & Impressions
7500 Instagram Reach & Impressions
MegaPacks For Instagram Reach
50000 Instagram Reach & Impressions
75000 Instagram Reach & Impressions
100000 Instagram Reach & Impressions
Related Services
Buy Instagram Reach to Boost Your Content Visibility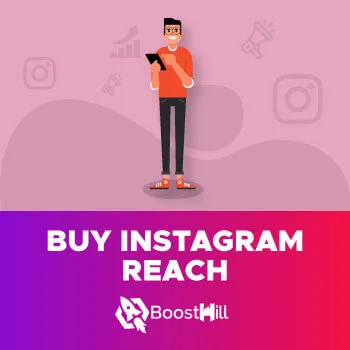 Instagram is an incredible social media platform with over three billion monthly active users. Millions of business accounts are listed on the Instagram platform, inspiring more than 35% of youth users to take an interest in their content to get maximum reach and impressions for their business listings. For newcomers who want to attract new users to their content and make it possible for them to get maximum exposure for their products or services, getting impressions and increasing the reach of their content would be a kickstart of their content visibility.
Buying Instagram reach will boost your content visibility and accessibility. With the help of increased Instagram impressions, you can get noticed by the algorithm and let you be viewed at the top relative results.
Having a versatile number of impressions and reaches on Instagram profiles is one of the biggest dreams of everyone. Whether you are running a business or providing services on the platform for something, the need to be recognized and interacted with is a surplus, and that can be attained with the help of purchasing Instagram reach.
How Instagram Reach & Impressions Are Different?
Are you one of those who get confused about Instagram impressions and Instagram reach? Well, don't get upset as they are the same things with slightly one difference. Instagram reach is the total number of unique views on your content; on the other hand, Instagram impressions are the numbers of times users saw or interacted with your posts on the platform. Both are the best tools to measure the effectiveness of your sharing content, the behavior of your followers, and whether the targeted audience likes your content.
In addition, Instagram impressions tell you conclusively how many times your posts are shown to others, despite the difference between clicked and not clicked. Comparatively, Instagram's reach is the number of unique users seeing your posts on the platform. Suppose you uploaded a post on the Instagram platform and had 3000 impressions. Of this number, half are the reaches that tell you many unique users view your post on Instagram.
How to Buy Instagram Reach? [Video Guide]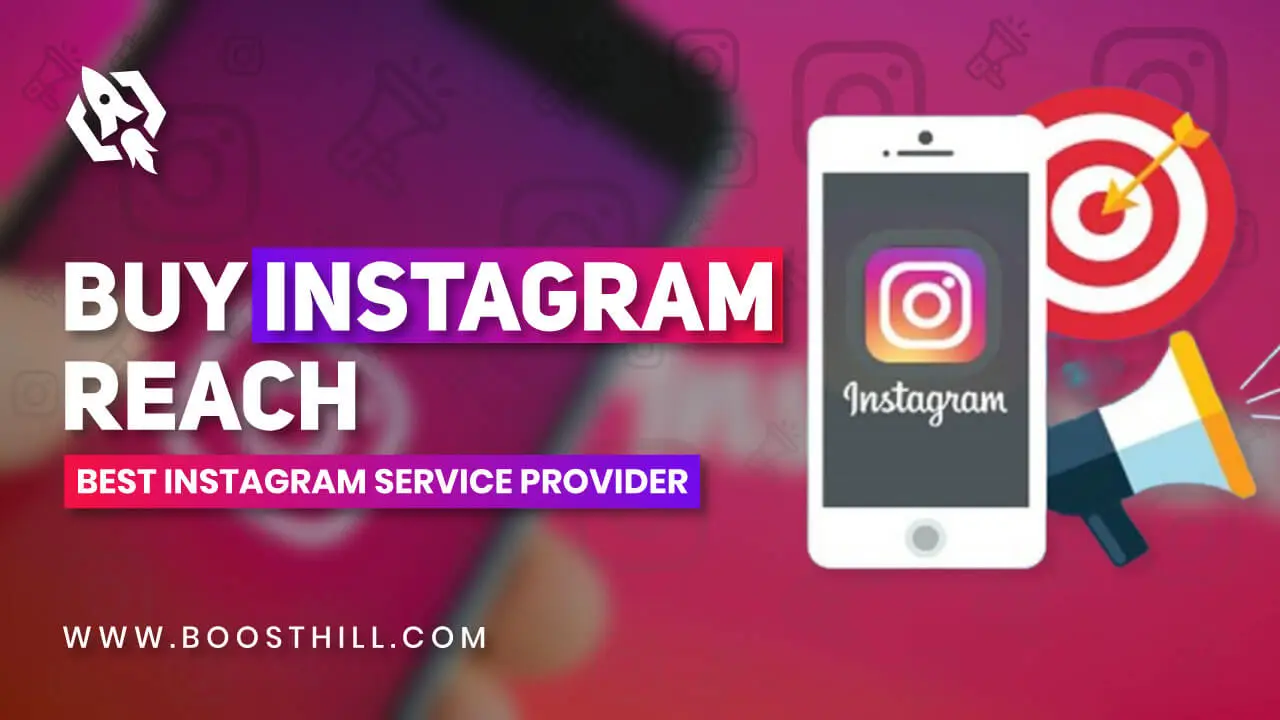 What Will Happen After Getting High Reach on Instagram?
Instagram is a versatile social media platform that gives new horizons to success and makes it easy for you to access others. Accountable numbers of benefits come to the plate when you purchase Instagram reach from 100% real accounts.
Get Promoted on Instagram's Explore Page
Like any other social media platform, Instagram also works on users' preferences and recommends content according to their interests. In addition, another factor that lets others see recommended content is its reach ratio. Buy Instagram reach to increase the chances of being recommended by the algorithm. The more people interact with a post, and as often, the more the chances to get recommended that content to others. Many advantages come with the help of increased numbers of Instagram profile visits.
With the help of boosted numbers, the Instagram algorithm thinks that people interact with your content repeatedly, so it starts promoting your posts on Instagram's Explore page. By then, you start to get noticed by other potential users, and hence, the visibility is boosted.
Gives You Insight Into Real Data
The Instagram platform allows its users to use many versatile features and tools to regulate the performance of the content across the platform. With the help of Instagram's reach service, you can get an insight into your content performance and also can detect the behavior of users with your posts. Whether your content is appreciated or liked by the users, the reach ratio tells you such stats and lets you transform your strategies to increase the reach ratio across the platform.
Helps Others To Remember You
Increased impressions help the platform's algorithm understand that your content is engaging, which is why people see your posts. With the help of this understanding, the platform starts to promote your posts. This scenario enlarges your engagement circle and helps others to remember you easily. The more you have a reach ratio on your posts, the more the chances of being noticed on the platform. And that is how purchasing Instagram reach or impressions will increase the chances of being more visible across the platform.
Get More Followers, Likes, and Views With It
With the help of increased Instagram post impressions, your content starts to get maximum interaction from other potential users. As we spoke, the algorithm starts to promote your posts to Instagram's Explore page. From there, you can get the maximum reach of potential followers, viewers, and likers interacting with your content. Eventually, all these scenarios will boost your Instagram profile's credibility, visibility, and engagement rate and give you a handy approach to increasing followers, boosting the likes, and gathering more views for your reels and stories.
How To Grow Instagram Reach & Impressions Organically?
---
Adding to buying Instagram reach and profile impressions, other strategies are also handy to boost it organically. Although it is a time-taking process, it yields significantly in increasing engagement and boosting the accessibility of content.
Create High-Quality Content with Consistency
Despite the difference in what type of content you are posting on the Instagram platform, the quality of that content is the prior thing that matters a lot. That is why make sure to post with high-quality content to get the most interactions and boost the reach of your Instagram posts.
Use as Many Relevant Hashtags As you Can
One of the most effective ways to increase your Instagram post reach is to add as many relevant tags in its description as you can so that the goal of getting targeted audience interaction can be achieved. With the help of this move, you can attract more viewers and followers to your profile and make it more credible.
Don't Let Your Audience Be Bored
One of the key features that can boost your visibility on the Instagram platform is to keep your audience engaged with you and never let them bored. Creating good content daily or weekly will keep them engaged with your profile and help you diversify the reach of your content and increase the impression rate. Try to post entertaining content, so your audience can enjoy it, or do humor posts so people can relate to it. Eventually, you can achieve the goal of increasing Instagram reach and reels impressions.
Use Insight Tools of Instagram
Instagram insights is a great way to know your audience's interest. With the help of this spying feature of the platform, you can get authentic data, making it easy to understand how people engage with your content. It allows you to create your content, creating strategies according to your audience preferences to get maximum reach and impressions.
Optimize Your Profile
Profile optimization effectively increases the possibility of your profile reach and impressions. Make sure to use the right keywords in your bio, and ensure that your profile's bio, pictures, and content align with each other to create an impact.
Why Do People Intend to Buy Instagram Impressions?
Instagram is a platform for every kind of person which is why the platform's community consists of more than three billion people around the globe. The platform has a strong algorithm that decides what to show others to interact with based on the quality and interest of a user. To get noticed by the Instagram algorithm is everyone's wish, and there are several ways to do so. A massive amount of followership triggers your appearance on the platform, but it is a time-taking process. Here buying Instagram impressions comes in handy. It allows you to increase the possibility of getting new organic interactions and also allows you to get more followers and viewers to your account on the Instagram platform, increasing the chances of being noticed by the algorithm and getting promoted across the platform.
Why is it necessary to Buy Instagram Post Impressions?
Whether you are a business owner who wants to increase sales or an artist who wants to maximize the community circle to share new things, despite the difference of who you are, if you are eager to diversify your identity on Instagram, impressions matter significantly.
With the help of Instagram post impressions, you can attract more users to your business profile and make maximum profit. In addition, as an artist, you can also get more followers and enlarge your community with whom you can share your thoughts, photographs, or music.
How This Service Will Help Your Business?
When you purchase Instagram, reach, or impressions for your business profile, many benefits come along. Whether we talk about user engagement, content visibility, or the authenticity of your business profile content, everything needs reach so that you can easily get the most out of the interactions for your business profile.
By using our Instagram impressions service, you can enlarge your brand awareness and attract more customers to your business. It will boost your overall sales and let you create a credible business model with lots of followers on your profile. For those struggling to create a credible brand image, buying reach or impressions for their Instagram business profiles will be a great way to make a start for their career.
Why Should You Buy Instagram Reach + Impressions From BoostHill?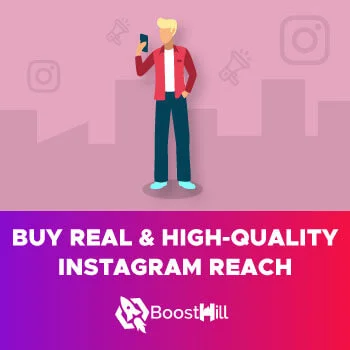 Being a leading Instagram growth service provider, BoostHill believes in delivering quality services that will boost your profile multiple times and help you create a credible image for your brand or profile on Instagram. Whether you want to generate higher sales or get more interactions for your artistic Instagram profile, the need for impressions and reach must be fulfilled. Buy Instagram Impressions & reach cheap prices and kickstart your successful journey on the world's largest social media platform.
100% Real Instagram Reach
The Instagram reach and impression you will order from our website will be 100% real, and they have real profiles backed on Instagram, which will make everything organic. They will not drop overnight and will be added to your reach number count to boost your account's visibility on Instagram.
Reliable and Instant Delivery
At BoostHill, you will get instant order processing with gradual delivery to make things suspicious-free and enjoy increased impressions along with Instagram reach.
Secured Payment Gateway
Our website is SSL-certified, which means you and your information are encrypted and safe. No one can harm your privacy as we sensitively handle our customer's personal information and transaction details for their safety and privacy concerns.
High-Quality Profile Visits
The quality of Instagram's reach or real impressions is premium, and they are backed by authentic profiles that will increase your content visibility and boost its popularity across the platform by interacting with new users.
24/7 Customer Support
Customer satisfaction is our top priority, so we deal with them and their problems beyond their expectations. Our 24/7 technical support team is always available to clarify any concern and is happy to resolve your complaints quickly.
Process of Buying Instagram Reach & Impressions
---
The buying process is quite simple and hectic-free. You just need to follow three simple steps to get your order, and after that, sit back and relax while watching your progress on the Instagram platform.
Select Desired Package
Firstly, you must decide which package you want to buy that will fulfill your needs. A versatile range of affordable packages is available. Select one that suits your needs and desires. We also entertain with order customization so that you can get whatever you want and we can meet your requirements.
Provide Essential Details
Although we don't need your Instagram profile password, you need to provide other information, such as your profile or story or reel link, to get targeted service of reach and impressions.
Make Payment
The last step is to clear the dues of your ordered Instagram reach and impressions package. Once you clear your dues, we will immediately process your order and gradually deliver it to your targeted place.
Frequently Asked Questions
Is It Safe To Buy Instagram Reach + Impressions?
Yes, it is 100% safe to buy Instagram's reach and impressions from a trusted and secured website. As our site is 100% secured under the SSL certificate, all communications will be encrypted, and neither your competitors nor subscribers nor the Instagram platform will detect your marketing efforts.
How Long Will It Take To Get My Order?
Reach and impressions on reels or IG stories will be delivered gradually to make everything looks natural so that nothing can harm your profile's credibility.
Will Reach and Impressions Drop Over Time?
No, they will not drop over time as they are backed by 100% real profiles that will engage with your content and help you make it more accessible to others.
How to Boost Instagram Reach and Impressions?
Create high-quality content on a daily basis, make engaging content, optimize your Instagram profile, collaborate with other content creators, and create entertaining content that keeps your audience engaged.
Can I Get Banned For Buying IG Reach?
Buying reach or impressions from a non-trusted website could harm the credibility of your account, which is why you need to buy Instagram growth services from the best and most protected site.
How Many Reach Do I Need to Get Viral?
There is no specific number or amount of reach you need to get viral on Instagram, but at least you must have five million views on your Instagram content.
Conclusion
Whether you want to make your content viral or get more leads for your business profile then buying Instagram reach is the best solution for you. Having a high number of reach and impressions on your Instagram makes things more manageable. It allows the algorithm to detect your content and promote it to new users, which increases your content visibility and chances to attract more followers and viewers to your profile, reels, and stories.