Buy Vimeo Followers
Jumpstart Your Social Media Presence With our Vimeo Followers Service.
500 Vimeo Followers
Channel & User Followers
1500 Vimeo Followers
Channel & User Followers
5000 Vimeo Followers
Channel & User Followers
10000 Vimeo Followers
Channel & User Followers
MegaPacks For Vimeo Followers
20000 Vimeo Followers
Channel & User Followers
50000 Vimeo Followers
Channel & User Followers
100000 Vimeo Followers
Channel & User Followers
Related Services
Buy Vimeo Followers To Expand Your Social Visibility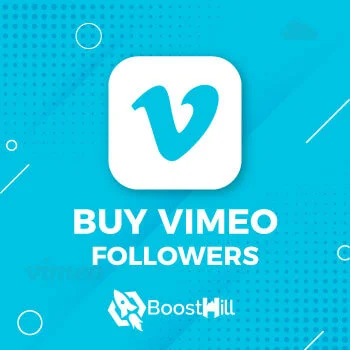 In the fast-paced world of social media, every user on that platform wants to multiply their audience so they can build a solid social presence. Establishing a large social community, getting massive engagements, and attracting more users to interact with your content are the utmost goals of every person nowadays. Like any other social media platform, Vimeo has millions of users who create content, watch their favorite videos, and engage with others in comment sections. This platform has a huge potential for every kind of content creator and business owner eager to get most of the audience to widen their business reach.
Getting success on the Vimeo platform also depends on the same social signals as other social media networks. Plenty of likes, comments, shares, and followers are the metrics to measure the credibility of any content creator or business on the Vimeo platform. Buy Vimeo followers to enlarge your social proof, reach your content, and boost your visibility with our exclusive Vimeo service.
Why Vimeo Followers Are Important?
Followers are crucial for any content creator or business owner on the Vimeo platform as they play an important role in increasing the visibility of your content or business, allowing you to expand the reach of your social media presence. With a substantial follower base, your uploaded videos are more likely to receive immediate attention through notifications, likes, and shares, leading to higher engagement and potential for viral spread. Moreover, a larger follower count can boost your credibility and attract new audiences, as users often perceive higher follower numbers as a sign of quality content. Engaging with your followers and building a loyal community also creates long-term relationships, which can result in sustained support, feedback, and organic promotion for your video content.
How Do Vimeo Followers Work?
On Vimeo, followers are essential for content creators to connect with their audience. People who follow your Vimeo channel receive regular updates when you upload new content. This creates direct and instant communication between you and your followers. As you post new videos, your followers receive notifications on the Vimeo website or app, encouraging them to engage with your content through likes, comments, and shares. For content creators, having a solid follower base is crucial for building a loyal audience and increasing the visibility of their videos. By consistently producing compelling and valuable content, you can attract more followers over time and create a thriving community of engaged viewers on Vimeo.
Why Do People Buy Followers On Vimeo?
Establishing an attractive social media image, attracting more audience on your channel to increase engagement, and boosting the credibility of your content are the concerns of every user on the Vimeo platform. Getting generic interaction is not easy for people new to the Vimeo platform or business owners eager to unleash their products or services to a broader audience. But when you purchase Vimeo followers, things get speedy and more effective as it increases your content's engagement and boosts your presence on the Vimeo social media platform.
Why Should You Buy Vimeo Followers?
In the vigorous and competitive landscape of video content creation, Vimeo stands out as a platform that caters to professionals and artists seeking to showcase their creative works. Whether you are a skilled video editor, a cinema expert, or an individual passionate about producing high-quality videos, Vimeo offers an ideal environment to share your creative endeavors and engage with like-minded individuals. However, gaining attention and recognition in such a crowded space can be challenging. This is where the option to buy Vimeo followers comes into play. By purchasing followers on Vimeo, you can kickstart a growth trajectory for your channel. In today's digital age, the number of followers often serves as a metric of credibility and influence.
Benefits of Buying Vimeo Followers?
---
Talking about the benefits of purchasing followers for your Vimeo account, a list comes along. Whether you want to build a credibility factor for your content or enhance the viewership of your videos, getting real followers allows you to receive tons of social benefits. Following are the adorable benefits of getting immense numbers of active followers from us.
Increase your Video Views and Engagement
With a more extensive follower base, your videos can reach a broader audience, ultimately leading to increased views and higher engagement. When you have more followers, your content is exposed to more potential viewers, making you more likely to get likes, comments, and shares. Increased visibility and appeal can help your videos gain more traction, benefiting your overall content creation goals.
Grow Your Audience
Buying Vimeo followers is a great way to boost your channel and increase your audience size. With more followers, your content is more likely to be seen by new viewers who may be interested in your videos. This can lead to organic growth and attract even more followers who are genuinely interested in your content. By purchasing followers, you can jumpstart the growth of your channel and increase your visibility on Vimeo.
Boost Your Profile Growth
Having a significant number of followers is undoubtedly a great way to establish a reputable profile in your niche. It boosts your profile credibility and attracts potential followers and collaborations. The more followers you have, the more authoritative your profile becomes and the more likely you are to be recognized as a reputable content creator. This is why it is crucial to work on growing your follower base while maintaining the quality of your content.
Get Vimeo Algorithm Recommendation
In today's digital age, having a significant following can make all the difference in gaining exposure and reaching a wider audience. This is especially true for content creators on platforms such as Vimeo, where the algorithm takes note of engagement and interest levels to recommend videos to users. Building a solid following makes your content more likely to be seen and shared, leading to increased opportunities for success and growth.
Enhance your Social Proof
Having a high follower count can have a significant impact on the perceived credibility of your content. Your number of followers is often seen as a form of social proof, indicating to new visitors that your content is worth exploring and following. As a result, people are more likely to trust your channel and engage with your content if they see that you have a large following. This increased followership can help you build a solid online presence and establish yourself as an authority in your field.
How To Increase Vimeo Followers Organically?
Growing the number of followers on the Vimeo platform takes so many tactics that lean towards higher rates of followership. Here are some magnificent attributes that can lead you straight to achieve your higher followership goals.
Ask Your Viewers to Follow
Encourage viewers to follow your channel at the end of each video, prompting them to stay updated with your content and engage more actively.
Do Own a Channel Tagline
Craft a compelling and concise tagline for your channel that reflects its theme or niche, making it easier for potential followers to understand your content.
Upload Targeted Content
Focus on creating content that resonates with your target audience's interests and needs, attracting more genuinely interested followers in your videos.
Create Searchable Titles
Optimize your video titles with relevant keywords to improve search engine visibility, enabling potential followers to find your content more easily.
Use Attractive Thumbnails
Design eye-catching thumbnails that entice viewers to click and watch your videos, increasing the likelihood of attracting new followers.
Post Videos Regularly
Maintain a consistent uploading schedule to keep your audience engaged and anticipate new content, fostering loyalty and encouraging more followers.
Use Strong CTAs
Incorporate compelling Call-to-Action (CTA) messages in your videos, urging viewers to follow your channel for more valuable content.
Engage with Your Audience in Comments
Respond to comments and interact with your viewers, building a sense of community and encouraging them to become loyal followers.
Use Other Social Media Platforms
Promote your Vimeo channel on other social media platforms to reach a broader audience and attract potential followers from different networks.
How Buying Vimeo Followers Help You To Earn Money?
Buying Vimeo followers can positively impact your ability to earn money through the platform. With an increased follower count, your channel gains credibility and visibility, making it more attractive to potential advertisers and sponsors. On the Vimeo platform, brands seek content creators with higher followership so they can collaborate with them. When you buy Vimeo followers, the chances of getting these collaboration opportunities increase, and you can make money with this approach.
In addition, having a large community or audience that watches your Vimeo videos allows you to start monetizing your channel. You can charge an audience for exclusive content on your channel and can make handsome money. Moreover, as your follower base expands, you can explore affiliate marketing, promoting products or services through affiliate links for commission earnings.
What To Know Before Buying Vimeo Followers?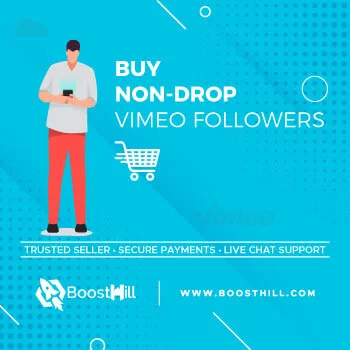 In the saturated social media platform, so many false service providers offer promotional services. Be aware of such companies as they provide fake or computer-generated followers that can harm the credibility of your account. In addition, with fake followers, you can drop the numbers of your existing followers as they impact negatively. Here are some attributes that you should seek before choosing a Vimeo follower service provider:
The service provider should offer real and active followers for your Vimeo account.
Their website should be secure and SSL encrypted for a safe browsing experience.
The service should be affordable and reliable so you can easily embrace it.
They should not ask for your personal information, such as your Vimeo account password.
The delivery of real and active followers should be fast and gradual for a natural perception.
The service provider should offer multiple payment options for a better buying experience.
Who Can Purchase This Service?
The diversity of users on the Vimeo social media platform is huge, which needs to be covered with expertise. We have established a reliable source of getting more and more engagements in the form of followers on the Vimeo platform at affordable prices for everyone. Here is a list of users who can easily buy Vimeo followers with our exclusively cheap packages and begin their journey towards higher ranks of engagements.
Content creators
Business owners
Influencers
Marketers
Streamers
And all those individuals who want to get immense interactions across the Vimeo platform.
Why Choose Us?
---
We at BoostHill confirm that your experience buying Vimeo followers is outstanding. We have covered all your needs to become famous on the platform with affordable packages and multiple payment options. With the help of our SSL-protected website, you will get an amazing experience of purchasing Vimeo followers. Here are the additional attributes that make us the best site to get followers for your Vimeo account.
A Versatile Range of Packages
Whether you are a newcomer or an influence, the need to get followers is the same as it allows you to establish a credible social media presence across the Vimeo platform. That is why, to cover the multiple needs, we have various affordable packages for you that will not be heavier on your pockets and will serve you economically.
No Requests for Password
We understand the matter of customer privacy, so it is our policy not to ask for any kind of personal information. This attribute of our service makes it more valuable to buy Vimeo followers for your account.
Gradual Delivery Approach
To make everything natural and progressive, we have tailored the way of delivering followers to your account so that they can take you to the higher ranks on the platform. With our gradual delivery and fast order processing, you will get your desired results naturally.
Provides Real & Active Followers
The followers we provide are not only real but also backed by real profiles on the Vimeo platform, making them an effective attribute for your social media presence to be more attractive and engaging. With higher numbers of followers, your chances of being more visible on the platform are high.
Secured Website
We provide a secure and protected social media service website that allows you to make your purchase conveniently. You don't need to worry about your data, as our site has SSL encryption that protects your data.
A Money-Back Guarantee
If we cannot set your requirements or anything like that happens, we will give your money back. You can also request a refill via our chat option available on our website. Our representatives will assist you within a short time. So, you do not need to get confused while purchasing followers from us, as we have your back firmly.
Purchasing Process
We have an exclusively short process of purchasing Vimeo real followers so that our customers can instantly get what they need. With our tailored-made and affordable packages, you can kickstart your social media presence and make it more attractive. Here are three easy steps you need to follow to begin your success.
Choose Package
Select your desired package from our website that suits your requirements and fulfills your need to be more popular on the platform.
Enter Details
You need to provide the URL of your Vimeo account so that we can add organic followers to it. We do not require your Vimeo account password as it is against our terms of service.
Clear Your Dues
At last, you must clear the dues of purchased followers. We have multiple payment options, whether prefer to pay with your mastercard, Bitcoin, Debit card, or credit card. We have covered all modes of payment.
Frequently Asked Questions
Can I Get Real Vimeo Followers?
Yes, you can get real and active Vimeo followers from us at affordable rates that will boost your credibility exceptionally.
Will I Get Banned From Purchasing Vimeo Followers?
You will not get banned for purchasing Vimeo followers as they are real and will deliver to your account gradually for more effective results.
How Long Does It Take to Deliver My Package?
As soon as we receive your payment, we will immediately start processing your purchased package and deliver it with a drip-drop speed to make everything look natural.
Will Buying Followers Have Any Negative Effect on My Account?
Nothing will happen like that, but it will make your account more attractive, hierarchical progression, and uplift the engagements on your Vimeo content.
What Options Do You Offer To Pay My Package?
Bitcoin, Master card, Debit Card, or Credit card are the modes that are available for you to make your payments conveniently.
How Many Followers Should I Buy For My Vimeo Account?
There is no such thing that specifically mentions the exact number of followers you should have. It utterly depends on how many you want.
Will Purchased Vimeo Followers Drop Over Time?
Our reliable service confirms that purchased followers will not get wiped out overnight. The followers you will purchase will remain on your account as long you have a Vimeo account.
Conclusion
Vimeo is one of the most popular social media video content-sharing platforms, with millions of users using it regularly. On such a platform where immense users are available to engage with your content, getting more followers becomes more important than anything else. Buy Vimeo followers to expand your social network, increase your content visibility, and boost your chances of getting more organic followers. We have established a secure and affordable system that allows you to skyrocket your chances of being viral on the Vimeo platform. Our exclusively cheap packages enable you to start your journey and reduce the hectic efforts to be popular on that platform. Contact us now for any of your concerns or doubts. Our support team is available 24/7 to assist you in any matter happily.