Buy Ok.ru Shares
Share your posts on Ok.ru and be the source of inspiration for thousands of people.
MegaPacks For Ok.ru Shares
Related Services
Obtain Maximum Post Shares and Multiply the Impact of your Posts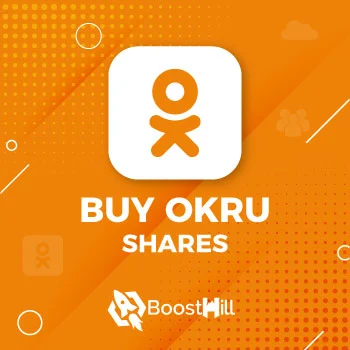 Ok.ru is a popular Russian social media platform that has over 70 million monthly active users. It's an ideal platform for companies that want to get out to new customers, raise brand awareness, and expand their reach. However, just adding content to this platform and hoping it reaches the masses isn't effective. If you want to improve the reach of your Ok.ru posts, you should buy post shares.
Gain Ok.ru Shares so that the content you create reaches a far larger audience than it would otherwise. It draws people's attention who are interested in your brand or sector. This could result in new followers, clients, and lucrative business opportunities. Purchasing post shares on Ok.ru can also aid in the development of your brand as an industry leader. When people see your postings shared by industry experts, they are more likely to regard you as a reliable source of information.
Ok.ru uses an exclusive algorithm to determine how many people see your work. This algorithm takes into account the number of likes, comments, and shares your work has earned. The more interactions your post gets, the more likely it is to be seen by people who are not following you. When you buy Ok.ru Shares from BoostHill, you increase the number of interactions your post gets from real and active people, increasing its reach and visibility.
This is a wise and smart strategy to become famous because when a post that gains significant shares has the potential to go viral, meaning it spreads rapidly across the platform and even beyond. Viral content can garner massive attention, significantly increasing your visibility and reach.
Order more Ok.ru Shares now to become prominent on the digital platform!
What are post shares on Ok.ru?
Post shares are when people share your posts on their social media platforms like Ok.ru, Facebook, Instagram, etc. These shares are one of the most effective ways to spread your posts to new audiences. If you buy legit and active post shares on Ok.ru, you are purchasing shares from accounts with many followers with active profiles. This means that a much wider audience will see your content than it would have been if it was only posted on your account.
In the digital realm, shares effectively function as a type of word-of-mouth marketing. When someone shares your content, they are endorsing it to their connections, which adds an element of trust and credibility. People are more likely to interact with products that have been recommended by someone they know and trust.
Why should people purchase Ok.ru Post Shares?
As the globe gets more digitally connected, social media platforms such as Ok.ru have become an indispensable part of our daily lives. Whether you are a blogger, influencer, or business owner, Ok.ru post shares play a vital role in getting your content seen by a larger audience. However, without the appropriate plan, achieving popularity on Ok.ru can be an extremely difficult task. One way to increase your Ok.ru post shares is to buy them.
The primary objective behind getting Ok.ru post shares is to increase its social media presence. The more likes and shares a content receives, the more it enhances the reach and following of those profiles. With a high number of shares of content, people can establish your brand as more influential and trustworthy. Purchasing Ok.ru post shares is an excellent way to boost the popularity of their business on social media, which helps in generating leads and sales rapidly.
Benefits of buying Ok.ru Shares
---
The advantages of getting more Shares on Ok.ru posts are mentioned below:
Increase Social Proof
When you buy real Ok.ru post share, you increase your social proof. People are more likely to engage with content that has already received a lot of attention, according to the concept of social proof. People are more likely to share, like, or comment on a piece that has received more shares. A post with a lot of shares is seen as popular, and users are more likely to engage with popular content.
Boost Organic Reach
When a post has a lot of shares, it also has a higher chance of appearing on other users' feeds. Ok.ru's algorithm favors popular posts and promotes them to a wider audience. As an outcome, your post is more likely to be viewed by those who aren't following you. This aids in the increase of your organic reach on this social platform.
Improves Engagement and Interactions
When your posts have a lot of shares, it's likely to increase engagement and interactions. Social media platforms put a lot of emphasis on engagement, such as likes, comments, and shares, and prioritize popular posts. When your post has a high number of shares, it's more likely that other users will see it, engage with it, and increase the number of likes, comments, and shares.
Save Time and Effort
Purchasing Ok.ru post shares can save you time and effort instead of trying to promote your content through other means. High-quality content takes time and work to generate, and it can be challenging to distribute to the right audience. By buying Ok.ru post shares, you can increase your reach and engagement without having to put in the extra time and effort required for self-promotion.
Our Buying Process
By following these mentioned steps, you can purchase active and real post shares on Ok.ru from us:
Step 1: Pick a package from our site which catches your attention. Always choose a bundle that meets your needs and fits your budget.
Step 2: Provide us the URL of the post for which you need to get more Shares.
Step 3: Confirm your order after finalizing the payment method with us. You can pay us through our safe channels of payment.
Which category of people needs to get more Ok.ru Shares?
Travel Enthusiasts
Motivational Speakers
News Outlets
People who make Educational Tutorials
Fundraisers
Bloggers
Event Managers
Digital Content Creators
Upcoming Business Owners
People who run Political Campaigns
Videographers
Choreographers
Things to Keep in Mind When Buying Ok.ru Post Shares
When you plan to purchase Ok.ru shares, there are some things you should keep in mind to ensure that you get the best results. Here are some suggestions:
To ensure the high quality of the shares, always purchase them from a reputable service provider.
Do not buy too many shares at once; instead, spread them out over time.
Ensure that the shares are real and from active accounts.
After purchasing the shares, wait for some time to see the impact on your content's reach and engagement.
Why do I need to buy Ok.ru Shares?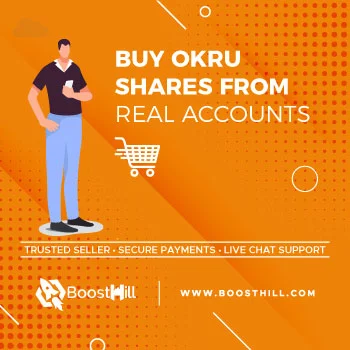 Buying Ok.ru post shares is also a cost-effective strategy. It is a less expensive option than traditional advertising tactics such as billboards, TV, or print ads. Since Ok.ru has a large user base, obtaining post shares can be a more cost-effective way to increase your reach and engagement.
Post shares on Ok.ru can help you boost your reach, engagement, and social proof. With a high number of shares, your posts can appear to a wider audience, increase the likelihood of engagement, and save you time and effort. It's a cost-effective strategy that is easy to implement, and it can help you improve your social media presence on the Ok.ru platform. If you're looking to increase your reach and boost your engagement, buying real Ok.ru shares is the way to go.
Whether your goal is to educate, entertain, inform, or promote, increased shares help you achieve these goals on a larger scale. The more people who share your work, the more impact it has on achieving your goals.
Get your Genuine Shares from us now at affordable prices!
Is it ethical to buy post shares on Ok.ru?
There is a strong debate on whether buying post-shares is ethical or not. Some people argue that it's a way to artificially inflate your social media metrics and mislead your audience. However, if you're using it to generate authentic engagement and attract a wider audience, there is nothing wrong with that. It's important to use reputable companies and make sure the post shares you are purchasing are coming from real accounts. BoostHill is one of the trustworthy and reliable service providers of Ok.ru Growth Services.
How to Get More Ok.ru Organically Grown Shares
Provide High-Quality Content to the Audience: The foundation of successful social media interaction is engaging and valuable content. Make useful, interesting, and relevant posts for your target audience. Content of high quality is more likely to be shared.
Understand Your Audience: Know your audience's preferences, interests, and behaviors. Modify your work according to their preferences and trends so that they can take interest in your content and share them on their profiles.
Make use of Catchy Visuals: Visual material performs better on social media platforms. Use high-quality images, films, and graphics to attract attention and effectively convey your message.
Construct Shareable Headlines: A compelling headline stimulates the reader's interest and motivates them to click and share. Keep your headlines brief, engaging, and content-relevant.
Posting Time is everything: When your target audience is most active, post your content at that time. This increases the likelihood that your material will be seen and spread.
Good Use of Hashtags: Use relevant hashtags to make your content more discoverable. However, avoid using too many hashtags in your posts as they may appear spam.
But all these ways are lengthy and time-consuming, which require effort. Buy Ok.ru Shares and leave the work of your visibility to our experts.
What to Look for When You're Looking for a Service Provider?
When you're buying Ok.ru post shares, it's essential to choose a reliable service provider that can deliver the results you're looking for. Here are some things to look for in a service provider:
Look for a provider that offers quality shares from authentic accounts and not fake or ghost accounts.
The service supplier should have a track record of providing results on time.
Ensure that they offer customer support in case you face any issues.
Examine the provider's prices and packages to choose one that fits your budget and needs.
BoostHill – The best place to buy Ok.ru Shares
---
High-Quality Shares from Real Profiles
One of the biggest concerns when obtaining Ok.ru post shares is the quality of the service. Many providers offer low-quality shares that are easily detected as fake and can harm your social media reputation. Unlike other providers, we offer high-quality shares that are 100% real and come from active Ok.ru users. Our team uses ethical and compliant methods to deliver Ok.ru post shares that make your content look authentic and reliable.
Packages which you can Customize accordingly
When it comes to obtaining Ok.ru Shares, we recognize that each client has specific requirements. That's why we've created customizable packages that allow you to choose the number of shares you want for your posts. Whether you want to boost a single post or an entire Ok.ru account, we've got you covered. We offer packages that cater to all budgets and social media goals. You can also mix and match different types of shares, including likes and comments, to create a comprehensive social media strategy.
Fast Delivery of Your Order
The utmost important thing is delivering your order in time when you get Shares for your Ok.ru post from us. People eagerly wait for their order, to check the results and engagement on their posts. With our immediate delivery system, you don't have to wait for weeks to start seeing an increase in your Ok.ru post shares. Our team will begin delivering your shares within 24-48 hours after receiving your order. You will see a rapid increase in Ok.ru post shares that will give your content the boost it needs.
24/7 Support of our experts
We understand that social media marketing can be overwhelming, especially for small businesses and individuals. That's why we offer 24/7 support to answer any questions or concerns you may have. Our team of experts is always ready to assist you in choosing the right package, tracking your order, or resolving any issues you may encounter. You can reach us by email, chat, or phone, and we will react as soon as possible.
100% Authentic Services
Our organization is committed to meeting and exceeding your expectations. All of our packages come with a satisfaction guarantee. If you are dissatisfied with our Ok.ru post shares for any reason, we will work with you to make it right. We pride ourselves on our exceptional customer service and providing clients with the best Ok.ru post shares on the market.
Frequently Asked Questions
Why should I consider buying Ok.ru post shares?
Purchasing Ok.ru shares can assist you in increasing the visibility and reach of your content. More shares increase your post's exposure, making it accessible to a wider audience and potentially attracting organic engagement.
Is getting Ok.ru post shares online from service providers safe?
Yes, if you choose reputable and reliable service providers, buying Ok.ru post shares can be safe. Look for established providers like us with positive reviews to ensure you're getting legitimate shares from real users.
Will purchasing post shares improve engagement on my content?
Absolutely! When your posts have more shares, they are seen by more users, leading to increased likes, comments, and interactions. This enhanced engagement can help your content gain credibility and reach a larger audience.
How quickly will I see results after my purchase of post shares?
The timeline for results can vary based on the provider and the number of shares purchased. However, you should start seeing increased visibility and engagement shortly after the shares are added to your post.
Will the shared posts look natural to other users?
We aim to make the shared posts appear as natural as possible. The shares typically come from real and active profiles, making the engagement look authentic and organic.
Can I choose how many shares to buy?
Yes, we offer different packages allowing you to choose the number of shares that align with your goals and budget. You can start with a smaller package and scale up as needed.
Is acquiring shares violate Ok.ru's terms of service?
It's essential to review Ok.ru's terms of service and community guidelines to ensure compliance. We work according to the Policies and Guidelines of Ok.ru, making your purchase safe and secure. Our professionals will not violate the terms of services of Ok.ru.
Can I combine bought shares with organic engagement strategies?
Absolutely! Combining bought shares with organic engagement strategies can yield the best results. Authentic interactions and shares from real users complement bought shares, creating a well-rounded engagement strategy.
Will the increase in shares lead to a boost in my overall online presence?
Yes, increased shares can lead to heightened online visibility. As your content gains more traction and engagement, it's more likely to appear in users' feeds, attracting more followers and expanding your online reach.
Conclusion
Acquiring post Shares on Ok.ru can help you obtain maximum post shares and multiply the impact of your posts on this social media platform. It's a great way to reach a wider audience, attract attention to your brand, and increase your visibility as a credible source of information in your industry.
However, it's crucial to remember that this shouldn't be your only strategy to increase your followers and visibility. You should also focus on creating quality content that is engaging and relevant to your audience. If you combine this with purchasing post shares, you will have a winning social media strategy that can help you achieve your business goals.
In the end,
We recommend you buy Ok.ru shares because it is an effective way to take your social media game to the next level. You can improve your online visibility and promote your business as trustworthy and popular by increasing the number of shares on your content. However, it is critical to select the correct service provider, follow some guidelines, and avoid spamming.
Now that you know the basics of buying Ok.ru post shares, go ahead and give your Ok.ru profile a boost!