Buy Likee Comments
Unleash The Potential of Your Videos With Buying Our Likee Comments Service.
10 Likee Comments
[with custom text]
50 Likee Comments
[with custom text]
250 Likee Comments
[with custom text]
750 Likee Comments
[with custom text]
MegaPacks For Likee Comments
2000 Likee Comments
[with custom text]
3000 Likee Comments
[with custom text]
5000 Likee Comments
[with custom text]
Related Services
Buy Likee Comments To Increase Credibility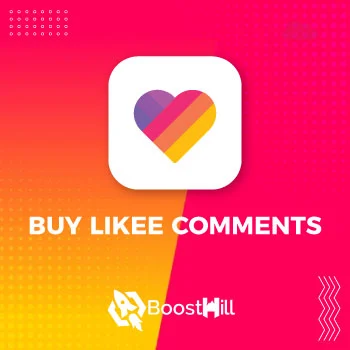 When using a successful video-sharing platform with massive active users, Likee comes to the right place. This social media platform is mainly for short-videos creation and live streaming. More than 150 million active monthly users engage on this platform with different types of content. This large number of users makes it a potential platform to share videos to get social signals on them, such as comments. On the Likee platform, the number of comments on your videos shows the audience's engagement rate and helps you improve your credibility across the platform. Buy Likee comments with custom text to boost the engagement rate of your videos and increase the accessibility and authority of your content across the platform. The increase in comments on your videos allows you to boost your visibility and attract more users to engage with your content.
Those content creators wondering why they are not getting much engagement and appreciation on the Likee platform should purchase custom comments, as this approach will help them reach their dream engagement and magnify their content reach across the platform. Comments are crucial for your social media growth and allow you to accelerate the speed of getting viral across the platform.
Why is it Important to get Comments on Likee?
Likee, a dynamic social media platform consists of creative and attractive videos that grab users' attention. Comments on your videos are crucial to becoming an influencer on the platform. The comments are the footprints of your audience that engaged with your videos. When your videos get comments, your content's value also increases. In addition, the appeal of your videos also gets accelerated, and you start to get more audience on your content. The numbers of comments also attract the attention of the Likee algorithm. With this social signal, the algorithm starts to get the signals that your videos are engaging enough that people are commenting on them. So, it starts to promote your content to others' feeds and improve your search rankings so you can be more accessible to others. This scenario boosts your authenticity and appeal and attracts more audiences to your content.
Furthermore, the comments on your Likee videos are not just the text. They are the insights of your audience, so use them to refine your content strategy. When the audience demonstrates their feelings about your content in the comments section, you can get an insight into users' behaviors with your videos. Accordingly, you can craft your videos and get more engagement. So, comments are the savior of your creative journey and enable you to achieve higher success goals across the lIkee platform.
Does Investing in Likee Comments Really Work?
Every social media platform now has an audience with the speed of a storm which increases the potential of these platforms. Likee is one of the most engaging platforms nowadays for those who want to get more engagement, popularity, and credibility. Investing in purchasing Likee comments with custom text enables you to enlarge your audience interference on your content. In a dynamic and speedy platform like Likee, getting top spots is more challenging as there is a huge number of content creators which can be difficult if you are starting. Now, investing in your social growth could be a game-changing element. With the help of this approach, you can increase the exposure of your content on the Likee platform and get more engagement across the platform.
Why Should You Buy Likee Comments?
---
For every content creator, getting more exposure and starting monetization on their content are the greeted priorities. For those struggling to achieve these goals, buying Likee comments skyrockets their growth progress and allows them to achieve their targeted goals quickly. When you buy Likee comments with custom text, the chances of getting more organic comments also increase. Many other benefits come to your plate. Following are the magnificent reasons you should get custom comments on your Likee videos.
Increase Your Engagement Rate
Sharing something on any social media platform is just like an invitation to the world. And having a massive number of comments is just like a cheering crowd around your videos. The more you have comments, the larger your audience will be. And that is the whole game on any social media platform. These comments show that folks find your content interesting or helpful and want to join the conversation. When your videos have more comments, the platform's clever system, also known as the algorithm, notices it. This helps your video jump up in the feeds, reaching even more people. It's like making your content the star of the show!
Improve Your Video Visibility
Imagine you're at a party, and everyone's talking about one cool thing. It's hard to ignore, right? The same happens on Likee. When you have many comments, your videos become the talk of the audience. More people notice them because the algorithm thinks your content is engaging enough to grab the attention of users. So, the more custom comments you have, the more your videos stand out and get a chance to be seen by new users.
Gain More Comments
Having large numbers of real comments creates a sense of curiosity and attracts more audiences to your videos. As the number of viewers increases, the chances of getting more organic comments are also boosted. With the help of getting more comments on the Likee platform, you can create authenticity in your content that catches the audience's eye. People always intend to interact with videos with massive engagement, and comments increase your natural video engagement.
Enhance Social Proof
Imagine you're choosing between two restaurants. One has a line of people waiting, and the other is empty. Which one seems better? The crowded one, right? That's social proof – when people see others enjoying something, they want to join in too. On Like, having many custom comments makes your videos look like a popular hangout spot. Brands and opportunities notice this too, and it's like getting massive engagement and earning opportunities combined. This could only be possible when you buy Likee comments.
Shorten Time-Consuming
Generating amazing content requires a significant amount of effort and dedication. Being concerned about the number of individuals who will acknowledge it can cause additional stress! However, when you purchase personalized feedback, you can enhance your content without worry. Rather than feeling anxious, you can decompress and concentrate on creating even better videos.
Competitive Edge
Standing out on a massive platform with millions of attendees can be challenging, but having something unique can do the trick. On Likee, comments on your videos are that unique thing. More comments on your videos will make them more noticeable, making people curious about what you are sharing. This gives you a considerable advantage and helps you to stand out from the crowd exponentially.
Accelerate Growth
Buying Likee comments allows you to achieve your growth goals resiliently. When you get massive engagement on your videos in the form of comments, the algorithmic boost and visibility of your videos increase. This whole scenario boosts the potential of being viral across the Likee platform and enables you to get most of the social exposure.
Why Buy Likee Comments from Us?
We at BoostHill, provide quality and real comments that help you to enlarge your social credibility, improve your rankings, and skyrocket your video's credibility. With the help of our exclusively affordable prices, versatile range of packages, and custom comments availability, you can achieve higher social engagements for your Likee videos. Our top-notch fast customer support and on-time delivery make us the best place to buy Likee comments of custom text. Here are some valid reasons that segregate us from the other service providers.
Provide Custom Comments
We understand that your uniqueness deserves attention. That's why we offer personalized comments tailored to your videos and requirements. Express yourself with custom comments that stand out and spark genuine engagements on your Likee content.
Multiple Packages
Unlock your potential with our exclusive range of packages designed to fulfill your needs. Choose from various options, allowing you the opportunity to find the perfect fit for your goals. We believe in flexibility to empower your social media growth.
Outstanding Customer Support
Your journey with us is our priority. Our dedicated support team is here to assist you at every step. Have questions or need guidance? We're just a click away, ready to provide solutions that put you at ease.
On-Time Delivery
Your time matters, and so does your content's impact. With our dynamic delivery system, your comments arrive when you need them the most. Timely delivery ensures your content shines at the right moment across the Likee platform.
Smooth Payment Process
We believe in simplicity and an effortless buying process. Our hassle-free payment process lets you focus on what matters. With our service, you only need to focus on getting comments rather than creating captivating content. To ensure that, we offer to choose multiple payment methods to make your experience convenient.
No Password Policy
We understand how important our customers' privacy is, which is why we offer a seamless and state-of-the-art process to buy Likee comments with custom text. We do not need your account password to transfer your purchased comments. This way, you can make everything secure.
Comments By Real People
Authenticity is the greatest attraction on any social media platform, and that is our top priority. We offer real comments that are from authentic users on the platform, allowing you to increase your organic social media growth. Also, every comment we provide will stay on your videos and will not drop overnight. The whole scenario will fuel your organic social media growth and add more value to your content.
Who Can Get This Service?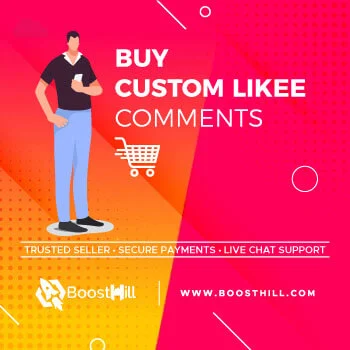 The social media world is so big, and there are millions of users that consume the Likee platform every month. There is a list of users that can get this service to boost their Likee game. Here is a list of users that should buy the custom comments service.
Business Owners
Marketers
Influencers
Content Creators
Artists and Musicians
Social Media Managers
Bloggers
Event Organizers
Fitness and Wellness Coaches
Traveling Content Creators
And all those users that are eager to get more engagements on the Likee platform.
Buying Process
---
Instead of focusing on creating your content attractive, paying attention to the purchasing process could be daunting for anyone. That is why the process of purchasing should be easy and resilient. We offer a fast processing way of buying Likee custom comments to ensure that. We have crafted the hectic procedure into a simple one. You must follow these three steps to kickstart your social media appearance.
Select a Package
First, you need to select your desired package that covers your requirements and needs. We have a variety of packages of Likee comments. You can choose one of them.
Enter Details
Here, you need to provide some essential information, such as the URL of your Likee video on which you want us to add your purchased custom comments.
Check Out
Lastly, you must clear the dues of your purchased Likee comments package. We have multiple ways from which you can get over this process.
Frequently Asked Questions
Can I Get Likee Comments With Custom Text?
Yes, you can get custom comments for your Likee videos easily. You can also add multiple comments in each line of the comment box.
Is It Legal And Safe To Buy Likee Comments?
It is 100% legal to buy Likee comments for your videos from an authentic service provider like us.
Will Likee Users Know That I Bought Comments From You?
Nobody will know that you bought Likee comments as our site is SSL encrypted, which protects your privacy and browsing history.
What Methods Of Buying Are Accepted?
Whether you want to buy with your debit card or credit or you want to use your PayPal account to clear the dues, we accept multiple payment methods.
Can I Get Banned For Buying Likee Comments?
No, you will not get banned for purchasing Likee comments for your videos, as they are from an organic source and will deliver gradually.
Do You Need My Password For The Delivery?
No, we do not need your Likee account password to deliver your comments except the URL on which you want us to deliver your custom comments.
Conclusion
Standing out from the crowd and creating authenticity on any social media platform is the top priority of every content creator. With the help of getting more comments, you can boost your content or video's credibility and appeal. Buy Likee comments according to your required text to accelerate the speed of getting more engagements, skyrocket the authenticity of your video, and attract more users to your profile. We at BoostHill, offer cost-effective solutions for your social media growth and transforming how audiences interact with your content on the Likee platform. You can skyrocket your social media game with our exclusively cheap packages and state-of-the-art customer support. Contact us now to start your journey of being a more popular influencer on the Likee platform.