Buy Facebook Profile Followers & Uplift Your Popularity
Our exclusive range of cheap profile followers packages allows you to take an economical approach to boost your social visibility in no time.
1000 Facebook Profile Followers
2500 Facebook Profile Followers
5000 Facebook Profile Followers
7500 Facebook Profile Followers
MegaPacks For Facebook Profile Followers
10000 Facebook Profile Followers
50000 Facebook Profile Followers
100000 Facebook Profile Followers
Related Service
Buy Facebook Profile Followers – Fastest Way To Boost Popularity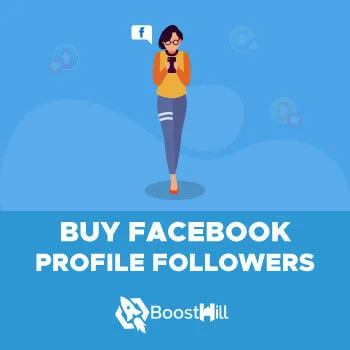 Have you ever wondered why people are eager to get solid social recognization? Why are people obsessed with followers on any social media platform? There could be a lot of reasons, as it allows you to transform your way of interacting with others, enables you to become an influencer, and allows you to earn money.
Furthermore, we all know that Facebook is the largest social media channel that allows us to connect, stream, and share posts with billions of people across the platform. There is a huge potential for those who start their journey as social activists to promote their content. Having followers makes you more credible and makes it easy for others to follow your social stuff.
So, from BoostHilll, you can Buy Facebook profile followers to become a successful social activist or influencer. We offer 100% real and targeted followers that will support your content from real accounts on Facebook. Our exclusive range of profile followers with affordable prices will boost your social appearance in a short time.
Magnify Your Facebook Profile Presence!
You might have experienced interacting with promotional stuff or ads promoting any service, page, or product on the Facebook platform. When you click on that post, page, or ad, the post, page, or profile with more excellent followers significantly impacts your thinking and influences your decision about purchasing, using, or following that product, content, or profile, respectively.
It becomes a benchmark of any profile to being worthy. Whether a business profile or a self-branding Facebook profile, the more you have profile followers, the more chances are to attract other users and gain popularity. Buying Facebook profile followers will strengthen you, promote your business across the platform, and increase your chances of growing. Having massive followers on your Facebook profile will boost your business reach and enable you to attract more users to avail of your services, increasing your sales and revenue. Purchasing followers is an investment that will benefit you hugely in the form of more followers after a while.
Conversely, profiles with insufficient followers will not impact the users liking, sharing, or interaction with that profile.
Why Do People Buy Facebook Profile Followers?
The people who buy followers for their Facebook profile do not share it with others, but they still need to use it to grow their accounts. Yet their profile has millions of followers and claims to be followed organically. Many politicians, celebrities, businessmen, bloggers, influencers, and other famous names have bought this service. They are currently enjoying great engagement and attracting new followers.
Buying followers is the fastest and easiest way to gain popularity across the platform or showcase new services or products as a businessman. The FB profile followers on a broadcast or any other profile are the only thing that works a lot to get fame and colossal interaction. Our followers are 100% real and backed with active accounts that will attract more organic followers to your profile and help you achieve higher followership ranks.
How to Buy Facebook Profile Followers? [Video Guide]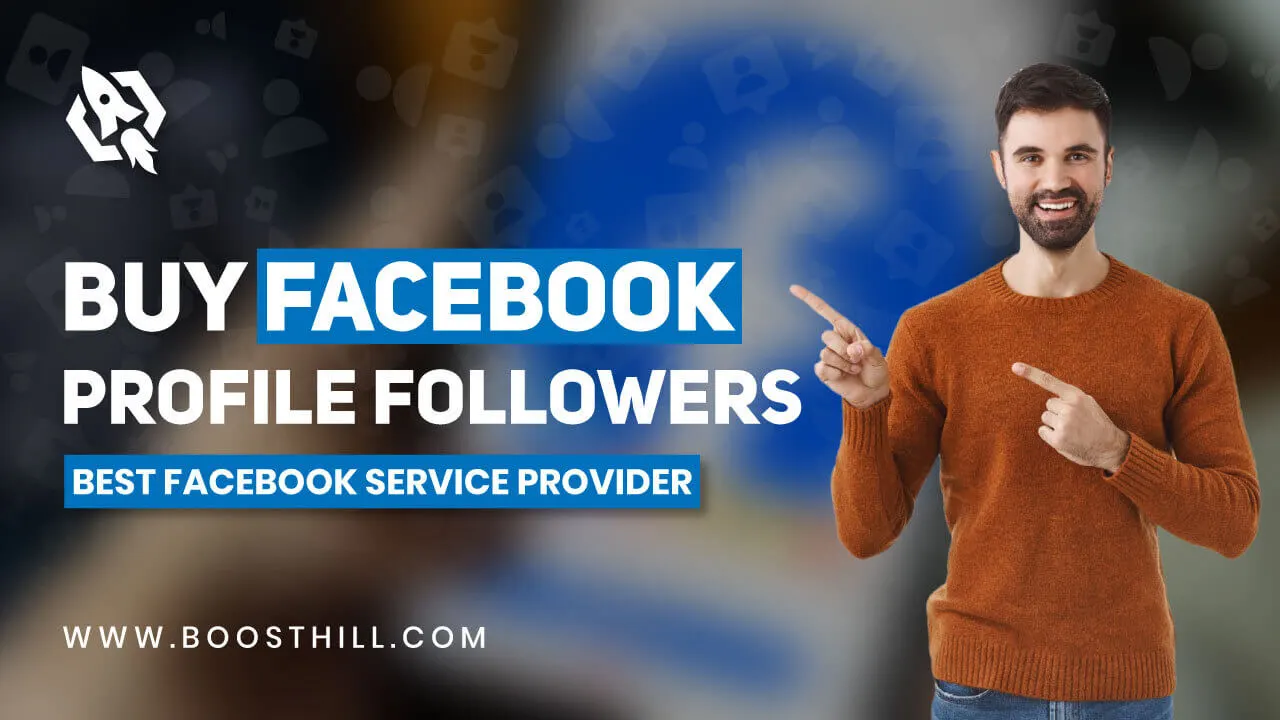 Why Would Anyone Purchase Facebook Profile Followers?
On any social media platform like Facebook, there are a few things that are foremost important to become famous. Whether you are a brand owner or just a regular Facebook user eager to increase followership to become an influencer, credibility, reliability of content, and authenticity are the most significant facts that make any Facebook profile worth following.
Enhance Profile Credibility
With the help of purchasing Facebook profile followers, things can get beyond your imagination. Whether it is about boosting the credibility of your profile or making your content worthy of watching or reading, the numbers of followers are the only element people measure to follow your profile.
Attract Sponsors & Advertisers
Vast numbers of followers attract advertisers to show their products or services through your profile. They get to showcase their services or product to thousands or millions of followers of your profile. As we provide authentic and active followers, they also have their friends. That is why when they start to follow you, their friends will likely follow you, elevating your followership and chances of getting more followers.
Get Promoted By Facebook Algorithm
For those who want to get the top spot on Facebook search, having an incredible number of followers on their profile will ensure that for them. The more you have followers on your Facebook profile, the more chances you have to be at the top of related searches. Facebook algorithm promotes those profiles with an incredible amount of followers as it is the measure of being popular and authentic.
Is it Safe To Purchase Facebook Followers From Us?
Without a single negative thought, it is legal and 100% safe to buy Facebook followers! Thousands of customers have bought them from us, and no such complaints exist. Some service providers offer fake followers or bots that can harm your account's credibility. With our genuinely active and real account followers, you can drastically grow your Facebook profile and become one of the influencers on the social media platform.
Can Anyone Catch Me If I Purchase Followers?
Neither your demographics nor any other person will get to know that you purchased Facebook profile followers from us until you tell them. As a social media boosting agency, we offer non-drop followers for your Facebook profile, allowing you to attract more users.
With the help of BoostHill, your existing users will not get to know that you get a chunk of followers from us to boost your profile traction.
You don't need to worry about your information as we believe in the secrecy of our customer's information about buying Facebook profile followers. Your satisfaction is our top priority, and we ensure to supply your order confidentially to make it more impactful.
How to Grow Followers on Facebook Profile (Fast Way)?
---
Buying Facebook profile followers is the ultimate solution for those who are struggling to get traction with users or want to increase their reach. There are several other ways to increase your followers count. Here are a few organic ways that help you to boost your popularity naturally.
Build a strong and accurate profile and brand page for your business so no one can neglect it to notice.
Be entertaining and engaging on Facebook to get more traction.
Send invitations to others to get more followers and likes on your profile.
Start giveaway sessions for your brand profile to grab the attention of other organic users on the platform.
Offer free coupons to follow your profile on Facebook. It will drastically increase your followership.
Use your social links on your website or online store to get more Facebook profile followers.
Using Facebook Ads is also a viable option to get more leads for your brand and increase your followership.
Last but not least, be visible to all on Facebook.
Who Can Purchase This Service?
Undoubtedly, Facebook is a versatile social media platform that can be used in many ways, whether branding or entertainment. There are many times that politicians created a pool to judge their popularity among people on that platform. Moreover, whether you belong to marketing professionals or running a business on the Facebook platform, followers are an essential part of becoming popular and getting credibility for your profile so that the maximum number of people can interact with you and you can increase your circle of influence. Following is a list of people who should purchase Facebook profile followers for the top spot in their fields.
Marketers
Bloggers
Social Media Influencers
Politicians
Businessman
Facebook Users
Photographers
Celebrities
All those interested in increasing their Facebook presence.
Can I Get Targeted Followers For Facebook Profile?
Whether you are a blogger or podcaster and belong to the US, Canada, Argentina, or any other region, we provide a worldwide service to purchase targeted followers for your Facebook profile. What's the point of having followers only from your region? Our targeted-followers feature allows you to diversify your reach of followers and allows you to magnify your followers around the world. With the help of this service, you will be able to get interactions with the global audience, which increase the credibility of your profile's content and will attract more followers to your Facebook profile.
Things You Must Know Before Buying Facebook Profile Followers?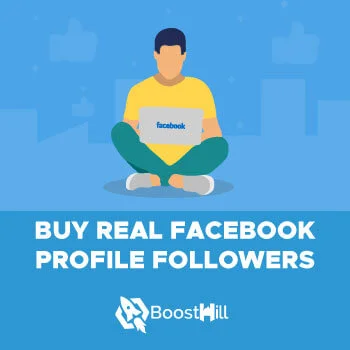 To avoid fraud or fake followers for Facebook profiles, you must check a few things before buying them from a service provider. Some service producers commit to your real followers. Instead of real, they deliver bots or real-like followers that are not viable on Facebook as they don't give you any benefit but decrease your credibility. You must check a few things while buying followers for a Facebook profile from a service provider.
Have a Secure Payment Gateway
As BoostHill possesses a secured SSL Payment Gateway certificate that makes us a reliable option to buy Facebook profile followers, ensure that the service provider from which you are purchasing followers has a secure payment gateway.
Offers Refunds
Many service providers claim to deliver followers at a specific time and with the guarantee of real and active users, but they fail to do so. That approach can put you inconvenient situation, and you should get your money back. Make sure to choose those service providers offering a money-back guarantee to get your money back in case any missed commitment occurs.
Have a Team for Support
In case of any ambiguity in buying FB followers process, having a team on your back that supports you will be the most fantastic thing about a service provider. We provide 24/7 support service to our customers so they can make their buying experience exceptional.
Provide Quality
Quality followers are like magnets that attract more users to follow your Facebook profile. Many service providers don't fulfill to deliver real followers to many clients. Yet, we offer 100% real and active users to follow your profile, making it more accessible and popular across the platform.
What Makes Us Better Than Others?
---
Instant Delivery
The ordered followers will start to deliver within an estimated time as soon as we receive your order after clearing the dues. Your ordered Facebook profile followers will start interacting with your service or product as they are real and active.
Safe Service
Being a responsible social growth service provider, we believe in delivering your order with authenticity and safety. Due to our real followers for Facebook profiles, you don't need to worry about anything! They will not drop over time and will stay on your profile forever.
Refund Policy
If we cannot satisfy your needs or entertain you with the number of followers we promised, each of your payments will be refunded.
Support 24/7
For any kind of query to be resolved, our dedicated technical support team is ready 24/7 to assist you in any matter related to your burying process.
How To Purchase Facebook Profile Followers From Us
Our worldwide customers claim that their buying experience from BoostHill was exceptional and easy. You need to follow only three steps to finish your order.
Pick Out One of Your Desired Bundles
Choose a bundle from the affordable and cheap Facebook profile followers list.
Provide Your Facebook Profile Link
Copy and paste your profile link as needed for the targeted approach. We don't need your Facebook profile password.
Clear Your Dues & Enjoy Popularity!
Provide your payment information with our secured SSL Payment Gateway, which protects all your credential information.
Frequently Asked Questions
If you have questions about Facebook followers' services, our FAQs will help you find answers. If you still don't find the answer to your question, you can reach us through our live support center for free.
Is It Important To Have Followers on Facebook Profile?
What's the point of having an excellent profile without having users to support your content? Followers are essential to your Facebook profile as they measure your profile's credibility.
Is There Any Limit to Buy Facebook Profile Followers?
There is no limitation to buying Facebook profile followers from us because the more followers you have on your profile, the more people will get attracted.
Can I buy Facebook Followers?
With ease and convenience, you can buy Facebook followers by selecting a package from our exclusively cheap Facebook followers bundles with instant delivery.
Is It Safe To Get Facebook Profile Followers?
It is 100% safe to get Facebook profile followers from us as we offer real and targeted users that will boost your profile appearance and will not wipe out overnight.
Does Facebook Pay Me To Get Maximum Followers?
Unfortunately, Facebook does not pay for having followers but having profile followers will boost your social appearance and increase the chances of earning money through the Facebook monetization program.
When Will I See The Results Of My Purchasing?
After you check out from our site, your purchased followers deliver a few times.
Can I Get 1000 Facebook Followers Fast?
Yes! You can choose our 1000 Followers package from our versatile range of bundles and can enjoy the fame you will get with them.
Conclusion
From popularity to an increase in engagement and a boost in earnings to getting a credible social footprint, buying Facebook profile followers allows you to make your dreams come true. BoostHill provides a secure and versatile range of cheap packages that will help you to enhance your social credibility. Grow your Facebook profile appearance with our real and targeted Facebook users, as they are legal to buy.