Buy Dailymotion Views
Skyrocket Your Content Appeal With Dailymotion Views service.
MegaPacks For Dailymotion Views
Related Services
Buy Dailymotion Views To Enhance The Reach of Your Videos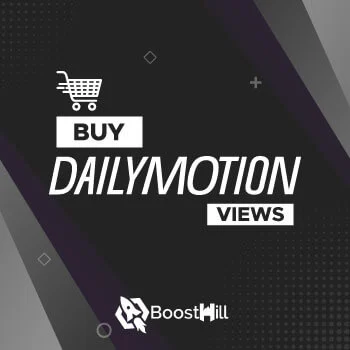 Video-sharing platforms are now significant in making your social media presence more credible. Dailymotion is one of the most popular video streaming platforms that attracts more than three hundred million unique visitors monthly. The excessive amount of viewers on that platform makes it a massive opportunity for content creators who want to expand their digital careers exponentially. More than several billion videos on that platform play a huge role in attracting users. Along with the content creators, the Dailymotion video-sharing platform allows businesses to expand their reach and increase the awareness of their brand. Like other video streaming platforms, views on videos are the most crucial factor of your content appeal and credibility. Buy Dailymotion views for your videos to establish credibility, boost your content's ranking, and increase your search position across the platform. This approach provides you with a benchmark of your content authenticity.
The more you have views on your Dailymotion views, the more it will get visible and attract more users to engage with your content. Although getting views on your Dailymotion videos is beneficial, gaining them is hardworking. Purchasing views for your content on the Dailymotion platform allows you to kickstart your journey toward more visibility and help you enlarge your content's authenticity. With the maximum number of views, your videos appear in the platform's search results and recommendation section, boosting your video's visibility and accessibility.
Why Do Views On Dailymotion Matter?
Views on Dailymotion matter for several crucial reasons. They are an essential metric that indicates the level of engagement and interest in your videos. A higher number of views can attract more viewers, which signifies that your content is worth watching. Additionally, views can improve your videos' ranking in search results, making them more discoverable to new audiences. Increased views also contribute to social proof, boosting your credibility as a content creator and attracting potential followers and subscribers. Moreover, views are a significant factor considered by Dailymotion's algorithm when determining which videos to feature, increasing the chances of your content gaining wider exposure. Ultimately, achieving more views on Dailymotion is pivotal for expanding your reach, building your online presence, and creating opportunities for further growth and success on the platform.
Does Buying Dailymotion Views Really Work?
Like any other video-sharing platform like YouTUbe, the Dailymotion platform also depends on how many viewers your content attracts. The views on your content define its attractiveness and help others to engage with it. The Dailymotion videos without significant numbers of views are a dull affair. That is why purchasing views from us allows you the initial boost to skyrocket your social credibility and allow you to increase the authenticity of your content across the platform. In addition, it countdown the hectic efforts and hardships of getting more views on the platform. Whether you are creating content or a business owner trying to reach a new audience for better reach, buying Dailymotion views enables you to enlarge your perception of the platform and create a stable and more credible social image.
Benefits of Buying Dailymotion Views
---
It is a common saying that the more you have views on your videos on Dailymotion, the more chances there are to succeed. With more views on your content, you can attract other users to engage with your content and other collaboration opportunities. When you buy Dailymotion views, the chances of getting viral across the platform get immense. The following are the most significant benefits of buying natural and active views for your Dailymotion channel.
Reach a Wider Audience
Getting more engagements on the Dailymotion platform is one of the utmost desires of every content creator or business owner trying to build a credible image. Purchasing real views allows you to achieve these kinds of goals quickly. With the boost in your view count, your videos become more appealing to other viewers. It increases the chances of getting more engagement with your content. With a broader audience, there's a greater chance of your videos gaining traction and possibly even going viral.
Save Time and Effort
Expanding the audience number on the Dailymotion platform is not so easy. At this time of need, buying views allows you a handy approach, enabling your content to be more visible and accessible to others. With this action, you can increase the appeal of your content in a short time and make it more valuable. In short, getting views increases your productivity and saves time and effort, allowing you to focus on other important things to gain more traction.
Boost Video Visibility
Getting a considerable number of views for your Dailymotion videos can greatly enhance your audience reach and impact. As your view count rises, your videos become more enticing to prospective viewers, boosting their chances of interacting with your content. With a larger audience, your videos have a higher chance of gaining traction across the Dailymotion platform.
Become More Popular
Increasing the number of views for your Dailymotion videos can significantly enhance your audience's reach and impact. This can make your videos more enticing to potential viewers, increasing their chances of engaging with your content. A larger audience can also increase the likelihood of your videos gaining traction and potentially going viral.
Cost-Effective Marketing
Increasing the number of views on your Dailymotion videos can significantly impact your audience and your influence. As your videos gain more views, they become more appealing to potential viewers, increasing the likelihood of engagement with your content. A wider audience increases the chances of your videos becoming popular and credible.
Get Ahead From The Crowd
Getting a considerable number of views on your Dailymotion videos can greatly increase your exposure and impact. With a higher view count, your videos become more enticing to potential viewers, increasing the possibility of them interacting with your content. The larger your audience, the better the chance that your videos will gain momentum and appreciation from others.
To Show Your Social Proof
Increasing the number of views for your Dailymotion videos can significantly increase your audience and influence. It makes your videos more attractive to potential viewers and increases their chances of engaging with your content. Your videos have a greater chance of gaining traction with a wider audience.
Betters Your Search Optimization
Once you successfully gain a high number of views on your Dailymotion videos, your videos start to appear on other's search results, increasing your visibility and content reach. Whether you are creating good content, getting views is the only factor that makes it more accessible. With the help of getting more accurate and active views, you can improve your search optimization.
Get Promoted By Algorithm
Getting many views for your Dailymotion videos can significantly boost your audience and impact. When your view count increases, your videos become more appealing and attractive to viewers, increasing their chances of engaging with your content. A broader audience means a higher probability of your videos gaining traction.
Earn More Money
You can earn more money as your Dailymotion views increase. When you have more views, advertisers and brands are more likely to collaborate with you, which can result in revenue from your content. Moreover, having a larger and more engaged audience can open up other ways to make money, like crowdfunding or selling merchandise.
Will Buying Dailymotion Views Help You To Get Featured?
The number of views on your Dailymotion videos plays an important role in monetizing your content on the platform. When you buy Dailymotion views, the algorithm gets a positive signal that your content is worth engaging. This signal helps the algorithm of the Dailymotion platform to promote your videos to others. This featured scenario allows others to get your content and increase the accessibility of it. In addition, with the help of increased numbers of real views on your Dailymotion video, you can attract more potential viewers to your channel and increase its credibility. People intend to watch those videos with higher numbers of views on it as it depicts the authenticity of that video. That is why you should get views on your Dailymotion videos to attract more users and get featured by the platform.
Tips To Get More More Dailymotion Views
Getting views organically needs a lot of concentration and effort to attract more engagements. Whether it is about creating high-quality content or optimizing the headings and taglines, so many tactics can lead you to grab more views naturally on the Dailymotion platform. Here are some organic ways that will help you to increase your Dailymotion video views exponentially.
High-Quality Content
The foundation for gaining more Dailymotion views begins with creating high-quality, engaging content. Focus on producing unique, informative, entertaining, or valuable videos for your target audience. Well-crafted content is more likely to attract viewers, keep them engaged, and encourage them to share your videos with others.
Add an Attractive Title and Description
Catchy and descriptive titles are essential to pique the curiosity of potential viewers. A compelling title will entice them to click on your video. Additionally, a well-written and informative description can provide context and valuable information about your video, helping viewers understand what to expect.
Add Relevant Tags and Keywords
Using relevant tags and keywords help optimize your videos for search on Dailymotion. Consider the keywords your target audience might use to find content like yours. Incorporate these keywords in your video titles, descriptions, and tags to improve discoverability and increase views.
Embed Your Videos on Your Website or Blogs
Extend the reach of your Dailymotion videos by embedding them on your website or blogs. By doing so, you not only engage your website visitors but also drive traffic to your Dailymotion channel. It creates a seamless viewing experience for your audience and encourages them to explore more of your content.
Share Videos on Other Social Media Platforms
Leverage the power of other social media platforms to promote your Dailymotion videos. Share your content on platforms like Facebook, Twitter, Instagram, and LinkedIn to reach a broader audience. Each platform has its unique audience, and cross-promoting your content can significantly boost views.
Encourage Viewers to Follow
Encourage your viewers to follow your Dailymotion channel to stay updated with your latest content. A loyal following can result in repeat views and increased engagement. Engage with your audience through comments and messages to build a community around your videos.
Build A Recognizable Brand
Establishing a recognizable brand on Dailymotion can attract more viewers. Consistent branding elements such as logos, colors, and themes create your channel's cohesive and professional image. As viewers associate your brand with quality content, they will be more likely to return for more.
Use End screens
Utilize end screens in your videos to promote other relevant content or encourage viewers to subscribe. End screens can effectively keep viewers engaged and lead them to watch more of your videos. Highlighting related content can increase watch time and views across your channel.
By implementing these practical tips, you can enhance your Dailymotion presence, attract more viewers, and ultimately increase the number of views for your videos. But, as you can see, these all are time-tacking and hectic scenarios for those who want to grow instantly. Here buying Dailymotion views approach comes in handy. It is a cost and time-effective way to boost your channel's content popularity and engagement.
Who Can Get This Service?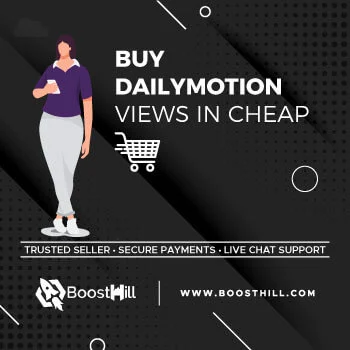 Dailymotion is one of the largest video-sharing platforms that contains an immense number of users. To cater to the diverse audience's needs, we offer a versatile growth service that serves both professionally and as a cost-effective solution for your social media marketing. Here is a list of users that can get most of the benefits from this amazing service.
Marketers
Content Creators
Vloggers
Videographers
Business Owners
Entrepreneurs
Small-Business owners
And all those individuals who want to get more interactions and recognition on the Dailymotion platform can get this astonishing service.
Why Choose Us?
---
BoostHill, the best place to buy high-quality Dailymotion views, provides you exceptional growth service with the guarantee of authenticity of the views. We have a versatile range of affordable packages, professional customer support, and many other attributes that makes us the best online source for increasing your social media presence. Here are the attributes that make us significant from others to buy Dailymotion views.
Customer Satisfaction Priority
Customer satisfaction is our utmost priority. Over the years, we have successfully supported countless Dailymotion users from around the globe, exceeding their expectations at every step. We believe in forging lasting relationships with our customers, and our commitment to their satisfaction drives everything we do. You can trust us to go the extra mile to ensure you are thrilled with the results.
No Personal Information Required
When you choose our platform, you can rest assured that your privacy and security are paramount. We never ask for any of your personal information or sensitive details. All we need is the URL of the video you wish to promote, and our team will work diligently to deliver high-quality views organically. Your trust in us is of utmost importance, and we take every measure to protect your privacy.
High-Quality Dailymotion Views
At our platform, we exclusively provide high-quality views sourced from active and authentic members of the Dailymotion community. Whether you ought to get 1,000 views or 100,000, we ensure consistent and flawless quality. We maintain a strict zero-spam policy, ensuring that your views are genuine and from real users who engage with your content.
Fast Delivery Process
Time is of the essence, and we understand the importance of prompt and efficient service. Our drip-feed delivery system guarantees discretion and the gradual addition of views to your videos. You can expect to receive many views quickly for smaller packages. Larger orders may take some time to fulfill, ensuring steady and natural growth for your content.
Refund Policy
At our platform, we stand behind the quality of our service, and your satisfaction is our top priority. If, for any reason, we are unable to deliver your order as promised, you are entitled to a full refund of the original purchase price. Your peace of mind is important to us, and we are committed to making it right if any issues arise.
Multiple Payment Options
We believe in providing convenience and flexibility to our valued customers. As such, our platform accepts a broad range of payment methods for Dailymotion views, including credit cards, debit cards, and cryptocurrency (including Bitcoin). Our secure payment process is protected with SSL encryption, ensuring your financial transactions are safe and secure.
Secured Website
Your online safety is paramount at our platform. Our website is secured with the highest levels of encryption, ensuring that your browsing experience and data remain protected. You can explore our range of services and place your orders confidently, knowing that your information is always safeguarded.
How to Buy Dailymotion Views from Us?
Nowadays, several social media service providers are offering to get views for your Dailymotion channel. But, our exclusively most accessible buying process segregates us from other typical social media growth service providers. We have crafted the hectic and tedious buying process and made it easier for your convenience. Here are three simple steps you will follow to get our most elegant service to get an attractive social media presence.
Select the desired package of non-drop views from our website.
Provide the URL of your Dailymotion video.
Clear the dues with multiple payment options available on our website for your convenience.
Frequently Asked Questions
Is It Safe to Buy Dailymotion Views?
It is 100% safe and secure to buy Dailymotion views as our website is SSL certified, which protects the data and browsing history of your purchase from us.
Will My Purchased Views Drop?
The views you purchase are high-quality and non-drop that will remain on your videos and will not disappear.
Is Any Password Required to Purchase Dailymotion Views?
You do not need to provide any password or personal information, as we protect the privacy of our customers.
Are the Purchased Dailymotion Views Real?
The Dailymotion views you purchase are 100% real and from authentic profiles on the platform, which help you grow organically.
How Long Does it Take to Get My Dailymotion Views?
As soon you clear the dues, we will start processing and gradually deliver views on your targeted video.
Conclusion
Boosting social image as a content creator or a business owner is one of the most important to get credible and more visible across the Dailymotion platform. The views on your videos allow you to attract more users to engage with your content, increase the rate of collaborations, and boost your channel's credibility. Buy Dailymotion views for an excellent social media presence and to create a sense of authenticity. When you have massive numbers of views on your videos, they are likely to appear in search results, increasing your content's appeal. At our service, you will get multiple affordable packages with a non-drop guarantee and high-quality views that will increase your Dailymotion game and help you to establish an attractive image among other content creators. Contact us now to start the journey of your dreams.