Buy Pinterest Board Followers
Step up Your Pinterest Followers With BoostHill to diversify your business reach and attract more followers. Choose the pricing plan that suits your budget and needs.
500 Pinterest Board Followers
1500 Pinterest Board Followers
5000 Pinterest Board Followers
10000 Pinterest Board Followers
MegaPacks For Pinterest Board Followers
20000 Pinterest Board Followers
50000 Pinterest Board Followers
100000 Pinterest Board Followers
Related Services
Why You Need Pinterest Board Followers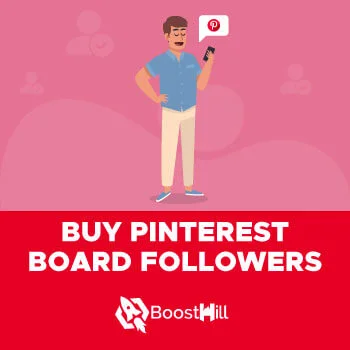 Pinterest is a leading digital platform that allows millions of active users to show the art of their work and get appreciation through visualized means of sharing content. A variety of users use this platform actively for different purposes. Some people market their fun or business, while others use it to crawl the magnificent content on the platform and appreciate it.
You can see every kind of visual content on Pinterest in the form of art, which makes it the best place for content marketing. Well, along with ease, getting appreciation and traction from the targeted audience on this platform is more complex. That is where the buy Pinterest board followers strategy comes in handy. This approach will help you to achieve your success goals on the platform in no time.
Market Leading Pinterest growth service agency
BoostHill is the market-leading Pinterest growth service agency that provides followers from real and active accounts that will boost your content appearance and increase the chances of getting the most organic tractions across the platform.
We understand how important for you to be at the top, which is why we provide Pinterest followers services with exclusive packages and a guarantee of a 100% real Audience. With our dedicated marketing team that will keenly observe your Pinterest account, things can get more productive without harming your profile.
Benefits of Buying Pinterest Board Followers
Getting popularity, grabbing the attention of other potential users on Pinterest, account credibility, and getting higher ranks in search results are the dreams of any Pinterest user to make a reality. Following are the benefits that you will get from this service.
Grab the Attention of Other Organic Followers
On any social media platform, the numbers of followers are the measuring tool that impacts the decision on the likeness or dislikes of a profile. It is like a snowball effect in which people attract to things others intend to like. Buying followers for Pinterest boards will also work in that way and grab the attention of other organic users to your content, which boosts your social reach.
Boost the Growth of Your Pinterest Account
When you open Pinterest, you will see some pins or boards that the platform suggests you look at. That suggested content hardly has fewer follower counts. The increased number of followers enables you to get promoted on the platform and helps you to take the top spot in the suggestion, which boosts your account's growth. Furthermore, getting massive numbers of followers also organically attracts more followers, as people intend to interact with the pins or boards with a high followership rate.
Saves Time & Efforts
As a newcomer, establishing an attractive and credible Pinterest board requires much time and effort. You need an attractive Pinterest profile with massive followership to get famous and suggested on the platform. Getting followers from us will save you efforts and time and allow you to establish a credible Pinterest profile with real and active users that will stay strong over time.
Drive More Traffic to Your Website
Pinterest is one of the most significant ways to grab an audience for your website, as it allows you to pin your business websites with visual content. Pinterest users love to see rather than read about a service or product. That strategy can grab more leads from the platform to your website. Buy Pinterest board followers from us and increase your website traffic, allowing you to generate more potential leads for your business.
Increase Your Account Authority
The more you have followers on your Pinterest board, the more your profile looks credible and reliable to interact with. It is a simple rule that applies to almost every social media platform, so Pinterest promotes such content or boards with massive followers. The reason is that followers on Pinterest boards claim the account is authentic. That is why we offer an exclusive range of cheap bundles to get followers on Pinterest boards with the guarantee of real and active users.
How To Grow Pinterest Board Followers Organically?
---
On Pinterest, people follow authentic sites that provide credible information. Having massive followership on Pinterest boards makes it easy for you to be more credible. Business or brand owners grab a lot of organic traffic to their websites from that platform by establishing a trusted profile. Here are top-notch strategies that will boost your followership on Pinterest organically.
Create fresh content for your Pinterest boards to keep engaging existing followers and maximize your potential to attract more followers.
Keep yourself up-to-date and follow the trends

on Pinterest so you can make your content accordingly.

Use overlay text

to increase the understanding of your visual content on Pinterest.

Use different pins before publishing Pinterest content on the board, which helps users find your content easily.
Create quality content

that relates to trending topics which will boost your Pinterest profile reach and follower engagement.
Why Do You Need Pinterest Board Followers Service?
You will have a better chance of getting more organic followers when you get Pinterest followers service from BoostHill. They become your reference point and boost your appearance across the platform. On the other hand, only a massive amount of followers did not work on the Pinterest board, interactions also matter a lot.
We provide active and trustworthy followers from real accounts that will not only follow you but also interact with your Pinterest content to increase its popularity.
How To Get 1000 Followers on Pinterest Board?
Getting followers on Pinterest is essential for getting more traction and grabbing the interests of others. People believe in the material that has an appropriate amount of followers. In addition, for those interested in earning money on Pinterest from affiliate links or sponsorships, getting at least one thousand followers is essential to start the process. Buying 1000 Pinterest followers package from us will boost your process of earning from the platform and allow you to make a credible account.
There are other ways, such as creating quality content, using different pins, posting original images, adding different tags for maximum relevancy, and including text over images that can help you achieve a one-thousand follower count on the Pinterest board.
How To Order Pinterest Board Followers? [Video Guide]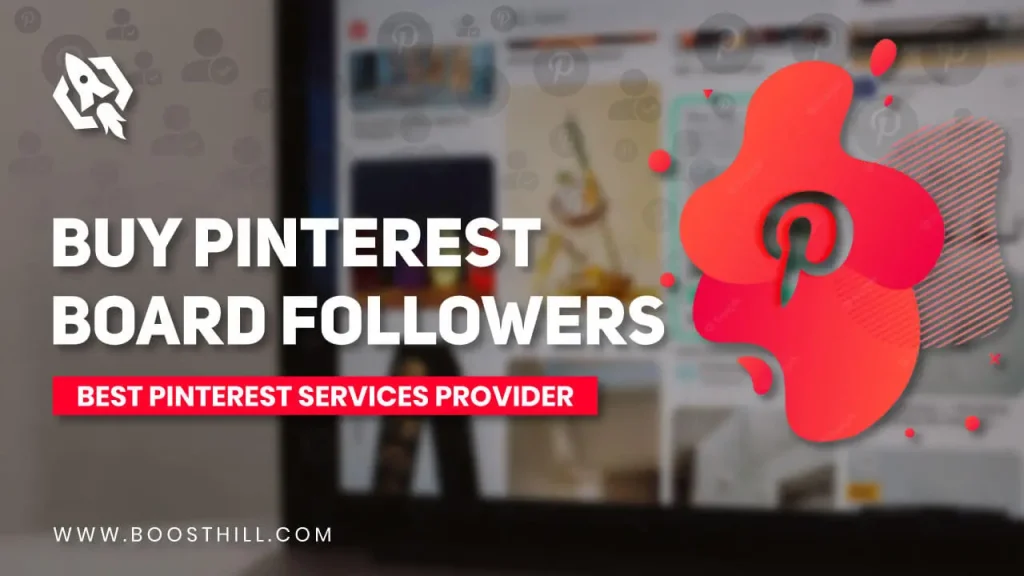 Remember these points before Buying Pinterest Board Followers?
You have seen how beneficial for you to get Pinterest board followers, but it doesn't mean you just start purchasing them without having the proper knowledge about them and the process included in them. While buying real Pinterest followers for boards, you should inspect a few things to get your maximum investment back and avoid being detected by the platform.
Only Prefer to Buy Quality Pinterest Board Followers
Like other social media platforms, Pinterest monitors your account activity and acts accordingly. One of the most common things that can ban your profile is unreal followers on the Pinterest board. Receiving a lot of followers on a profile who did not receive a massive amount of flowers on the Pinterest board before can be alarming.
In addition, low-quality followers can also impact your account's credibility. Make sure to get high-quality followers that will not disappoint you. Most users discourage buying followers for Pinterest boards due to these reasons. As they receive unreal followers and eventually, their accounts get a termination.
Make Sure To Take a Gradual Approach
The urge to get followers can sometimes cause trouble, as the algorithm of Pinterest can detect that activity and ban your profile. Always prefer to get followers with a gradual approach that will make everything organic and naturally increase your followership on the Pinterest board.
We provide followers with a gradual strategy to make everything look natural. Pinterest will not detect this as our provided followers are cheap, active, and from real accounts that will organically boost your account's popularity.
Do Not Buy Bot Board Followers
Having unreal or bot followers for your Pinterest boards is one of the most common reasons Pinterest account suspension occurs. While some service providers promise you genuine followers, they provide bots that aren't viable and can terminate your account. You will see how magnificent it is to grow organically on Pinterest with our real and active Pinterest board flowers.
Don't Give Your Pinterest Account Access To Anyone
Some service providers ask for your Pinterest account password or personal details instead of a profile link. Do not share any personal stuff or password with any service provider, as it can be used for scams and could threaten your account privacy. In addition, do not permit any app to make any changes to your account, as it could harm your Pinterest account's stability.
Why BoostHill Should be your Finest Choice?
---
Instant Delivery with Gradual Approach
We understand how important for you to get your order on time. That is why we offer instant processing of your order and deliver it gradually. It will look natural and not harm your account's credibility.
Refund Of Your Order
We Kept our promises, and if we cannot fulfill your order requirements or deliver on time, we are bound to refund your order. You can contact our support team to learn more about our refund policy.
Safe Payment Gateway
Our SSL-secured payment gateway provides a safe path to pay for your order. With our versatile payment methods, you can use multiple modes of payment with 100% security.
Live 24/7 Technical Support
Our dedicated live technical support team is always there to help you buy cheap Pinterest board followers. You can contact us quickly to get assistance, as it would be an honor for us to clear your mind about buying followers for your Pinterest board.
All these qualities make BoostHill the best place to buy Pinterest board followers.
What Kind of Pinterest Services Can You Buy From Us?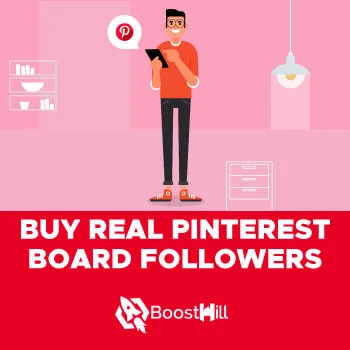 We offer a wide range of Pinterest promotion services in the form of followers and likes. You can get Pinterest pin likes, board likes, and followers with a vast range of cheap packages that will help you get maximum interactions to glorify your success easily. The likes and followers on Pinterest boards and Pinterest pins are from real people, which guarantees to maximize your account's credibility and authenticity.
Who Can Purchase This Service?
A vast range of people can use this service to glorify their Pinterest account and attract more followers to get maximum output for their businesses. Here are the concerning bodies that can facilitate themselves with our elegant service for purchasing Pinterest board followers.
The Celebrities
Politicians
Business Owners
Artists
Bloggers
Influencers
Marketers
And all those who are eager to get more interactions with their product or services.
Steps for Purchasing Pinterest Board Followers from Us
As a reliable social media growth service provider, your order should be delivered rapidly so you can enjoy Pinterest board popularity and boost organic user engagement. You need to complete our three steps of purchasing followers to get the most out of its benefits.
Choose Package
Our exclusive range of Pinterest board followers offers you to choose one of the most popular bundles to kickstart your Pinterest popularity. Select from our cheap packages and proceed to the next step.
Enter Essential Details
We do not require your Pinterest account password as we believe in providing transparent services. You just need to provide a Pinterest board link to deliver purchased followers to the targeted board.
Clear Dues & Enjoy the Results
We offer multiple modes of payment to make it easy for you to purchase followers for Pinterest boards. Our protected payment gateway provides a secure experience for our customers.
Frequently Asked Questions
We mentioned the most common and frequently asked questions for those who find quick answers to their questions.
Is it Safe To Buy Pinterest Board Followers?
It depends on which type of followers you purchase and from whom. Many service providers offer bot or unreal followers for Pinterest boards that are prohibited on any social media platform.
Should I Buy Followers for Pinterest Board?
If you are an enthusiast and starting your journey on Pinterest, buying Pinterest board followers will increase your popularity across the platform and improve your profile ranking.
Who Can Purchase This Service?
Politicians, bloggers, business owners, marketers, influencers, and all those who want to gain an extra chunk of interactions with their other social media platforms, such as Pinterest.
Do I Have to Provide a Pinterest Account Password To Buy Board Followers?
No, there is no need to provide your Pinterest account password, as we take care of your privacy. We need your Pinterest board link to deliver your purchased real followers bundle.
Can I Get 1000 Followers on Pinterest Board?
You can get as many followers as you want from our exclusive range of Pinterest board followers packages at cheap prices with the guarantee of 100% real and active users.
Is Buying Pinterest Board Followers Still Work?
Yes, it works! Our many clients celebrate their success after getting followers for their Pinterest boards.
Can I Make Money From Pinterest?
Pinterest does not offer a content monetization program, but you can earn from affiliate linking and sponsorship. In such cases, brands will pay you to insert links in your Pinterest boards or pins. The more you have followers on your Pinterest boards, the chances of getting higher rates from the brands increases.
Conclusion
Whether you want to increase your website traffic or boost your career growth on Pinterest, BoostHill provides exceptional Pinterest growth services to ensure your dreams come true with affordable packages. Buying Pinterest board followers from us will increase your fame and popularity across the platform with our geo-targeted followers approach.
Choose one of your desired packages from our exclusive range and start your success journey with us! You can contact us any time for customized orders, as our support team is available 24/7 for your service.