Buy Snapchat Followers
Boost Your Content Reach, visibility, and credibility with our Snapchat Growth Service.
100 Snapchat Followers
USA | UK
Europe
Arab Countries
300 Snapchat Followers
USA | UK
Europe
Arab Countries
500 Snapchat Followers
USA | UK
Europe
Arab Countries
750 Snapchat Followers
USA | UK
Europe
Arab Countries
MegaPacks for Snapchat Followers
1000 Snapchat Followers
USA | UK
Europe
Arab Countries
5000 Snapchat Followers
USA | UK
Europe
Arab Countries
10000 Snapchat Followers
USA | UK
Europe
Arab Countries
Related Services
Buy Snapchat Followers To Get More Friends and Followers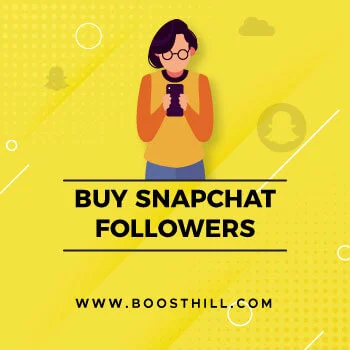 Snapchat is one of the great-affectioned platforms that is relatively new yet has succeeded in grabbing the attention of millions of users across the world. It provides the most iconic way to connect with others. Like other social media platforms, it can also allow you so many features that you can use to promote your brand, content, or business with other potential users through your stories and other features on this platform.
One of the exclusive features that people slash towards this platform is the urgency factor on it. If you have been using this platform, then you must know that the snaps disappear in a very short time which creates an urgency to see what your friend or follower sends you on your Snapchat account.
Snapchat is not a messaging platform but beyond. In addition, like another social networking platform, you can use this platform without building followership, but enough followers are better. Buy Snapchat followers to make your stories seen by millions and get promoted your content globally, increase your Snapchat score, and boost your social media appearance. Purchasing geo-targeted followers for your Snapchat account is one of the best organic ways to promote your account across the platform and to attract more friends and followers, which will eventually help you to increase your Snapchat score.
What Are Snapchat Followers?
Snapchat followers are the individuals that have voluntarily chosen to subscribe to and view the content you share on the Snapchat social media platform. When you gain followers on Snapchat, it signifies that those individuals are interested in the content and updates you share on the platform. The followers on your Snapchat account are essential in building an audience and establishing a digital presence within the community. Like other social networking platforms, they measure popularity, your influential power, and reach for users who aim to engage with a broader audience.
Having an exclusive number of real Snapchat followers opens a lot of opportunities, either social or financial. In addition, it also gives you so many benefits that attract other users to join this exciting and urging social networking platform immensely.
How To Order Snapchat Followers? [Video Guide]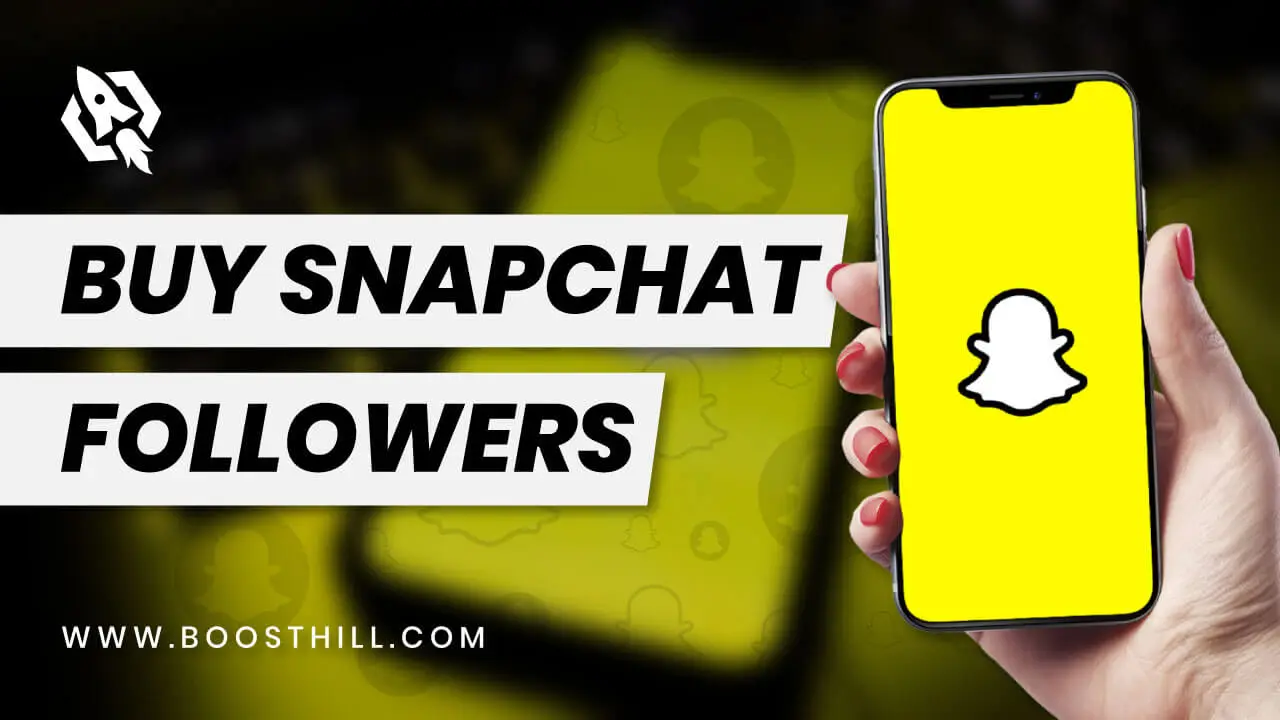 Why are Snapchat Followers Important?
Creating new and attractive snaps on the Snapchat platform is one of the best ways with others and attract new users to follow you. Followers are the blood of the users on this platform. The more you have followers, the more your credibility, visibility, and influential power goes. Several things indicate the importance of having Snapchat followers.
Whether you are creating high-quality and engaging content to larger the reach of your content, followers in immense quantity are a must.
A substantial follower count increases your content's influence and impact and helps you build a solid community to be supported. In addition, it increases the credibility and authenticity of your content among your followers and attracts more users to your account.
It is known that the greater your followers, the more will be your social appearance legit. That is why having Snapchat followers is so important.
Having immense followers attracts brands to your account to partner with you so they can market their services or products using your community on the platform. This helps you to earn money using your follower's bank on the Snapchat platform.
What Are The Benefits of Buying Snapchat Followers?
When you buy Snapchat followers, many benefits come to your plate. Whether we talk about the enlargement of visibility, trustworthiness, engagement increment, or financial benefits, there are many scenarios in which having followers on this platform benefits you.
Grow The Presence of your Business
Snapchat is one of the most attractive and feature-enriched platforms used by millions of people around the globe. This immense use makes it the best place to create a presence to promote your business by purchasing Snapchat followers. This approach will lead you to stand out from your business from the crowd and give you a distinct identity.
Get Reach to Diverse Audiences
Getting more followers on the Snapchat platform triggers the algorithm that your products or service and content is worthy. It started to promote your business to others as the best Snapchat business account, eventually helping you to reach diverse audiences across the platform.
Helps To Raise as Influencer & Uplifts Status
Buying Snapchat followers uplifts the status of being a user to an influencer on the platform, opening new opportunities. With the influencer tag on your account, you can collaborate with other influencers to gain more visibility. In addition, it also helps you to get sponsors in return for promoting their products or services in your community.
Make New Trends & Attract Others
People only follow those trends on the Snapchat platform with the immense involvement of other users. When you get real Snapchat followers, you can create trends and attract more people to follow you. In short, followers attract followers and make your stuff more visible across the platform.
Get an Instant Boost in Your Credibility
For those new on Snapchat and struggling to attract followers, buying real & active Snapchat followers will instantly boost your content credibility, attracting more followers to your account. Comprehensively, your followers measure your content credibility, and people only follow those accounts with credible content and big followership on Snapchat.
Keeps the Momentum Up
Snapchat is all about interacting with users to attract them and increase the engagement of your content. Having Snapchat follower growth service ensures that and helps you keep your engagement momentum high.
What Is the Difference Between Snapchat Followers and Subscribers?
Snapchat followers and subscribers are entities with different frames of work on the platform. When a user becomes your follower, it is a two-way deal. On the other hand, subscribing to an influencer or a famous person on Snapchat is a one-side-adding scenario.
---
Snapchat Follower
On Snapchat, when someone adds you to your follower list, that user is also added to your followers list. This is a two-sided process in which entities can interact with each other's content. When a person adds you to its followers, you will also receive a notification to add that user to your followership which opens the way for new content engagements.
Snapchat Subscribers
Snapchat subscribers are those users that subscribe to your account. These users will only be added to your account's subscribers list. Unlike followers, you will not see their snaps on your feed. This model suits business profiles wanting to increase their brand awareness on the platform.
How To Get Followers on Snapchat Naturally?
Getting followers on Snapchat is a thing of lots of effort and time. Establishing an appropriate amount of followers demands the right moves and patience. Some organic ways will lead you to do so at ease.
Create Consistent and Engaging Content
The first thing that can help you to get more followers on the Snapchat platform is to post high-quality and engaging content on your Snapchat Story. Creating entertaining, informative, and valuable content for your target audience will keep your existing followers and encourage them to share your content with others, eventually grabbing more followers.
Social Media Cross-Promotion
Use other social media platforms to attract more audience to your Snapchat account by increasing the social presence. To do so, you can share your Snapchat username or Snapcode on platforms like Instagram, Twitter, Facebook, or YouTube and invite your followers to join you on Snapchat. You can also share snippets or highlights of your Snapchat content on these platforms to generate curiosity and drive followers to your Snapchat account.
Collaboration with Other Snapchat Users
On Snapchat, collaborate with other influencers to increase your content visibility. By cross-promoting each other's accounts or doing joint Snapchat takeovers, you can expose your content to a new audience and potentially gain new followers.
Utilize Snapchat's Discover and Spotlight
Snapchat offers features like Discover and Spotlight to help you reach a wider audience. Submitting your content to these sections can expose your snaps to millions of Snapchat users and increase your chances of gaining followers.
Build Connection With Engaging
Building a connection with your existing followers on Snapchat with engagements allows you to gain more followers. When your friends on Snapchat like or interact with your content, they will likely share it in their friends circle.
Why Do People Buy Followers on Snapchat?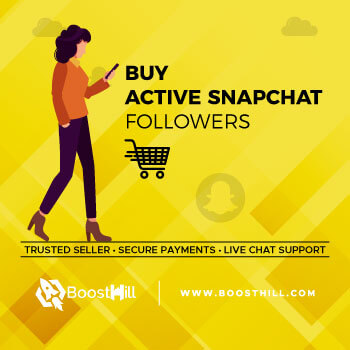 When people buy Snapchat followers growth services, there could be several reasons. Snapchat is a versatile and feature-enriched platform that attracts users to engage with others in an exciting way. Getting engagement from the users, increasing the popularity of the snaps or shorts, and many other reasons encourage people to purchase real, active, and cheap followers from us. They get a boost in their engagements, and the increased numbers of followers fascinate them and encourage people to create content that applies to their audience on the Snapchat platform. Uplifting Snapchat presence allows them to get more followers that will interact with their content. That is why people intend to buy instant Snapchat followers from BoostHill.
Why Should You Buy Snapchat Followers?
Social media platforms like Snapchat are great ways to attract more users worldwide and engage with them to promote your content, business, brand, services, or products. Buying ultra high-quality Snapchat followers is a smart move for those struggling to establish an appropriate social audience with which they will share their stuff. Having immense numbers of followers confirms that your content is highly engaging and signals the algorithm to promote your snaps or stories on other users' feeds. This scenario will attract more potential users to stick with you and enable you to establish a supportive community for your Snapchat account.
How To Examine The Credibility of a Snapchat Growth Service Provider?
Buying Snapchat followers from a social growth service provider requires many checks so you can confirm the credibility of their offerings. Many services claim to provide real and active followers, but they scam their customers and provide followers from fake or computer-generated bots. That is why, before purchasing, the following four points are applied to confirm the service provider's credibility.
How are Followers Added To Your Account?
Rapid addition could be suspicious of the platform's algorithm when adding followers to your Snapchat account. Ensure the Snapchat growth service provider delivers followers gradually to make everything look organic and natural.
Is Their Site Secure?
The website's security is the second thing you must check before buying cheap Snapchat followers. Ensure the website is SSL certified, protecting your data and all the information you will provide to order followers. To confirm the security, check the URL which contains "https." The "s" indicates the security of the service provider's website.
What is the Quality of Followers?
The third must-check is the quality of the followers they are providing. Only buy High-quality, active, and real followers instead of bots or fake accounts.
Are The Prices Affordable?
The most crucial factor that makes a Snapchat followers service provider reliable to choose from is price distribution. Confirm that the prices are affordable and provide relatively cheap followers for your Snapchat account growth.
Why BoostHill Is The Best Site To Buy Snapchat Followers?
---
BoostHill has proven itself to be the best site to buy Snapchat followers with exceptional growth capabilities and expatriates. Our exclusive range of affordable packages, gradual approach to delivering followers' orders, and many other aspects make us what we are. Contact us now and start the journey of skyrocketing popularity, engagement, interactions, and content reach for your Snapchat account.
Offers Geo-Targeted Snapchat Followers
BoostHill is proud to address the most desired and effective growth service quality demanded by every content creator on Snapchat. With our geo-targeted service approach, you can instantly get global followers to boost your worldwide visibility. Whether you want to buy high-quality Snapchat followers from the UK, US, France, Europe, Iraq, or UAE, we offer the most extensive and versatile range of active and non-dropable followers that will accelerate your popularity worldwide and help you build a robust social presence.
Non-Drop Followers
Our non-drop follower policy allows you to get followers forever for your Snapchat account that will remain with you and interact with your stuff until you are on that platform. The followers you will buy from us will not drop overnight.
High-Quality Snapchat Followers
BoostHill prioritizes quality, not quantity, so we only offer high-quality, active, fast followers that will organically grow your appearance across the platform and boost your popularity. Just choose one of your desired packages and enjoy the enlargement of your social appearance.
Cheap Prices
Affordability is a key feature of our Snapchat growth service. You can buy followers cheaply and immediately start the journey of being popular across the platform with so many organic engagements and interactions.
Fast Delivery With Gradual Approach
The sudden addition of followers could be suspicious and cause a Snapchat strike. To avoid such threats, we offer gradual delivery of your order. As soon as we receive your order, we immediately start processing it and will deliver it with drip-drop speed to make everything unsuspected.
24/7 Customer Support
Do you have any kind of query? Finding the best solution for your Snapchat account? Need assistance in the buying process? Our technical support team is always available at a distance of a call to help you. We would be happy to interact with you from any perspective.
Process of Buying Snapchat Followers
We know how important it is to get more followers for your Snapchat account, which is why we have drop-down the process of buying them. You are just three steps away from immense popularity, engagement, fame, and content visibility. Follow these steps and start your journey.
Select the desired real Snapchat followers package from the range we provided on our official website.
Add the URL or link to your Snapchat profile and other required information. We do not need your Snapchat profile password to protect our customer's privacy.
Clear all the dues, and as we receive the confirmation of your purchase, we immediately start processing and deliver followers gradually.
Frequently Asked Questions
Is it Safe to Buy Snapchat Followers?
It is 100% safe and guaranteed to buy Snapchat followers as they are real and backed by real profiles on the Snapchat platform.
Do I Need to Share My Snapchat Profile Password To Get My Order?
You do not need to share confidential information except the link to your Snapchat profile to deliver your order.
When Will I Get My Purchased Snapchat Followers?
When you clear the dues, processing will start immediately, and we will deliver your purchased followers gradually.
Will Snapchat Ban My Account For Buying Cheap Followers?
As per our Snapchat growth service providing career, we never get any kind of suspension case or complaint. So, you will be safe, and Snapchat will not ban you from buying followers.
Conclusion
The coolest social media platform, Snapchat, offers many opportunities to prosper your digital footprint and bring it to the next level of user engagement. Followers, like other platforms, are the key to success. BoostHill is providing Snapchat growth services to boost your popularity, content reach, and engagement of users. Buy Snapchat followers to start your journey towards being popular and attract more followers to your profile, which will help you get globally promoted across the platform with our geo-targeted growth services. Book your order and enjoy the exclusiveness of our social media growth service that will exponentially liberate your presence and make it easy for you to get more interactions on your profile.