Buy Telegram Post Shares
Diversify Your Content Reach with our Telegram Post Shares Service
1500 Telegram Post Shares
5000 Telegram Post Shares
10000 Telegram Post Shares
MegaPacks For Telegram Post Shares
20000 Telegram Post Shares
50000 Telegram Post Shares
100000 Telegram Post Shares
Related Services
Buy Telegram Post Shares To Intensify Your Social Appearance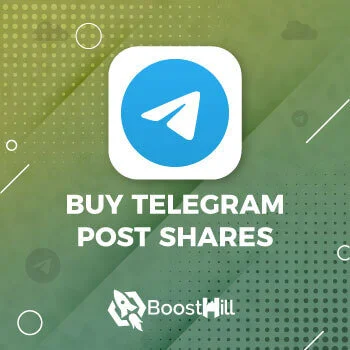 We live in a socially advanced world where every aspect, whether it is about our daily life or business, is related to this expansion, and this is all done with the help of different social media platforms. People share their daily routines, new daily hacks, and business ideas and promote their brands or profiles with the help of this digitalization. Suppose you are a person who is trying to build his social community or a business owner trying to enlarge your social circle. In that case, you must have used the Telegram networking platform.
One of the most effective ways to get most of the tractions on this platform is to have higher numbers of Telegram post shares. Shares on your Telegram post measure your content credibility and help others become your Telegram member. Buy Telegram post shares to skyrocket your popularity and authenticity and attract more users to join your cause.
What Are Telegram Posts?
Telegram is one of the latest and fastest-growing social networking applications on which people can share every kind of content wh each other. Like other social media networking applications, Telegram also offers to create groups and channels that represent a specific community to others and contain like-minded people in it. This feature of the Telegram platform allows users to market their products or services by sharing related posts. When people like their posts, they share them in their circle, and eventually, the reach of your posts increases. The whole scenario enables you to boost your presence on the platform and helps you to be more recognizable by posting on the Telegram networking platform.
Importance of Telegram Post Shares
Whether you are a business owner or a personal brand owner who wants to boost awareness and get more customers, then sharing your posts on Telegram social media platform is the most beneficial decision for your business. With the help of these post shares, you can amplify the content accessibility, can build a solid community that will support you, and eventually it will boost your business sales and awareness. In addition, the more you have Telegram post shares, the more it will have the potential to get viral across the platform. With the excessive shares on your Telegram posts, your channel or group's credibility gets boosted, attracting more users to your channel. So, the importance of getting Telegram post shares is huge which opens a lot of opportunities for your business or profile separately.
How To Buy Telegram Post Shares? [Video Guide]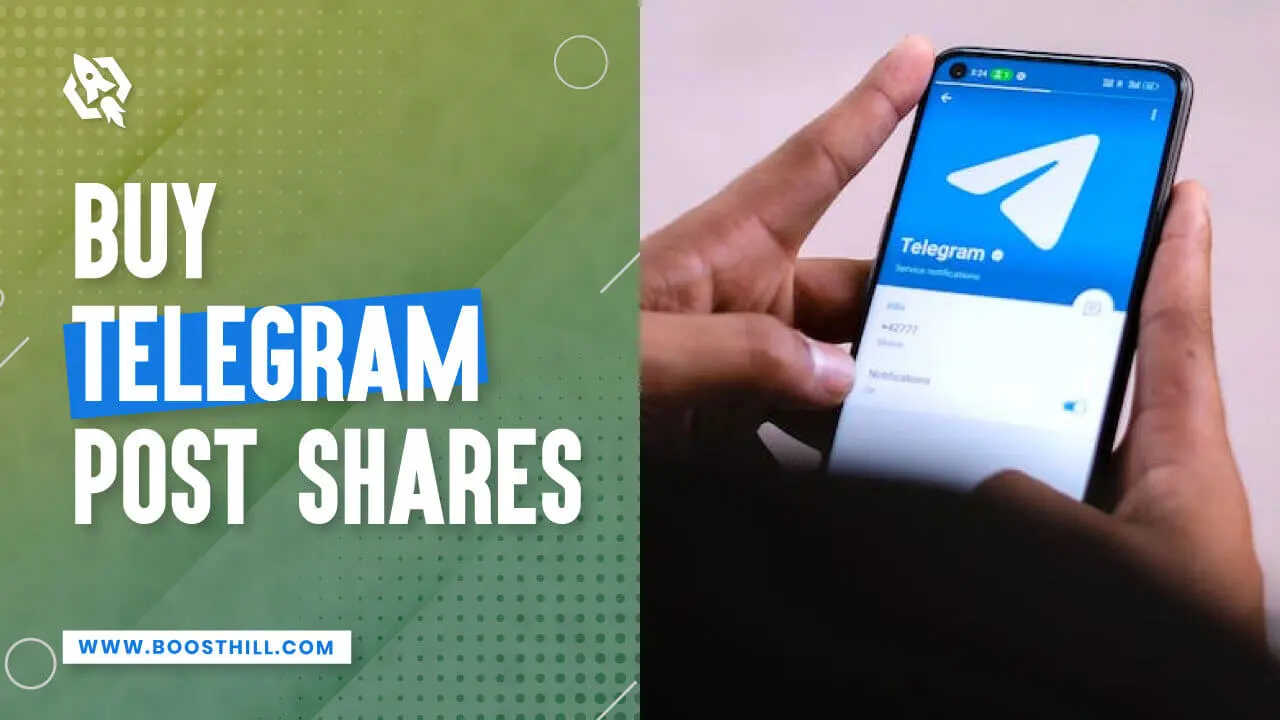 Why Should You Buy Telegram Posts Shares?
When you buy Telegram post shares, the algorithm of this platform starts to notice it, and with this information, it starts to promote your posts to others so they can join it and get most of its benefits. With the help of purchasing Telegram shares on your posts, you can magnify its reach and attract more users to your channel to make it bigger. People did not join those channels or groups on the Telegram platform with less sharing ratio. Purchasing shares for your Telegram posts attracts other users to interact with your groups or channels and suggest it to others, accelerating your visibility on the platform and making it easier for others to engage with your content. Buying is one of the fastest and safest ways to boost your credibility on the Telegram platform and make it more accessible to others.
Advantages of Buying Telegram Posts Shares
Buying Telegram post shares is one of the most effective and affordable marketing strategies allowing you many advantages. From the expansion in content reach to the increase in your channel's credibility, from skyrocketing your social presence to attracting new users that will interact with your posts on Telegram, there are numerous benefits of purchasing Telegram shares for posts. Here are some fantastic advantages of purchasing post shares for your Telegram channel or group.
Increase Your Post Reach
Whether you are creating new and high-quality content on Telegram, one of the most important metrics that matters a lot is the reach of your content. The number of users to which your posts are accessible and visible is the measure of your Telegram posts' reach. The more you give your posts reach, the more the chances of being viral across the platform.
Catch the Telegram Algorithms Attention
Like every other social media platform, Telegram also promotes posts of your channels to others on the basis of shares, likes, and views. Shares on your posts are the solid element of being recommended by the algorithm of Telegram. With this approach, the exposure of your content gets a peak, and you start to get more visible across the platform.
Skyrocket Your Social Credibility
People are intended to join those groups or channels with high social credibility, and that measure can be boosted with the help of purchasing Telegram post shares. The sharing of your Telegram posts with other real users triggers its appearance on the platform and allows you to increase your channel's or group's credibility. That is why buying Telegram post shares boost your social appearance and allow you to attract more users.
Intensify Marketing Efforts
For those who are using Telegram as a marketing channel, buying post shares can amplify your marketing efforts. With the help of reaching a larger audience and generating more engagement, you can increase the chances of conversions whether you want to drive traffic to your website or want to promote a product or service or achieve other marketing objectives.
How To Grow Telegram Post Shares Organically?
---
Growing organically on any social networking platform like Telegram is not a piece of cake, as so many things need to be done. Posting quality content in groups or channels, estimating the targeted audience, and consistency are some of the main attributes that help you to skyrocket your content-sharing ratio on the Telegram networking platform. Here are some other organic ways that can lead you to enlarge the Telegram post shares let you make an incredible identity.
Use other social media platforms like Facebook or Instagram to promote your Telegram posts and increase their sharing ratio.
Use attractive headings and relative hashtags to attract and get the targeted audience on your post to increase its invisibility.
Keep connected with your audience with different kinds of interactions, such as pools or asking questions about something.
Use appropriate CTAs (calls to action) in your posts and encourage your audience to share your posts in their circle.
Last but not least, be consistent in posting your content on the Telegram platform so that people can easily recognize you.
The above approach allows you to amplify your post shares count organically, but, as you can see, it needs many efforts. Here BoostHill comes in handy and lets you purchase Telegram post shares to skyrocket your social presence and boost your channel's credibility. With our affordable exclusive packages, on-time delivery, and the realness of users that will share your Telegram post, you can trust our service to become an effective influencer on Telegram.
Who Can Get Most Of The Benefits of This Service?
Telegram is a versatile networking platform that allows millions of users in different categories to collaborate and share content. We understand every user's need and offer to buy Telegram post shares to a vast range of users, as mentioned below.
Business owners that want to boost their exposure with other potential customers
Brand owners who want more leads and to spread their brand awareness to new horizons
Marketers for new and effective marketing strategy
Influencers to boost their social circle
Small business owners that need more interactions with their business
Individuals who want to increase the credibility of their channel or groups
And all those who are eager to create solid social proof can buy posts shares for Telegram
Why Choose BoostHill to Buy Telegram Post Shares?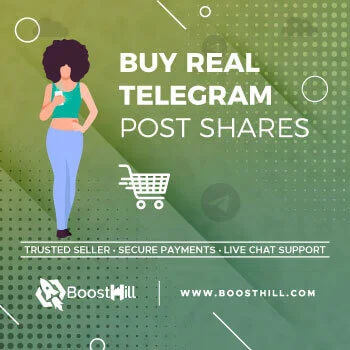 We are the most credible social media service provider committed to customer satisfaction and success. With professional and knowledgeable staff, we ensure you the skyrocketing exposure of your Telegram posts and incredible social engagement. The affordability of packages, fast delivery, and resilient buying process made us what we are today. Some other attributes make us the best site to purchase Telegram post shares.
Real-Users Post Shares
The users that will share your Telegram posts are real and active, which will boost your visibility across the Telegram platform. With the help of these real users, the exposure of your post will increase, and that will lead you to expand your social networking.
Instant Delivery
We understand the need to be popular and more visible among Telegram members, which is why we provide instant processing, enabling you to compete with others quickly to get your desired results. As soon as you complete your purchase, we will immediately start the processing and will deliver it gradually to make everything organic.
Affordable Packages
Whether you are starting marketing for your channel or group or want to promote your established business, we have all kinds of packages at affordable prices which will boost your credibility at cheap prices. Check the versatile range of packages on our site and choose that suits your needs.
Resilient Payment Process
We provide the most convenient and resilient way to pay for your purchased Telegram post shares. Whether you have Bitcoin or a Credit Card, we have multiple payment methods that you can use to complete your purchase.
Top-Notch Customer Service
We are proud of our top-notch customer service in which you can get the proper assistance and guidance about any matter that you have related to buying Telegram post shares. Contact us if you have any sort of query or a question related to growing on the Telegram platform.
Process of Buying Telegram Post Shares
---
To make the buying experience extraordinary for our customers, we have crafted the hectic purchasing process into a simple one. You must follow three simple steps to start your success journey on Telegram.
Select the number of shares that you want to get on your Telegram posts.
Provide the Telegram post's URL that you want to be shared by real users from us.
Clear the dues, and we will immediately start processing and will deliver it gradually to make everything natural.
Frequently Asked Questions
Can I Get Real Telegram Posts Shares?
Yes, you will only get real users that will engage with your Telegram posts and share them in their circle.
Will Telegram Ban Me for Buying Post Shares?
There is no such thing as we provide you, real users, with a gradual approach that will increase your credibility and organic reach across the platform.
Do I Need To Share My Telegram Account Password?
No, you just need to provide your Telegram post's URL to buy Telegram post shares.
Will Anybody Know That I Bought Post Shares?
Nobody will know that you bought shares as our site is SSL-certified, which protects your data and transaction details.
How Long Will It Take To Get My Order?
As soon as you clear the dues, we will start processing your order and deliver it gradually to make everything natural.
Conclusion
Purchasing Telegram post shares offers significant advantages for individuals and businesses. It increases post visibility, catches the attention of Telegram algorithms, boosts social credibility, and intensifies marketing efforts. BoostHill, the service to buy Telegram post shares, provides real and active user shares, ensuring organic growth. We are the ideal choice with affordable packages, instant delivery, and exceptional customer service. Buying post shares is a safe and effective strategy to enhance presence and engagement on Telegram. Choose us to unlock the full potential of your Telegram posts and achieve remarkable results. Visit our website and choose your desired package that will boost your social media presence and make it more accessible to others.