When it comes to talking bout the worldwide accepted and most-liked social media platform for short-term video content, TikTok comes at the top of the list. Although Instagram also offers to create reels which is an alternative to the TikTok platform, an immense number of features have been introduced by the TikTok platform, which is why it gets so much traction worldwide. Whether you are an entertainment content creator or a brand owner who wants to spread audience awareness to get maximum reach to their customers, this platform is a versatile one that covers and provides many opportunities to content creators. As a content creator, the most demanded feature is the option of drafting videos so we can work on them alternatively. TikTok drafts are one of the most impressive features of this short-form digital content creation platform.
Despite this platform's other astonishing video editing features, drafting videos is a handy feature of the TikTok platform. There are many benefits of using this feature while you are a content creator and want to pay detailed attention to your content. For those who want to know what TikTok drafts are, how to save, edit, or delete drafts separately, or why someone would draft a TikTok video, this blog is the right place to get all these answers and their related branches. So, without time and words, let us start to dive into our discussion and discover the real facts about this matter.
What Are TikTok Drafts?
On the TikTok platform, you can create short-form videos and save them to your account as drafts. The draft videos will only show to you, and nobody can watch your content until you make it public or post it on your profile. In addition, as in final video content, you can not make any changes, but the drafts on the TikTok platform allow you to tailor the video per your recommendations and needs. This feature on TikTok aims to ensure the quality of your content so that you can attract maximum users to it. Furthermore, the need to make changes after sometimes can also be fulfilled with the help of using drafts on TikTok. In short, drafts on TikTok enable you to resume editing whenever you want.
How to Save TikTok Drafts?
Creating drafts on the TikTok platform is quite a simple process that can be achieved by following some easy steps. This section will discuss how to create TikTok drafts so that things get easy and you can edit them later at your convenience.
Open the TikTok application on your mobile phone first.
Tap on the plus icon at the bottom of your screen. The camera will open after tapping this option.
Now, you need to record a video on your own, or you can upload it from your phone gallery. In addition, you can also upload pictures from your phone gallery to create a video and save it to drafts.
Select the video or picture you want to upload, and then tap on the Next button to proceed.
Once you are done with uploading and editing your video, tap on the draft option at the bottom left of your mobile screen.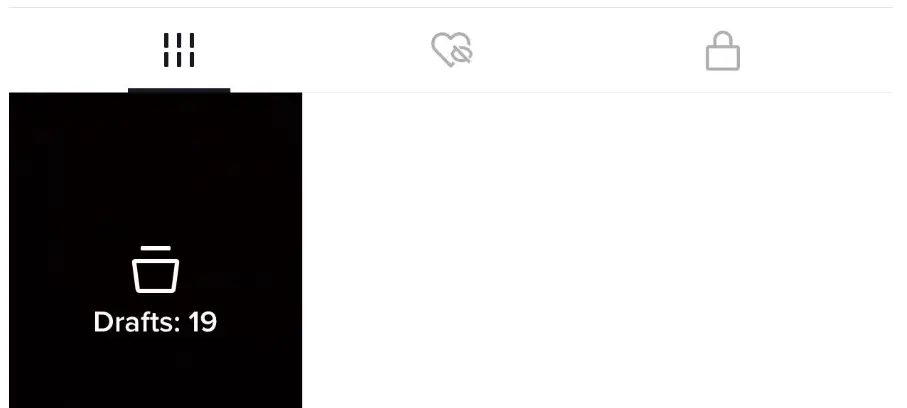 The video is now saved in your drafts on your TikTok account and ready to re-edit if needed. This drafted video folder will show you at the top right corner of your profile screen so you can make changes to it later.
How to Edit Drafts on TikTok?
After creating a video on TikTok and saving it in the draft, you should know how to edit your drafted TikTok video easily. This discussion section will discuss how you can do this most easily. Here are the steps to follow.
First, go to your TikTok profile page and then tap on the folder of TikTok Drafts.
Now, you need to select the drafted video that you want to edit to upload or download it to your device.
Now, you can edit selected videos with multiple soundtracks to emerge, animations, and effects so that content can get attractive enough to grab the attention across the platform.
Once you are done with detecting, the next step is to publish it on the platform by adding essential details such as tags, descriptions, and others to reach the targeted audience.
From here, you can do both things with this video, whether you can save it again in drafts or a gallery or upload it to take millions of likes.
That's how you can edit your TikTok draft videos on the go and tailor them according to your need.
How to Delete Drafts on TikTok?
The drafts on the TikTok platform play an important role in remembering the context of your content, but sometimes, you need to get rid of them to refine your draft folder. At that time, you must know how you can delete them quickly. This section of our discussion will discuss how you can make it happen. Let us find it out.
Open your TikTok app and head to the draft folder which is at the top right corner of your mobile screen.
Select the video that you want to delete from your draft folder.
At the bottom of your screen, you will see a button for Delete. Tap on that button and then confirm the pop-up button again.
That is how you can delete your TikTok draft easily.
Where Are My Drafts on TikTok?
Finding your drafts on the TikTok platform is not a hard thing. You just need to launch your app and tap on the profile button at the bottom of your screen. When you headed to your profile, there, you will find your draft folder and therein you will get all the drafted videos that you previously saved for editing or publishing.
Conclusion
From the above discussion on TikTok drafts, we can say that it is the most handy feature of the platform. With the help of this feature, content creators can polish their videos gradually with peace of mind. Whether you want to save a video in draft or want to edit it later, this blog will guide you through all the aspects related to this matter.