Did you know that TikTok reintroduced its magnificent feature, which is non of the others except the Profile Views? Yes! It is the feature that has been in the shadows and lurking there directionless in 2020, but now, you can use it for the potential effects to make your content more attractive and many other purposes. The feature of viewing who visited you enables you to know who sneaked a peak at our profile anonymously, giving you an insight into your account and making you commendable. The feature not only enables you to see who views your profile but also allows you to estimate the interest of your viewers. Did you know how to turn on profile view in TikTok? Well, it is not a complex thing; most of all, you got us!
We will discuss every aspect of this matter in this blog to clarify everything. Before we get into how you turn your profile views on, you must know what they are and how they work for you on TikTok. So, let us break it out and make everything easy for us to induce.
What Do you Mean by Profile Views?
The opportunity to know who visited your profile in the last thirty days is referred to as the profile views feature on TikTok. It is up to you whether you want to turn it on, enable it, or disable it for you. But remember one thing, if you have turned off visit views for your profile and after that, you visited someone's profile, the user will know if they enabled this feature. So, make your mind clear if you turn on or off the view profile feature. It doesn't mean no one will get noticed you lurking on someone else's profile.
Another attribute that makes this feature magnificent is that it will not allow anyone else to know who visited your profile except you. It means TikTok didn't allow anyone else to share your field of knowledge with anyone. Now, let us dive straight into the main discussion to clear everything about it.
How to Turn On Profile Views on TikTok Smartly?
Well, if you are wondering how to know who has visited your profile since last month, this section will cover all kinds of your concerns with a smart approach. Let us find out what steps provide insight into visitors' information.
The first step will be done when you launch your TikTok profile on your mobile phone application and head to your profile. You can do exactly the same on your laptop or desktop to find out who has visited your profile.
The next step is to tap on the Eye-like icon to proceed.
The new window will appear on your screen; select the option of Turn on to know the profile view history.
A new window will appear on your screen, allowing you to see the list of people who visited your profile last month.

You must remember here that you can turn the view option off at any time. In addition, you might want to turn it off because no one could know that you are stalking someone or searching for someone special. When the profile view option is enabled on your profile, others with the same enabling can find you out if you visited someone else's profile. Moreover, you can also get the notification that someone has just visited your profile.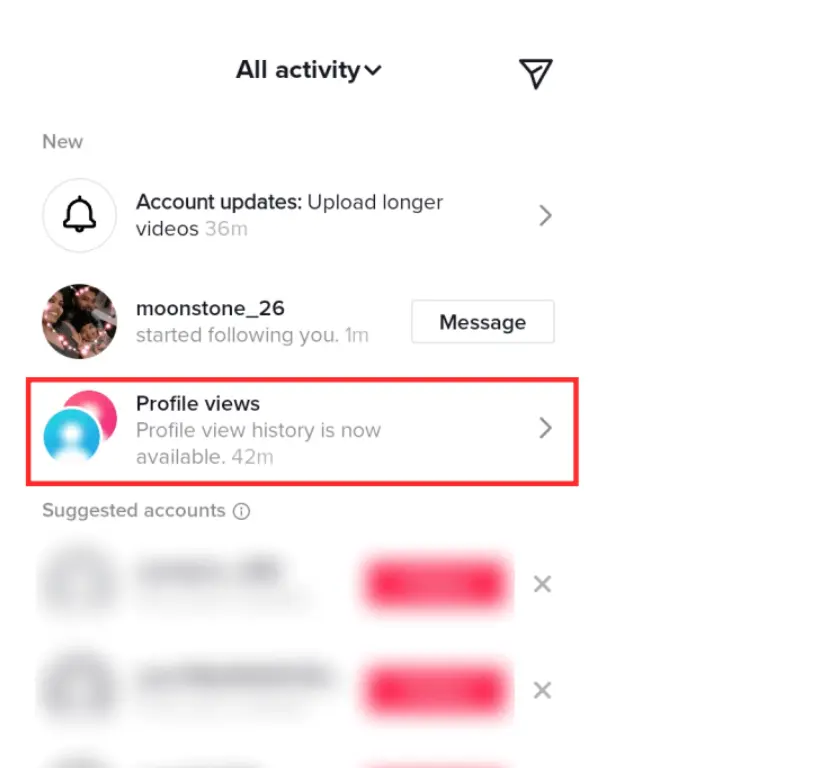 So, if you want not to get caught by your opponent that you are stocking, you can turn the view profile feature off. Then why not find out how to turn off profile views on TikTok? Then let us start to explore thighs.
Related: How to Add a Link to TikTok Bio
How To Turn Off Profile Views on TikTok?
The above discussion shows how to turn on profile views on TikTok smartly. In this section, we will discuss how to turn it off. There are approximately the same couple of steps that narrates above. So, let us start to explore them and make them easy for us to understand.
You need to go to your profile.
Then you need to tap on the Eye icon that will appear on the right-top side of your profile.
There, you will see the option of profile view history option, turn it off to disable the history of the views on TikTok.Once you are done with disabling the view history feature, the option of getting views history will again be reverted. It means you can make it as useful as you want, which is the best part of it.

On the other hand, there are sometimes that you want to remove yourself from someone's other user profile view history. At that time, having knowledge about this matter helps you out a lot. In the next section of our blog, we will discuss how to do it easily.
How to Hide Yourself Form Someone's Other User's Profile View List?
Did you know that a fun fact is that it is a two-way street? It means if you want to get hide from someone's else profile view history, you must turn it off from your side. As a whole, the profile views will only work if the Visitor and the Visited must enable it otherwise if anyone turns it off, both can not see who visited whom and when. So, if you want to sneak on someone's profile, make sure to turn off your view history feature so that no one gets notices you.
Conclusion
The above discussion shows how to turn off profile views on TikTok and how to turn them off. There are also many aspects covered in the above discussion that gives you a deep insight into profile view-related concerns. Make sure to read it and make it useful for you!