Whenever someone talks about an undisputed social media short-form video platform that hosts not only entertainment and science but also politics and other categories of content, TikTok comes to the most convenient discussion. TikTok has millions of content creators around the world that create great content for their audience or followers, and in return, they get paid and get visibility across the platform. Like the other social media platforms, TikTok allows its content creators to make it easy for their followers by allowing them to use features called Pin video. Did you know 'what does Pinned mean on TikTok?' How is it handy for viewers to make their search easier for content? How it helps content creators to make their content more visible to their viewers and followers? There are many related questions. related to that feature you might have in your mind.
This blog will let you know about pinned videos on TikTok. How to pin a video in TikTok? And many other aspects will clear every doubt in your mind. So, let us dive into the real discussion.
What Does Pinned Mean On TikTok?
When it comes to talking about pinning a video on TikTok, it is clear from its name. Content creators on TikTok can pin their videos on their feeds so that whenever a user comes to their profile watch that pinned video. With the help of this approach, content creators can increase content engagement and attract more followers. In addition, with the help of pinned videos, content creators can draw an image in the viewer's mind that their content is placed on top of the other content creators, which allows users to watch your content for long spam. Many users are fond to watch the best content of any TikTok content creator so that they can get most of the entertainment from it. At that time, pinned videos helped them to get easy access to what they were on to watch.
Moreover, there are three TikTok videos that you can pin to your feed. If you want to pin more than three videos, then one of the pinned videos must be unpinned. You might think about how you can pin a video on TikTok. The next section will let you learn about that matter. Keep reading!
How To Pin A TikTok Video?
A couple of steps are required to make a TikTok video pinned. Following are the steps that tell you how to pin videos on TikTok.
First, launch the TkTok app on your Mobile Phone and go to your Profile.
Get to the Videos page and select the video you want to pin on your TikTok feed.
Once you select a video, tap on the three-dot icon placed at the bottom right.
A pop-up menu will appear from the bottom of your screen. Tap on the Pin option.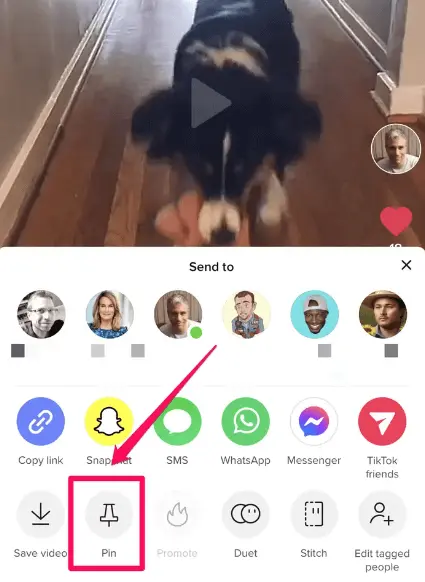 The above steps show how to pin videos on TikTok and 'what does pinned mean on TikTok.' Once you are done with the above steps, the video you pinned will get a label of Pinned which declares that your process is right and you are ready to attract more viewers for your content. In addition, the video will show on the top of your feed. You can check it from there after completing the process.
How Can Pinned Videos Be Handy?
There are many reasons that allow content craters to pin their videos so that they can get more views and followers on TikTok. That approach yields many advantages for content creators. For example, there are sometimes when a video gets massive likes, and you want to achieve a specific threshold. For example, if a video on your channel gets 600 thousand views, pinning that video on TikTok will allow you to achieve 1M views. Additionally, pining to a TikTok video tells about your channel to the new users on TikTok. It is a common practice that the content creators pin those video that depicts the vibes of their channel and allows new users to understand what type of content they produce.
Conclusion
From the above discussion, we can learn "what does Pinned mean on TikTok." In addition, we can also get the idea of how you can pin videos on TikTok with a couple of steps. It is estimated that TikTok is the most user-friendly entertainment platform that allows many features to grow.