When we talk about the music industry, it gets saturated with a massive base of users that love to listen to music and podcasts of their favorite content creators. YouTube Music and Spotify music streaming platforms are the most searched platforms on Google that have a massive influence on listeners. People love to listen to their favorite music, but when it comes to choosing one of them, things get complicated as they are seemingly identical. YouTube Music vs Spotify is a matter of deep discussion. It demands a deep analysis so that one can easily understand which is better for them to listen to their favorite content on the go.
In addition, Spotify was developed by two Swedish entrepreneurs, Daniel Ek and Martin Lorentzon. Spotify was launched in Europe and gained popularity due to its simplicity and accessibility. In 2011, Spotify grabbed its first one million subscribers, and after that, numbers kept rising, and now, it has become the most popular music streaming app used by millions worldwide.
On the other hand, YouTube Music was developed by Google to provide music streaming services. It was first launched in 2014 and is taking the place of existing Google Play Music.
Before becoming a final product, the YouTube Music app undergoes so many changes, and now it has become the most famous music streaming app that is entertaining millions of people around the globe. These numbers are getting raised day by day.
In this blog, we will go through a comparative discussion so that one can choose which is best for their use and understand all about both music streaming platforms. So, let us start with a free plan comparison of YouTube Music and Spotify, and after that, we will discuss the other related aspects of that matter.
YouTube Music Vs Spotify – Free Plans
When we talk about YouTube Music vs Spotify, their free trial comes with almost the same features you can use without paying a single penny. However, both platforms offer their users a premium subscription to listen to their favorite music on the go. With a free version of both apps, you can access their music content library and listen to whatever you want with ads. To enjoy ad-free content, you need t get their premium subscription. The following picture shows the difference between YouTube Music's and Spotify's free features.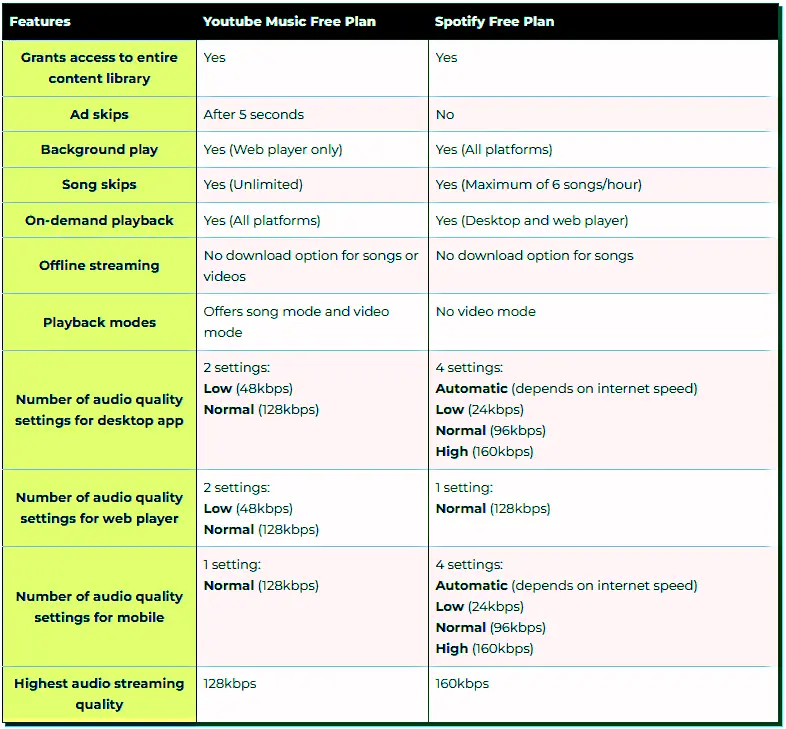 With the help of the above picture, you can see how YouTube is best for free music listening. There are lots of perks that YouTueb provides in its free version to its users, Spotify. Then we can say that YouTube Music is a hustle-free platform which makes it good than Spotify.
As you can see, free YouTube music lets you skip ads after a few seconds. On the other hand, no such facility is available in the Spotify music streaming application. On that platform, you can not skip the ad or skip more than six songs in an hour. Another hand, YouTube Music enables you to listen to and skip as many songs as you want.
Pricing Plans of YouTube Music Vs Spotify
When it turns to compare the prices of YouTube Music vs Spotify, things get identical. Both have the same plans, whether it is an individual premium, family plan, or student plan. When someone gets one of these plans, they get multiple features stated below.
Liberty to listen to offline songs
Access to the entire music library
High-quality musical content
Free of ads music listening experience
In addition, when we talk about both platforms' sound quality, YouTube music supports up to 256kbps, and the Spotify music streaming app supports 320kbps sound quality. That feature makes Spotify more worthy than YouTube Music. Other than the individual premium, family, and student plans, Spotify also allows grabbing their Duo plan for two people who live in the same house at a discounted price of $12.99. In addition, Spotify offers a Premium Student Plan with which subscribers can get a fifty percent discount and two videos on demands subscriptions for free, which is a great deal.
On the other hand, YouTube also offers another Premium plan other than a regular premium plan with which subscribers can access ad-free content and the three videos on demand playback for three different streamings. So, we can conclude that Spotify gets a plus point over the YouTube Music perks.
Diversity of Content on YouTube Music Vs Spotify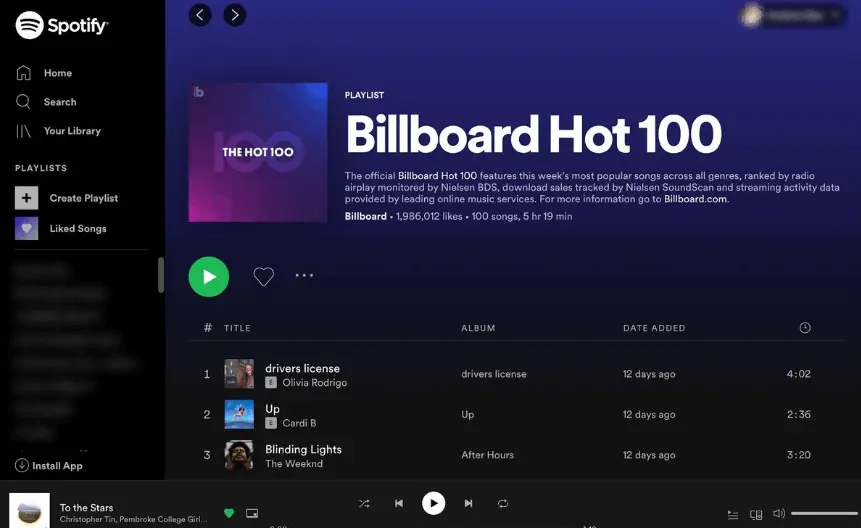 The variety of content on YouTube Music vs Spotify on both platforms is enormous. Whether you want to listen to pop music, podcast, or classical music, both platforms allow you to listen to your favorite music without any hazards.
When we talk about the number of tracks on Spotify, there are more than eighty million tracks on Spotify that people love to listen to. In addition, there are more than 4.5 million podcasts that you can listen to on the go.
On the other hand, when talking about the number of tracks available on YouTube, the numbers are almost the same as on Spotify. In addition, more than twenty-four percent of people love to listen to podcasts on the YouTube Music app. You can estimate how big these two music streaming platforms are with that massive number of users.
Frequently Asked Questions
How Much Will Spotify Premium Student Cost You?
The Spotify Student Premium plan will cost you $4.99 per month with ad-free content, offline music availability, and high-quality musical content.
How Can I Get Spotify Premium Student?
To get the Spotify Premium Student plan, you need to follow a couple of steps.

1. Fill out the SheerID verification form first. And if you don't find out your school/college there, you can not get that plan.

2. You will ask the proof of your school enrolment. You need to log into your school/college portal to share the proof.

3. Once you are eligible, confirmation will be sent to your email for confirmation.
Conclusion
In the end, we can say that this discussion covers every aspect of YouTube Music vs Spotify. If you want to get deep information about these two platforms, this blog will guide you in the most appropriate manner. So, read this blog, so you can decide which one is better for you to listen to your favorite music.