Twitch – a streaming source founded in 2011 by Yale Graduates Justin Kan, Kevin Lin, and Emmett Shear. According to an estimate, more than 4 million broadcasters and 17.5 million users have been playing, watching, and streaming on Twitch.
Therefore, a lot of people use this twitch as it's their passion and hobby. They are determined to get success and want to be ranked as number one streamers. But do you know all the processes that do this? As a beginner, there is a lot that you need to know. Without any guidance, it's not possible that you will be counted among the best streamers.
The first strand is to know how to live stream on Twitch or how to go live on twitch on pc? It's the foremost steps that will lead you to progress, but how to do this? Relax, I've got you covered.
Here in this article, I have listed all the possible ways through which you can do excellent streaming. So, let's dig in.
Create Twitch Account
To start live streaming, the first step is to install and register your twitch account. So, below are the ways through which you can do live streaming and vail unlimited twitch prime offers.
Press the "sign up" button by writing www.twitch.com on the search bar
After pressing add all the essential details on the form.
Enable two-way verification for security
Enable 2FA
Software to Use While Live streaming
After creating your twitch account, know what software that you can use while streaming is. This software will allow you to have excellent features and tools while streaming. So, ultimately these are the best sources to start a live stream. Below are the software:
OBS Studio
Streamlabs OBS
XSplit
vMix
Hardware Required While Streaming
Getting software is not just the end; there are multiple gadgets that you need while streaming. Without these tools, it's not possible that you will get efficient streaming. So, let's see what those hardware's.
Computers – GPU, CPU, OS.
Microphone – Elgato Wave 3, Blue Yeti X, Razer Seiren Mini, Audio Technica AT2020, etc, are popular microphones.
Webcam – Logitech StreamCam, Logitech BRIO, Logitech HD Pro C920, etc.
Lightning
Stream Deck
How to Start Live Streaming on Twitch by OBS?
OBS is a famous software used while streaming. Below are some ways through which you can stream live by using this software.
Open the "OBS" page.
Choose "settings."
How to Go Live on Twitch on Ps4?
The best thing about Twitch is that you get multiple options to stream. Just like the PS4. Using this source might be technical for you, but I have made it simpler. Below are the most manageable steps to get this process done.
Utilizing your controller, press on "settings."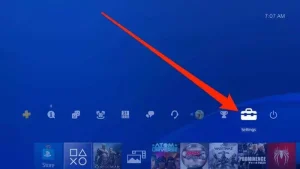 Choose "account management" and then "link with other services."
Select either YouTube or twitch.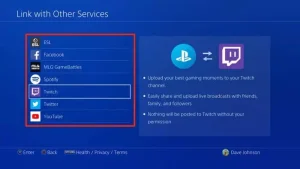 After getting the verification number for twitch, enter the digits and sign in.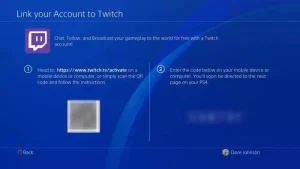 Start the game you want to stream by pressing the "share" button
Choose "broadcast gameplay" and choose the source "twitch."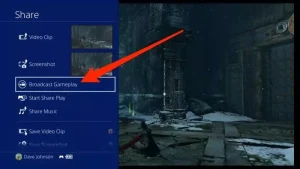 Once you select, press on "start broadcast," and you are live now.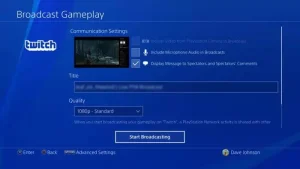 How to Save Live Streams on Twitch by Xbox One?
Successive are the ways through which you can save your stream on Xbox One. You can either use it in the future or add ads after the live streaming session. So, here are some ways through which you can make this process simple and hassle-free.
Search "twitch" in your Xbox One Microsoft store, choose "get," and download it.
After installation, "login" by adding username and password.
Open the "twitch activation" page on any other device and "login" there. After that, you will get 6 digits code on your Xbox app.
Add them and go to "settings."
Choose "account privacy and online safety" and "Xbox live privacy." After that, go to "view details and customize" and press on "online status and history."
Choose "everybody" and enable others to see your stream.
Go back to "view details and customization," and choose "game content," and press "allow."
Choose" select broadcast" when you are all set to live stream.
Tips for Best Live Streaming
Now that you know all about live streaming, software, and hardware, it's time to grab some pro tips. With this guide, you will be able to have the best content and appealing stream every time. So, here are some tips suggested by expert streamers:
Use quality software for streaming.
Come up with innovative and creative titles
Use a high-resolution camera.
Make nice and eye-catching overlays.
Choose creative titles.
Have the best audio system.
Engage with your fans
Use twitch extensions.
Make a schedule and set alerts.
Frequently Asked Questions
Below are the essentials that you need to add to the live stream:
Streamlabs
Crowd control
Sound alerts
Stream aid
Amazon blacksmith
Stream legends
Snap camera
Getting viewers on twitch is significant; hence here are some ways to have several followers.
Play games with more viewers.
Talk during your stream
Ask friends and family to watch your stream.
Use chatbot while streaming.
Stream during the golden hours.
Invite people to play
Verdict
Live streaming is fun as it allows you to engage with other people, interact with them and grab creative ideas. Therefore, choosing the best software and hardware is essential. Streaming is not about tools; you should also know how to use these softwares to have a high-ranking live session. Hence, above are some tips and ways to take your streaming game to the next level.