Expanding the appearance of your social media profile on other social media platforms is one of the most practical ways that allow you to make your social appearance enlarged. Cross-posting is now becoming the matter of a convenient way to attract the eyes of more people to promote your profile, your brand, and your product or service. In addition, TikTok is the most used social media platform nowadays that allows its users to create short-form videos so that they can grab the attention of others. To enlarge the accessibility of your TikTok content, the platform allows you to connect with other social media platforms such as Instagram. Do you know how to link Instagram to TikTok? This is a question of great worth. Connecting your TikTok account with Instagram opens new horizons of engagement and visibility. It increases the chances of getting more followers for your TikTok account and vice versa.
If you are looking for information about how you can link your TikTok account with your Instagram or how you can link your TikTok account with Facebook, then this blog will guide you through every piece of knowledge that will help you to make it easy for you. So, let us find out how to link both social media accounts, TikTok and Instagram.
How To Connect TikTok To Instagram?
TikTok is a leading social media short-form video posting platform that allows you to grab the attention of others around the globe. Getting followers on this platform is the key to get a successful career. Many content creators make money on that platform through affiliate marketing and promoting products or services. To increase the reach of users, TikTok allows you to link your account with your Instagram profile. It allows you immense benefits such as enlargement in visibility, attracting more followers, and increasing the traffic of your TikTok profile. Following are some easy steps that you need to follow to connect your TikTok account with Instagram.
To link your TikTok to Instagram, you need to download the TikTok application from Play Store or Apple Store on your mobile.
The next step is to create an account on the app by providing some basic information.
Now, tap on the right-bottom option of Profile, which leads you to the main page of your profile.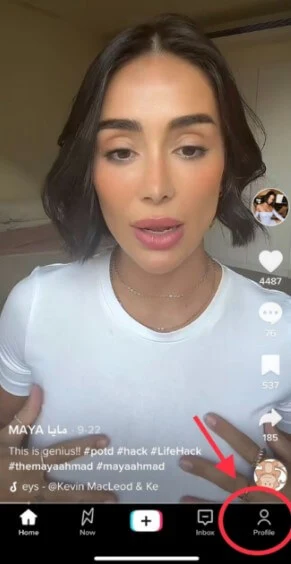 There, you will find the option of Social, tap on that option of Edit Profile and proceed to the next step.

At the bottom of your screen, you will find the option of linking TikTok to Instagram. You need to select the option of Add Instagram.

After the above step leads you to the Instagram login page, you need to log in with your credentials on the Instagram platform.
That is all. Your TikTok account is now linked to the Instagram platform and ready to share the content that you will create on TikTok. Now, you can also enjoy the engagement of your TikTok videos on Instagram, enabling you to profound your social media appearance. Now, we will discuss linking your TikTok account to YouTube to get more interactions from that platform.
How To Link TokTok Account with YouTube?
Linking a TikTok account with YouTube also opens a lot of opportunities for content creators that you can use to increase followers on both platforms. The process that involves linking a TikTok account with YouTube requires a couple of steps, as we have mentioned in the above section. It means you just need to follow the steps as narrated to connect TikTok to the Instagram process. But, at step six, you must select YouTube instead of Instagram, and that is all. With the help of this information, you can link your TikTok with the YouTube platform to get access to new and potential followers. This will help the brand owners to grab the attention of more customers and leads for their products or services, which can help them to increase their sales ratio.
How To Unlink Instagram to TikTok?
You want to unlink your Instagram account to the TkTok platform. To unlink the TikTok from Instagram, follow the above-narrated steps until you reach the option of Social editing. Now, you need to tap on the option of social. A pop-up notification will appear asking you to unlink the Instagram platform from your TikTok account. With just hitting on the button of Unlike, you are done with removing Instgarm from the TikTok account.
Things You Should Know About Sharing TikTok Content on Instagram
Sharing content on Instagram or YouTube that you made on TikTok is one of the most handy approaches to enlarge visibility and attract more users to your TikTok profile. But, the algorithm of the Instagram platform is getting stronger over time, and it can detect videos that contain a TikTok watermark. The platform has now decided that videos containing the TikTok watermark will not be promoted. So, it doesn't matter how many TikTok videos you share on your Instagram account. If they contain a watermark of TikTok, they will not be detected or promoted by the Instagram algorithm.
Then what can you do in this regard? Well, there are several ways to remove a TikTok or any other watermark from a video. You can use multiple online free and paid services to make your videos accurate for the Instagram platform.
Frequently Asked Questions
How Many Followers Do You Need To Link TikTok with Instagram?
Well, you need none. You can connect your new TikTok account with your Instagram account, whether a new one or an old one. But for better results, 1000 followers will be more appealable for you to get more traction on Instagram.
Why Can't I Add A Link to My Instagram in My TikTok Bio?
The only way to place a link to your Instagram profile in the bio section of TikTok is to create a business profile on that platform.
Conclusion
From the above discussion on how to link Instagram to TikTok, it is a simple and straightforward thing you can perform by following a couple of steps. With the help of this blog, you can find a way to link a TikTok account with Instagram and vice versa. In addition, we have also covered how to remove the TikTok watermark from the videos you share on other social media platforms. So, read this article from tip to toe and make it easy to understand how you can link TikTok with other social media platforms.