With over 9 million unique users over the past few years, Twitch has become a major player in the live-streaming industry. The site hosts a wide range of live entertainment channels including professional e-sports, DJ sets in the living room, cooking shows, and ASMR streams of dubious legality.
Are you interested in joining the Twitch live streaming community? Before you do so, learn about the platform first.
What Is Twitch Streaming
There is a live video streaming service called Twitch that primarily focuses on video game broadcasts including live coverage of electronic sports events, in addition to offering music broadcasts, original content, and live streams of recent events. This service is truly a wildly popular live streaming service in the United States. Twitch Interactive, an Amazon subsidiary runs it.
There is no limit to how long streams can last. You can watch streams for as short as a minute or as long as eight hours or more.
Twitch allows gamers, as well as those who are interested in lifestyle, casts about other subjects such as music or food, to broadcast their activities and have others view them in real-time. In short, the Twitch service lets people live-stream their gaming or lifestyle vlogs. It will be also possible for others to watch the live stream concurrently as well.
In order to partake in the Twitch Live experience, one needs to sign up for a Twitch account. Once registered, you can start live streaming.
Guide To Twitch Streaming
Would you like to learn how to live stream on Twitch, but do not know where to start? Nothing to worry about! If you have been wondering how to stream twitch, this ultimate guide will help you out.
This article includes information on the best live streaming software, the best microphones, the best cameras, the required specifications for a personal computer, and much more.
How To Setup Twitch Streaming
The process of setting a Twitch account is pretty easy. For those who wish to live stream on this platform, it has an additional step for that. It is also free for Twitch users to open an account. Spend some time analyzing the community guidelines and making sure to follow the legal section.
The sign-up form can be filled out on the desktop by clicking "sign up" and entering your information. It is necessary to download the Twitch mobile app on your smartphone in order to login to Twitch. The official Twitch app recommends that you first sign up with your phone number and then add an email address later in the process.
Twitch broadcasting is not possible without two-factor authentication, and mobile devices cannot support two-factor authentication. You need to get your laptop and log into your account. Once you have done this, navigate to the security settings, and active two-factor authentication. The 2FA process will require you to use your existing mobile phone.
Best Streaming Apps For Twitch
How do I stream Twitch? To answer this, here are several software programs one must take into consideration. It is actually much easier to stream on Twitch than you might think since it allows streaming from an array of platforms. Gaming PCs or laptops with decent amounts of processing power are some of the most common devices used to stream Twitch.
Regardless of the method, you choose to go about getting your stream running smoothly, you will need the proper software to make it work. Open Broadcaster Software (OBS), which can be found on Mac, Linux, and Windows systems, and XSplit, an application that is centered around Windows-10-centric tools, are the two major software options.
Open Broadcaster Software Studio(OBS)
In terms of free alternatives, OBS is probably one of the most famous streaming software. However, the initial setup will require more time and attention. Considered by many novice content creators for streaming, OBS is compatible with all major platforms.
Streamlabs OBS and StreamElements OBS.Live are also examples of customized OBS versions that are available. You can easily design your own layout, alerts, and much more using both these programs that integrate with Streamlabs and StreamElements respectively.
XSplit
One of the most popular paid solutions for broadcasters who want to test out professional software. In terms of ease of use, XSplit stands out.
vMix
For those of you who are considering becoming a professional streamer, we recommend you look into this option.
Those who are interested in taking a quick look at Twitch just to determine if streaming is for them can use Twitch Studio, Twitch's proprietary streaming software, which is in open beta currently. You will need another software solution if you wish to broadcast simultaneously to other platforms apart from Twitch.
How To Choose The Right Hardware For Broadcasting
Twitch streaming is largely dependent on hardware. Some of the most popular broadcasters on both YouTube and Twitch use the most expensive gears, but there are several simple and affordable alternatives available to these expensive solutions. Consider the following when opting for your streaming hardware:
Computer, Console, Or Smartphone
Computers, consoles, and smartphones are usually the central components of any streaming setup. Among the options available to gamers are consoles, such as the PlayStation 4 and Xbox One, in addition to smartphones. With these devices, you don't need to worry about additional software and hardware, so you can enter the streaming world without any hassle.
Further, don't fret if you're not able to purchase a gaming PC at the moment as processors and graphics cards are the two most important components, which both consoles and desktops have.
Microphone
In order to keep your viewers engaged and interested in your content, it is extremely important to speak in a clear and smooth manner. Despite the fact that you can get started with the built-in microphone in most laptops and headphones, streamers should spend money on microphones. It is advisable to get a separate microphone as the audio quality of their streams is extremely important.
There are several popular choices, ranging from the cheapest to the most expensive:
Elgato Wave 3
HyperX Quadcast S
Audio Technica AT2020
Razer Seiren Mini
Blue Yeti X
Webcam
In addition to verbal communication, non-verbal signals like facial expressions can complement your arsenal of communication tools. It is also a great way to enhance your streams with more depth and personality by using dedicated webcams. Webcams do not require capture cards and can provide good results. A few popular choices are as follows:
Logitech HD Pro C920
Logitech StreamCam
Microsoft LifeCam HD-3000
Razer Kiyo
Logitech BRIO
It may also be worthwhile for you to invest in a stream deck, green screen, proper lighting, and a hardware encoder. Although Streaming does not require these, it can certainly enhance the quality of your content.
Best Way To Stream Twitch
Twitch makes it simple and quick to go live. We will take you through the wildly popular devices you can use to live stream on Twitch. Let's have a look at them!
How To Twitch Stream From Your PC or Mac
In order to stream from a Mac or PC while gaming, you'll need broadcasting software. To help you get started on your PC or Mac, Twitch has now come up with its own free application – Twitch Studio. Many other free options are also available, such as OBS, which is compatible with both PCs and Macs. You can also find a Mac-native application such as Ecamm Live which is paid.
From the official website of Twitch, download Twitch Studio.
Log into your Twitch account after you have installed the software on your PC or Mac.
Then the onboarding team will set up an automated prompt for you that will make sure you are guided through the process of connecting your microphone and webcam easily.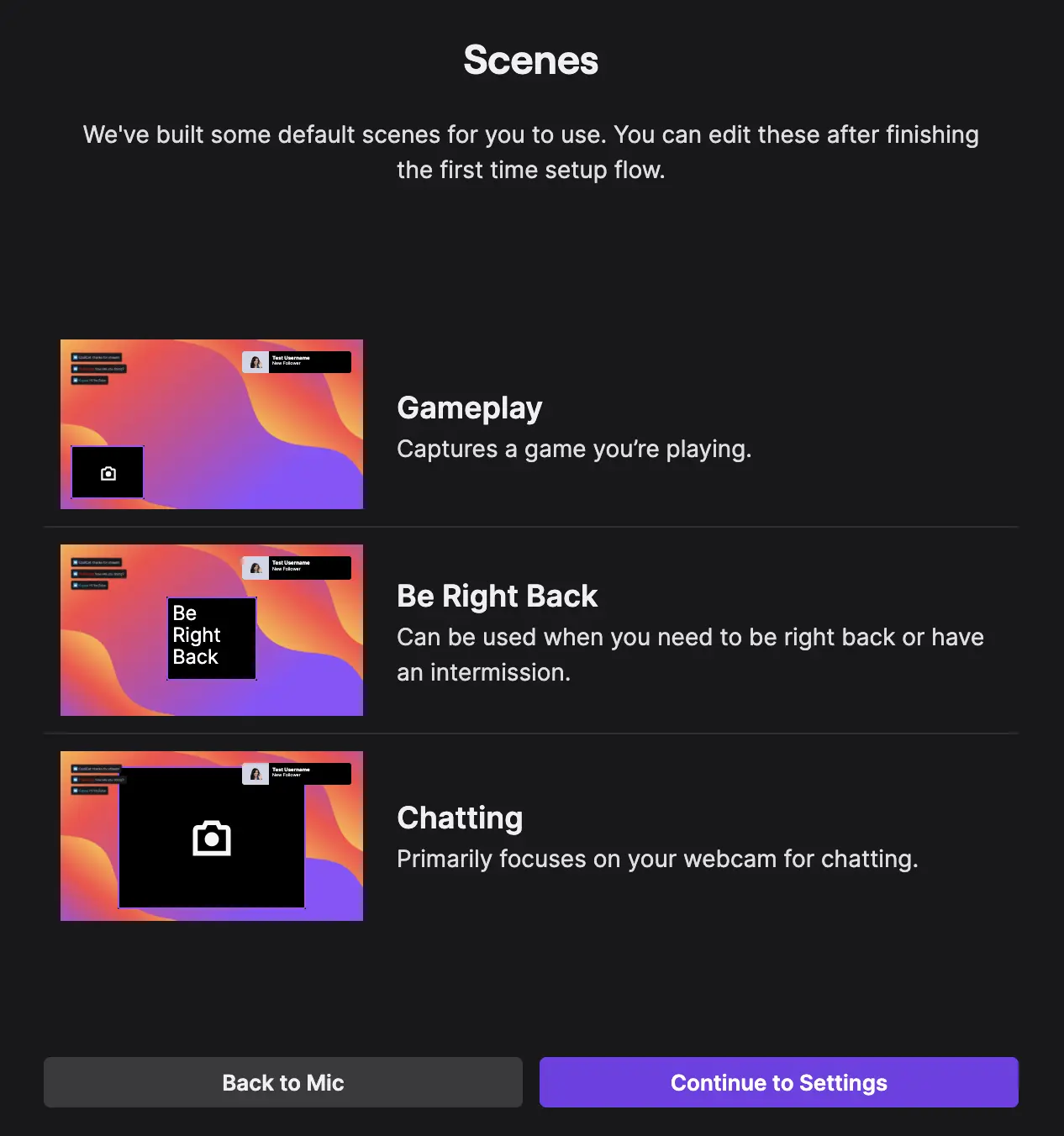 Moreover, Twitch Studio can help you customize your stream with changes to the scene and settings, so you can make your stream unique. Additionally, users can use the application to set up Twitch notifications and chat boxes to get notified while they are streaming.
If you want to use these options during your Livestream, consider experimenting with them and changing them once you're comfortable using them.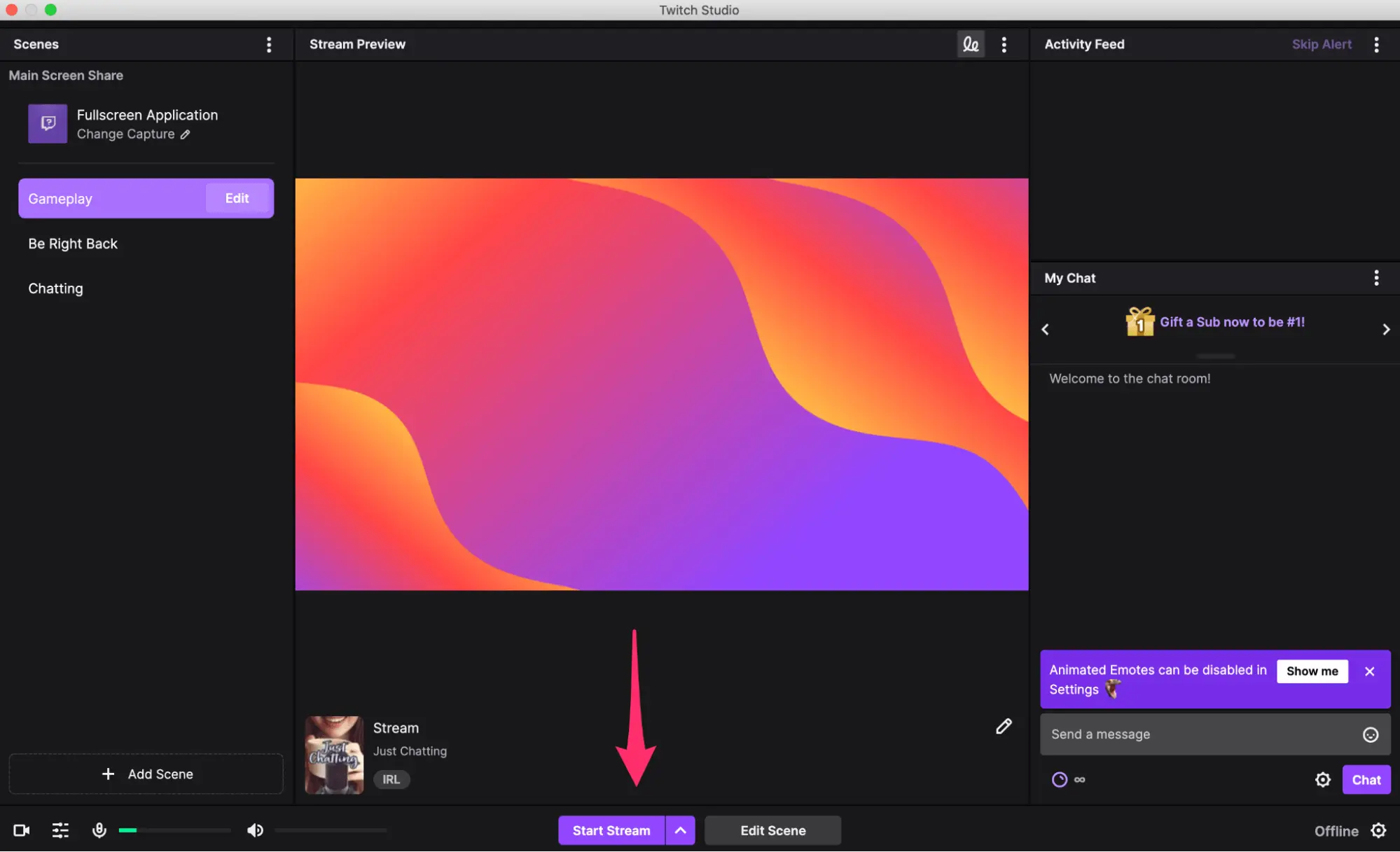 In Twitch Studio, click the "Start Stream" button, which is located at the bottom when you are prepared to stream.
Streaming is as simple as choosing the category, entering the title of the livestream and clicking "Go Live" to begin a live stream. Whether you are going live with a game or you are just going live for a chat stream, the above-mentioned procedure will provide you with the knowledge you need to broadcast how to stream on pc twitch immediately.
How To Stream To Twitch From A Smartphone
If you want to broadcast game content on Twitch from your smartphone camera, then you'll have to use third-party apps if you want to stream your gameplay. The reason is that Twitch's mobile app allows you to broadcast from your smartphone's camera only.
Follow these steps to live Twitch stream from your smartphone.
From your smartphone, go to the App Store or Play Store and get Twitch installed.
To log in to the app, you have to go through Twitch's 2FA process.
From the left-hand side of your screen, click on the icon of your profile image.
As a result, you'll see a "go live" button on the screen. Click on "Go live".
In order to live stream to Twitch via the app, you must grant Twitch access to your camera as well as your microphone.
Before finally going live, follow these simple steps.
You can name your stream anything you want.
Use the dropdown menu to select a category of content.
Decide what kind of camera you wish.
Use apps on your phone to share a link to your stream.
You are now ready to begin streaming content. Just press the "start stream" button to be live.
How to Twitch Stream from PS4, PS5, Xbox One, and Xbox Series X/S
Fortunately, you do not need to rely on any third-party hardware or software for broadcasting as you can broadcast directly from your PS4, PS5, Xbox One or the Xbox Series X/S by using your console.
With a PS4 or PS5, you can stream your gameplay by pressing the button on your controller labeled 'Share'. Then select Broadcast Gameplay and Twitch as the streaming site.
By logging in to your account you will be able to go live with just a click of a button.
Additionally, streaming via Twitch on the Xbox One or Xbox Series X/S is pretty straightforward.
However, it is necessary to download Twitch's free app from the Xbox Store to stream live.
You can stream whichever game you want once you have the app installed and logged in.
From your main menu, choose Broadcast in the Twitch app after opening it.
Luckily, Microsoft and Sony also allow you to broadcast your webcam using either the PlayStation Camera or the Kinect, and you can chat directly from your headset. There is no customization option for console streaming like there is on a PC, but it is a great way to start building your Twitch audience and testing Twitch's waters.
How To Edit Twitch Stream
When you launch your game, there is a static background for display. This isn't really appropriate for gameplay. This is due to the fact that Twitch Studio captures gameplay when a game is being played, the background will be blank if no game is running.
To find out more about this feature, while the gameplay scene is active, click the Edit scene button situated at the bottom. You will be able to access all of the video sources and layers that have been added to this scene. Twitch Studio will detect it automatically and show it to the viewer.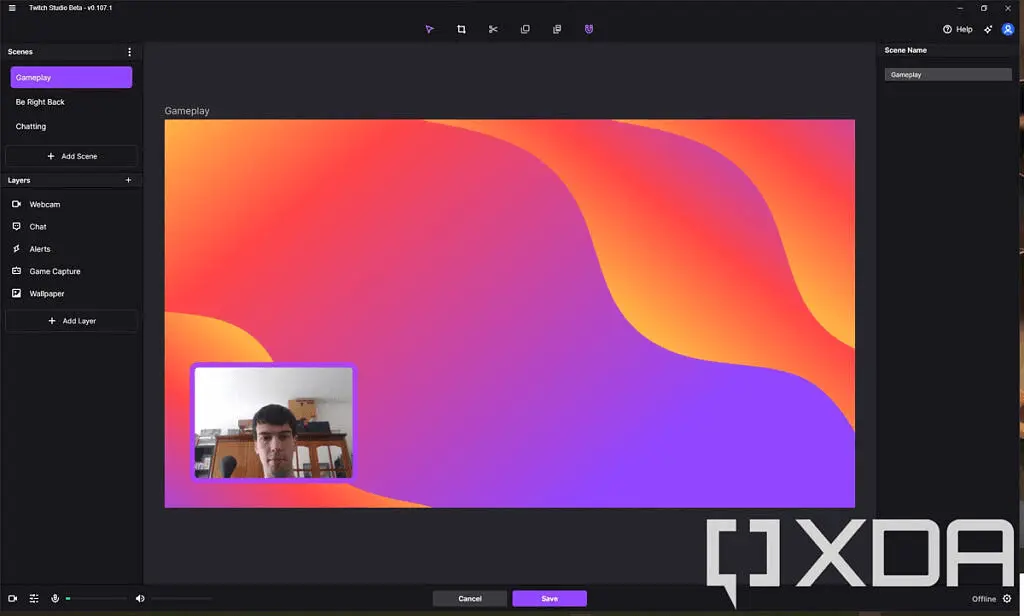 Your webcam, game capture, alerts, and chat will be displayed by default. It should be noted that if you do not wish to stream game playing at the moment, or if a game you're streaming is not yet detected by Twitch, you can easily add a new layer of video.