Twitch is one of the famous streaming service providers. Many people are starting their channels on Twitch. One of the most crucial parts of starting a new channel on Twitch is to gain followers. At the start, everyone is curious to gain more and more followers. They follow any guideline that can provide a significant impact on gaining followers. But, unfortunately, some strategies are not best for the long run.
The primary purpose of every small streamer is to gain followers or to get famous. But, I recommend focusing on the quality of followers and maintaining channel worth instead of gaining thousands of followers. In this guide, I will share ten things that you need to know about gaining Twitch followers.
Now in this guide, I will share the things that you need to know while gaining followers. I will discuss the dos and don'ts that every beginner needs to understand.
Make a Remarkable Profile
For all beginners, it is recommended to focus on making a unique profile that includes a proper logo, cover image, and proper bio. Make sure to be very clear in writing about all essential information. This will impact a lot in gaining a follower. I don't recommend going with a simple channel name, as it will not make a follower attractive towards your channel.
Presentation matters a lot, so it is better to make a unique profile. You can take help from the big streaming channels. Look into their profile and focus on what is attracting you. Come with a unique logo and cover photo.
Niche is playing an essential role in your channel. Make sure to write about the niche in your profile bio. It will help the related followers to follow you, and also, it will be easy to target a specific audience. If you want to switch your niche, make sure to use specific tags and reasons for switching your niche.
Use tags of your niche while streaming, and make sure to use the trending tags as well. It will help your stream to come in trending, and it will boost your channel. The niche must be attractive that attract followers.
It is one of the best tips I am sharing here to gain more followers. But don't go off-topic. Make sure to make content related to the topic. It is advised to focus on the attractive streaming topic that will grab followers' attention. The content is one of the keys that attracts followers. Good content will automatically help you in gaining more followers.
Many new streamers follow the trending topics and try to make the content on it. It is not a good practice because big streamers are already delivering good content on trending topics. It is better to work on intellectual topics or stick to your niche.
Plan or Schedule your stream
Consistency is what makes you famous. Be consistent with your Streaming. Random Streaming is a big no for the small streaming services. It is advised to be consistent and schedule your stream. Scheduling will help the follower to know about the exact time of Streaming.
It is a pro tip for new followers that make a schedule and stick to it. Make sure to stream every scheduled day and plan it properly—Mark the key points discussed in the Live Streaming. Please don't go for random live streaming sessions because it may disappoint your followers. Prepare it well before going for live Streaming.
It is also a tip to increase followers. Make sure to build your streaming community and also interact with the followers through chat. By building community, I mean to post related to your niche and to stay active on social media networks. It includes different groups in which you can share the link of your Streaming and build a community, and you can also raise a question & answer session for the followers.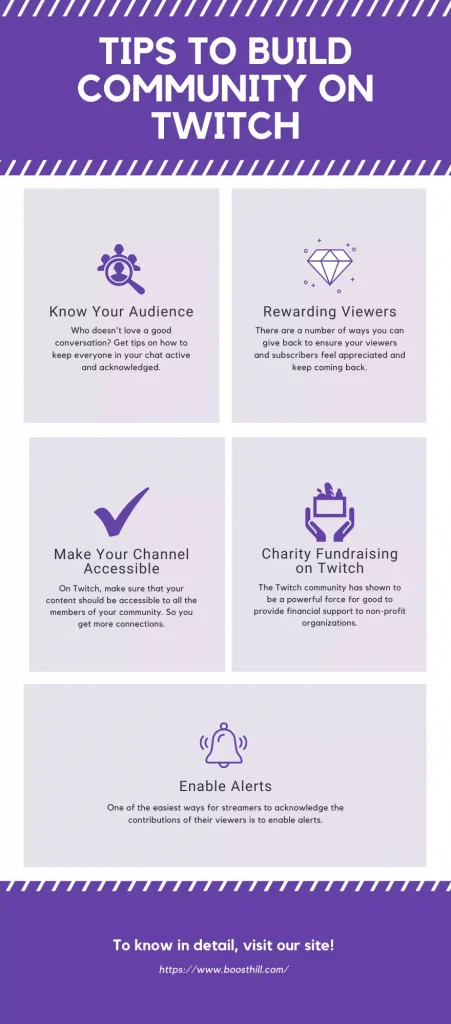 In the end, Streaming is exciting. Just be yourself come with some new ideas, and don't try to copy anyone. Yes! You can take an idea but mold it in your way. Being you is what can distinguish you from other streamers. Make sure to focus on your creativity. Create your content. You can take an idea from other streamers, but your content must be original.
Many new streamers get confused in delivering their unique idea in Streaming. So, I must say try it once. It is confident. Every big streamer starts with this first step. Write down all the points that you want in your live Streaming.
Social media, i.e., Facebook, Instagram, etc., plays a vital role in increasing followers on your Twitch channel. Make sure to gain followers from social media platforms. Share your Streaming with your social media accounts and ask your friends and family to re-share it in different groups.
Social media will help you in gaining many followers. It's a pro tip for the new streaming channels to focus on the groups of their same niche. It will help them in getting into the debate of identical niches.
To start an enjoyable stream, make sure to invest in the setup. The great setup of Streaming will also attract many followers. The investment includes investing in good quality microphones and computers with the latest technology.
A good setup is a must for good Streaming. Invest in the setup but don't overspend. Many new streaming channels spend a lot in the setup and later on do not gain followers. Make sure to focus on which accessories are much required in the beginning. I don't recommend going for high end branded setup at the start.
Making your stream presentable is also one of the tips to increase your followers on your Twitch channel. For this, you can keep all the things organized with the main focus of on-screen graphics. Follower and donation notifications can make your stream more appealing. You can take the idea of making your Streaming presentable from big streaming channels.
The limited-time of Streaming
Many streamers start their stream for a more extended time. It is not a good practice as it will extend the bounce rate and lose followers. Make sure to plan to stream for a decent time that is not boring for the followers.
Come with a well-prepared streaming session every second. It will help you in utilizing time and also help limit the streaming time.
In gaining Twitch followers, people usually take many steps that are not good for the long run of their Twitch channel. Focus on the ten tips that I shared with you and skip the steps that I mentioned. It will be effective for gaining followers on your Twitch Channel.