Twitch is one of the top-rate streaming services provided. When it comes to streaming on Twitch, more followers lead to more fun and more excitement. Now many of you are wondering how to grow a Twitch channel. Sit back with a hot cup of coffee as here I am sharing 20 powerful ways to help you grow your Twitch channel for 2022.
Here I am listing 20 powerful ways that will help you in growing your Twitch channel.
The primary and top-of-the-tip that will help you gain more followers for your Twitch channel is to schedule the streaming. Don't go for random posting. Be consistent so that followers can tune in at the exact time. This tip mainly works for small streamers.
Online, your consistency is what makes you stable and trustworthy for your followers. Followers always want consistent content, and if you are doing that, it will enhance your followers. Make sure to come up with an idea when and on which day to stream.
Interaction with Followers
Make sure to make a connection with your followers. If there is no connection with your follower, it may not be comforting for both of you. You can interact with your followers through chat and by showing some personal interest.
Streamers need to make sure that their audience is engaged with their content. For engaging, you can start talking about the game, like talking about the aspects of the game. Make sure that all your audience is a stick and enjoy the content and services.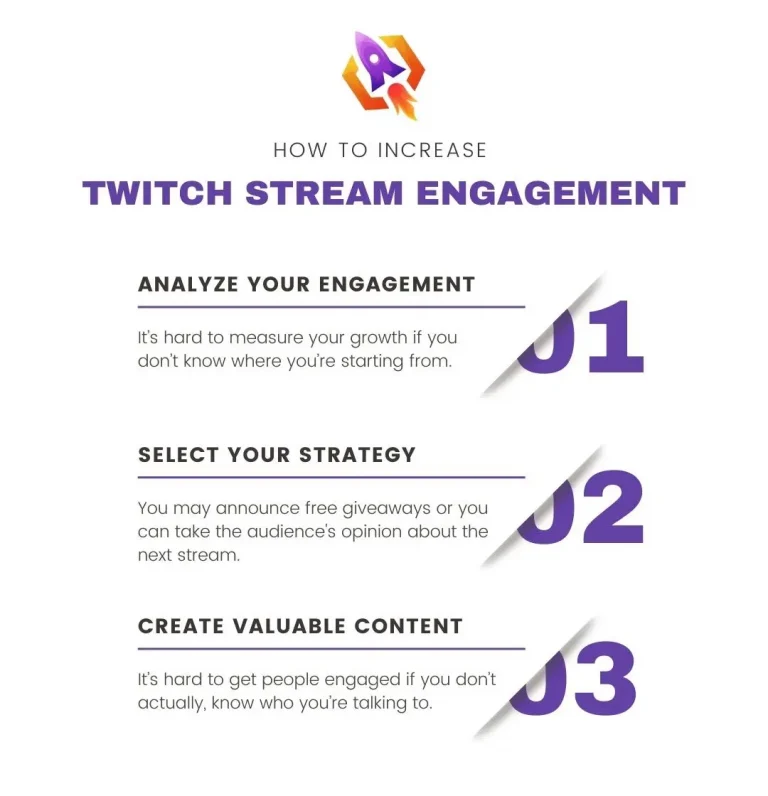 Making your stream presentable is also one of the tips to increase your followers on your Twitch channel. For this, you can keep all the things organized with the main focus of on-screen graphics. Follower and donation notifications can make your stream more appealing.
Make sure to not go for many followers at the start. I recommend all small streamers connect with their followers. That connection will help you in getting more followers with time.
Don't Stream for Too Long
Many streamers start their stream for a more extended time. It is not a good practice as it will extend the bounce rate and lose followers. Make sure to plan to stream for a decent time that is not boring for the followers.
Social media is playing a vital role in increasing followers on your Twitch channel. Make sure to gain followers from social media platforms. Share your streaming with your social media accounts and ask your friends and family to re-share it in different groups.
To start an enjoyable stream, make sure to invest in the setup. The great setup of streaming will also attract many followers. The investment includes investing in good quality microphones and computers with the latest technology.
Make sure to expand your streaming by taking help from YouTube. From YouTube, your Twitch channel has ample chances to get more attention and more followers as well. Or you can buy Twitch followers to have a jump start without wasting any time.
Now it's all about choosing games wisely. Make sure to choose the games that are easy to target and also in trend. It will increase your followers. Competitive games are not easy to stream as many big streamers are already in that niche. 
Make a network with other streamers
One of the best tips to promote your streaming is to get a follow back from a streamer. By getting a follow from a good streamer, you will get exposure to many followers.
This tip works wonders. Make sure to re-watch your VODs from the viewer's perspective. Also, find out the flaws and try to fix them up.
Before establishing your Twitch channel, make sure to work a lot on the niche. It is the first essential step, and according to many experts, niches make you rich and poor. So, it's a tip to choose a niche wisely.
Followers get attracted the most toward giveaways. Make sure to arrange giveaways for your followers. It will expand viewership and as well as your followers.
Ask Questions to your Followers
Arrange Q/A sessions. It will give a positive vibe to all your follower and viewers.
Going to official meetups will also grow your brand and channel. Having more connections and followers will lead to receiving more donations.
It is a pro tip to always for valuable content. It will boost your followers and viewership. Stick to the niche, don't prolong streaming.
Watch other successful streamers
Look at other successful streamers around you and analyze what they are providing in their streaming services.
In the end, streaming is exciting. Just be yourself come with some new ideas, and don't try to copy anyone. Yes! You can take an idea but mold it in your way.
Getting followers on your Twitch channel can only be possible with some of the tips shared in the article. By following the tips and providing valuable content, you can gain many followers. Don't lose hope; keep on making good content with consistency.