If you're looking for tips to create captivating intro videos, you probably know that videos have the potential to push brands in the right direction. Of course, videos are flourishing, and they're bringing in huge returns of investment for businesses.
But only if they're created and used the right way!
According to experts, video traffic is set to grow four-fold from 2021 to 2022. That's great news for organizations already using videos in their marketing strategies, but that's also a challenge in and of itself.
The statistics and the data proving that videos are here to stay won't matter if people don't watch your video after a few seconds. And that's where the catch lies.
What is an Intro Video?
Intro videos or video introductions are the very first thing your viewers see when your marketing video starts. These videos can either make or break your path to success. They set the expectation of the viewers even before they start watching your main content.
They attract the ideal viewers, repel the wrong ones, and get audiences into watching your content whenever you publish it. Creating a well-done and engaging intro video is necessary to captivate your audience.
Top 7 Tips for Intro Videos
To create intro videos that stand out and motivate viewers to get back to you, here are some helpful tips:
1. Stick to the Basics
You cannot just attach a good title sequence right at the beginning of your marketing video and get going with it. Actually, you can do that, but it won't help you or your viewers in any way.
Work on the basics first. You must plan the content of the intro just as you plan the main content of the video. Regardless of your method of creating the video, sticking to the basics will always help you out.
Are you a complete beginner in this field? Then get your hands on the right intro maker. This way, you'll have access to a ready-made template that you can fill in with your content. You even get to make use of a stock library filled with images, videos, and filters for your intro video.
2. Remember: First Impressions Matter
First impressions do not just matter; they're everything for your business. Put yourself in the shoes of your target audience and picture how much you love those YouTube videos with attractive intros. Don't you?
They seem to hook the audience right from the beginning, and even before you know, you get to the end of the video. Aim for the same thing with your content. Create your introduction so that it has people lingering on it right until the end.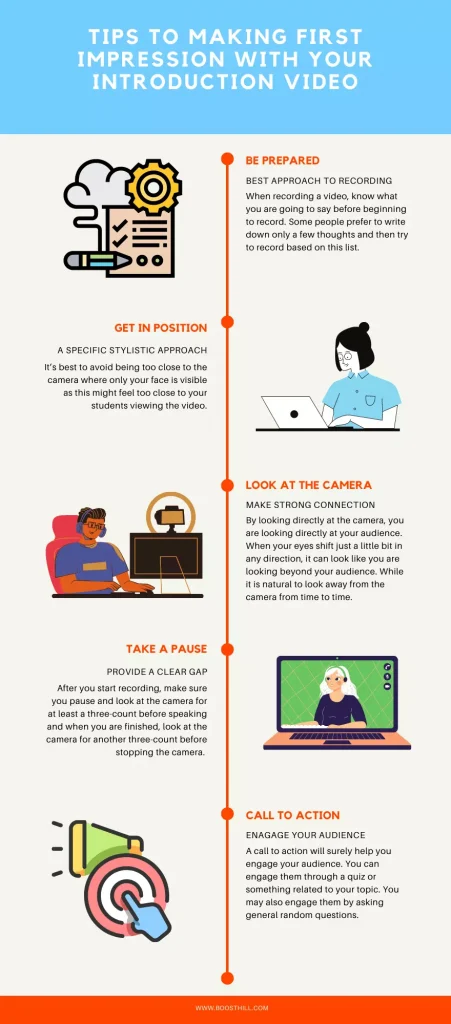 3. Offer a Personalized Visual Experience
Videos are about the best visual experiences, and your intro video is no exception. Consider your intro video as a medium for meeting your potential customers or clients for the first time. Obviously, you'd like to place your best foot forward, right?
You can impress them and gain their trust by offering them a personalized visual experience. Get them to watch something they like or something they want. Remember, there's huge competition online, and you must think of something outside the box.
Spark off an idea that gets people into staying and watching your stunning content.
4. Planning: It's Very Important
Whether it's for the main content or the introduction of your video, planning plays an important role. First off, come up with an outline of the points you want to include in your introduction video, then plan how you want the intro to appear.
Put together the animations and text you're looking to use. When you have everything in place through proper planning, you won't have to waste a huge amount of time editing and cleaning up your content.
Your plans for the intro video should include things like the text you'll be using, whether you'll use a voiceover, a picture, or a video of yourself, or if you're looking to use stock media from an online source.
5. Factor in the Duration of the Intro
Your video introduction will be a few seconds in length, but it'll play an important role in the success of your marketing video. In a way, it's essential to factor in the length of your intro video.
You can't afford to have a long intro these days, when people have short attention spans because of their busy schedules. Plus, long intros are boring. On the other hand, your intro can't be too short because the viewers might not understand what you're trying to convey.
Specifically speaking, your intro must be just the perfect length—not too long or too short. Aim to make an attractive, informative, and catchy intro of just five to ten seconds.
6. Look out for Inspiration: It Helps!
The web is jam-packed with free resources you can use for making your video introduction. No, it's not always necessary to use YouTube for this purpose. Other platforms can also help you get an idea of what your intro video should look like.
Do you want to publish your video on YouTube? Then check out the platform to find what the other creators in your specific niche are doing. Once you get hold of the right resources, use them wisely.
Make your video accessible for everyone. If needed, ask a third party to take a look at your video and offer proper feedback. After all, you want to impress the viewers and offer them a warm welcome, right?
7. Create Intros to Reuse and Recycle
Right from the initial stages of making an intro video, you must aim to make it in a way that enables you to reuse and recycle it on different social media platforms. Of course, your video should be exclusive and recognizable, but this doesn't mean that you can't repurpose it for your YouTube channel or your video series.
Many organizations make this blunder and then spend a lot of time, energy, and resources on creating brand new video introductions.
Final Thoughts
Knowing the right way to make amazing intro videos is a skill not many individuals possess. Putting in the time to hone this worthwhile skill will help you apply the same to making video introductions and super interesting presentations as well as other forms of content.