Video streaming platforms are getting famous day by day. Some new streamers made the competition tough by using new techniques and using of new technology and extraordinary accessories etc. Such platforms allow followers to share videos from all over the globe.
Videos can range from fitness, cooking, music, and many more. The top live streaming trend is of games in which the streamers are arranging the games on live streaming and many followers follow it. Some old games that are still popular in live streaming include Call of duty, PUBG, and Fortnite, etc.
In this guide, I will share the top 5 video streaming platforms in 2022 a detailed comparison. Some big and new names are introduced in the world of live streaming. 5 of the top main live streaming platforms are listed below:
USTREAM

Mixer

Twitch

Google

Facebook
A detailed comparison of 5 big live streaming platforms are given below:
In this guide, I am giving a detail comparison of 5 video streaming platforms of 2021. Twitch is the leading streaming platform because it is not specific for only gaming video streaming. It hosts all sorts of videos.
| Platform | Parent Company | Launch Date | Languages | Total Visits | Approx. Duration | Referrals Visits |
| --- | --- | --- | --- | --- | --- | --- |
| Twitch | Amazon | 6 June, 2011 | 29 languages supported | 842 million | 6 minutes | 1.53% |
| YouTube Gaming | Google | 14 February, 2005 | 100 languages supported | 25 billion | 21 minutes | 1.36% |
| Mixer | Microsoft | 5 January, 2016-22 July, 2020 (end) | 20-30 languages | 18 million | 3 minutes  | 3.66% |
| Facebook Gaming | Meta/Facebook | 26, January 2018 | 100 languages | 22 million | 12 minutes | 2.98% |
| Ustream | IBM | 1 March, 2007 | More than 100 languages | 4.4 million | 2 minutes | 7.35% |
Twitch platform is new in the streaming world, but with millions of views and viewership, it is going to be the best one so far. The best part of Twitch is that one can upload any kind of content, i.e., fitness, cooking, beauty, fashion, gaming, and much more. It hosts all sorts of videos. It supports 29 languages that also include 10 European languages. Standard systems, i.e., Windows, Linux, and macOS, are supported by Twitch. If you need to only watch videos, no registration is required. But, if you want to upload any video and come for live streaming, you need to register yourself to Twitch. $4.99/ month is needed to pay for the monthly subscription on Twitch.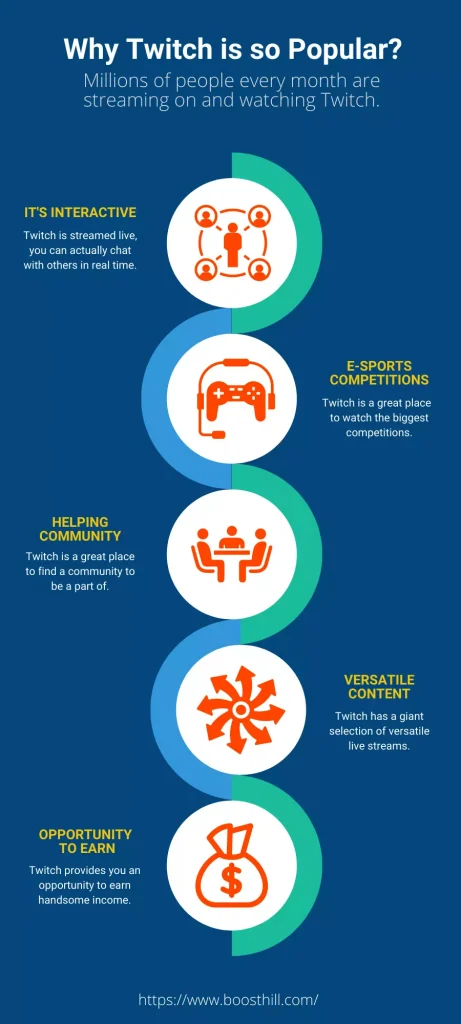 Top 5 Most Watched Twitch Channels
People are creating many channels on Twitch and come up with different content on Twitch. The main reason people liking Twitch more is the diversity it supports. As Twitch hosts all types of videos, so it gives room to the new streamers to share different content.
Here I am sharing the list of top 5 most watched Twitch channels. If you are a new streamer, you can take idea from them to set up your streaming channel.
Ninja
Shroud
TTfue
Loltyler1
ESL_CSGO
Tip: All news streamers can follow the top trending streaming channels on Twitch. It will help them in setting their own channel or gaining followers on Twitch.
2. YouTube video Gaming (Google)
YouTube video gaming is only limited to gaming. You can only stream the gaming content. So, if you are a gamer, it's a big yes to go for Google. It supports 100s of languages. YouTube supports Windows, Linux, and macOS. Other than that, you can create and upload the content from your smartphone as well. On YouTube, signing in is totally free. Sign in with any Google account and upload your videos and come for live streaming.
YouTube Video gaming channel is providing a platform to the gamers. The best part is that it is absolutely free. One can easily upload video and also share the live game streaming video. All gamers can use this platform for live streaming of games.
Top 5 most watched YouTube Video Gaming
Many old games are still in trending and people love to watch the live streaming of such games. The only reason the streamers focus on the trending game is to gain more and more followers. Top 5 most watched YouTube video Gaming are:
Fortnite
Grand Theft Auto V
Roblox
Garena Free Fire
All these games are most favorite to watch on YouTube. The gamers can easily took the idea from streaming channels to promote more games on their channel.
The mixer was also more into the live streaming of games, but to some extent, it also supports a video streaming service. The mixer is not providing any streaming service since 2020. In Mixer, you can sign in for free with your Microsoft account. If you don't have an account, create it on outlook.
Mixer was one of the top leading video streaming service provider, but it shutdown in 2020. The main reason of shutting down Mixer was the intensive competition and high cost of maintaining employee turnover and also lack of community building.
Top 5 Popular Mixer Streamers
Here I am sharing the list of the top 5 mixer streamers at that time: 
Ninja
TheGrefg
Ship 
Xbox 
JaredFPS
All these streamers are at the top but unfortunately, Mixer is not existing anymore. But, still, many new streamers can take the idea of outlook and how to start with their streaming channels.
As the name says, the Facebook gaming platform is only to support the gaming video live streaming. Facebook gaming platforms are also supported by Linux, Windows, and macOS. It also supports streaming using mobile devices or any other certified broadcasting device other than PC. Live gaming video streaming on Facebook is also free of cost.
Many people are not aware of that Facebook is also promoting the game video streaming. Many big gamers are now involved with Facebook. There are many top streamers that move from Twitch to Facebook. Facebook community and groups help the streamer to gain more followers.
Top 5 Facebook Gaming Streamers
Here is the list of top 5 Facebook gaming streamers that are live streaming different games: 
Kingslayer 
Corinna Kopf
Darkness429
DooM49
Alodia Gosiengfiao
These are the big names in streaming gaming videos on Facebook. One should follow them and get inspiration and ideas for their streaming gaming videos.
The content of Ustream is not restricted to only live video games. The platform offers a wide range of live videos that include politics, sports and it also supports live videos from NASA. Podcasts are also streamed daily on Ustream. More than 100 languages are supported by IBM. Ustream offers a free trial for 30 days with access to advanced features. The monthly plan of Ustream goes from $99-$999 with three different categories silver, gold, and platinum.
Ustream come up with different channels. One need to buy their subscription. It includes different channels of different interests. It is a vast platform that support more than 100 languages. It is bit expensive but worth getting the subscription. 
Here is the list of the top 5 Ustreamers that come up with different packages. One can choose the package and enjoy 100s of channels. 
FuboTv
SlingTV 
Philo 
DirectTV Stream 
Hulu TV
One can select the package and enjoy different channels that include informative, entertainment, science, technology, and much more.
In this article, I shared the direct comparison of 5 big live streaming platforms. Mixer ended in 2020, but we still mentioned it because it was one of the best duration. In short, if you are a gamer and want to go for the live streaming of the game, YouTube Gaming and Facebook Gaming platforms must be your priority. The reason is their time duration and millions of viewers that will give a boost to your streaming.
Twitch and Ustream are kinds of intellectual, and they are not only bound for gaming. You can customize and come up with any live streaming video, either fitness, cooking, etc. You can create your channels and gain followers by giving unique content. The competition in live streaming is getting tough day by day. The internet needs good content, so if you are creative, then what are you waiting for?
Join any big live streaming platform, show your talent and earn well.