This guide will show you how to change your name on Clubhouse: username, legal name, or an alias.
When you join the Clubhouse, the first thing you will notice is that this app encourages you to use your legal name. Also, you are only allowed to change your name once within the Clubhouse. This makes changing your name in Clubhouse a serious matter.
Let's take a look at this guide to gain a better understanding.
Can we change the Clubhouse username?
Yes, you can change your Clubhouse username quite easily. The process involves simple steps without requiring any confirmation by email or phone number. You can change your legal name, username, and alias in the Clubhouse database. Let's start with the legal name.
How to Change Your Legal Name on Clubhouse
Here is how you can change your username on Clubhouse:
Method 1:
Sign in to your Clubhouse account.
Go to your profile page.
A gear icon will appear on the top-right corner; tap on it.
In the new window, tap on your name card. It will you take to another menu.
The account window will appear. Tap in front of "Full Name."
Update your name by filling out the text boxes.
Method 2:
After logging in, click on your profile picture at the lower-right bottom of the screen.
Tap on your name.
A new window will pop up. It's like an alert window; tap on "Correct my legal name." As you can see, the Clubhouse app encourages users to have real names.
The new box will appear where you can update the name.
How To Change Your Username on Clubhouse
Similar to legal, changing a username also involves two different methods.

Method #1:

Changes to a username require the same steps as for a legal name. Go into your profile page by tapping on your profile picture.
After your Clubhouse profile loads, click on the username below the legal name.
A new window will pop up. Put your username after "@" in the text box and tap update.
Method #2:
By tapping on the gear icon on the profile page, you will be taken to the settings page.
In the Settings, tap on the name card that will take you to the Account window.
Tap on the Username.
Type a new username in the text box and update it.
Change a Creator Alias on a Clubhouse Profile
You can add and change your alias on Clubhouse. Alias is something you are known for, like a stage name that makes it easy for people to find you on the Clubhouse app. The process is the same for changing the real name and username. Let's have a look briefly into it.
How to Change Name on Clubhouse: 2 Easy Methods
Method #1:
Go to your profile page and tap on your legal name.
In the dialogue that appears, tap on Add my creator alias.

Add on your alias in the text box that appears on the next screen.

Hit update once you have created the alias.
Method #2:
The second way to change the alias is by going to the Settings by tapping the cogwheel icon on your profile page.
On the settings screen, click on your name card.
Tap on Creator Alias in the Account screen.
On the next screen, fill up the name in the text box and hit Update.
Why Do I Have To Change My Username In The Clubhouse?
Changing names is pretty normal among social network users. You may need to change your username because of the following reasons:
Doesn't describe you well
Too long or hard to remember
You spelled it wrong
Related: How to Create a Club on Clubhouse

Do I need to use my real name on Clubhouse?
Clubhouse encourages its users to have real names so that it can provide authenticity to the accounts. Further, it can help prevent misinformation spread, cyberbullying, insulting others, and so on. Nevertheless, this does not imply that there are some strict rules regarding usernames; you can choose whatever name you like.
How Often can you change your Clubhouse username?
Clubhouse allows users to change their usernames once in a while. Make sure you choose the right name that will last for a longer duration. Click "Looks good" when you are finished changing the username.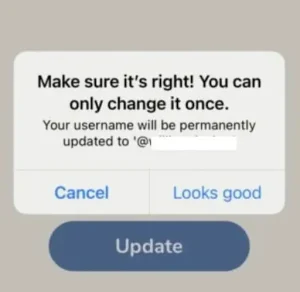 Conclusion
The purpose of this article is to help the user learn how to change the name on the Clubhouse app. Being a new social app, Clubhouse users may feel at a loss while trying to do simple tasks, like changing usernames.
This article explores all the possible ways to change name, username, and alias. These simple steps are easy to follow and get the job done in a few clicks.