The Clubhouse app is making people frenzy, and its popularity is increasing each day. Still, some may not be fans of it and end up deactivating their account. This "How to delete Clubhouse account" guide is especially for those people. 
You can delete your Clubhouse account permanently by selecting "Deactivate Account" in the account settings.
We will also cover how to permanently delete data on Clubhouse and more in this blog. Keep reading!
How to Deactivate a Clubhouse account
Sign in to your account and tap on your profile picture on the bottom-right side.
Tap on the cogwheel icon on the top-right side.
The settings page will appear. Tap on your name card to get to Account settings.
Select "Deactivate account" at the bottom of the page.
After reading the deactivation settings, tap on "I Understand. Deactivate Account."
How to Delete Your Clubhouse Data Permanently
Deactivating the account doesn't mean your data is also removed from the Clubhouse database. Before starting, it is essential to review the company's privacy policy to understand how your personal data is handled.
Here is how you can access Privacy Policy on Clubhouse:
Go to your profile page by tapping on your photo.
Tap gear icon.
Select Privacy Policy.
You can also view Clubhouse's privacy policy online.
What is in Clubhouse's Privacy Policy
The Privacy policy holds critical information about how the app gathers, utilizes, and shares personal information. In the sections Deletion and Correction, Objection to Processing, and Withdrawl of Consent, you are given a choice to ask the company precisely what to do with your information.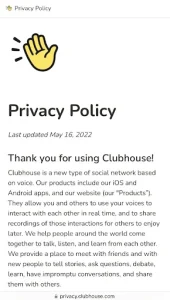 Why Can't I Delete My Clubhouse Account?
Some users may not be able to delete their accounts. One of the reasons is that you are the only admin of the room/club. Before deleting your account, ensure that your rooms or clubs have other admins.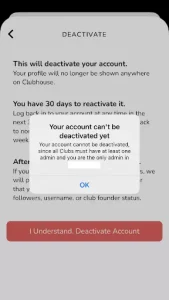 Conclusion
The Clubhouse app is evolving with time. When it first launched, deleting accounts was not that easy. You'd have to email Clubhouse requesting them to deactivate your account. 
This "How to Delete Clubhouse account" guide is in accordance with the latest updates. Now, you can deactivate your account in a few quick steps.