Can't create Clubs in the Clubhouse app? Check out this tutorial to learn how to start a Club on Clubhouse to enjoy private chats and more. Clubhouse is an audio chat that has been around for a couple of years. While started as an invite-only app, it has gained both popularity and furious competition, forcing the creators to make it available to everyone. On this app, users can join the public conversations on any topic of interest. The hallway features dozens of rooms with varying numbers of participants— listeners and speakers. However, if you prefer a more private chat, Clubhouse has you covered. Clubs let you do just that. With this Club feature, you can bring in multiple people to enjoy a more exclusive chat. You can set the rules and lists of topics if you want. These Clubs can be helpful in branding; if you own a business, Clubs can help boost your business outreach. Making the Club is easy and takes only a few minutes. Here is how you can also do it.
Create a Club on Clubhouse App: 3 Steps to Follow with Screenshots
You can make an unlimited number of Clubs if you want to. Follow these steps to get started:
Step 1.
Open your profile and look for a member section. Here you will find the Create a Club option; tap it, and you are done with the first step.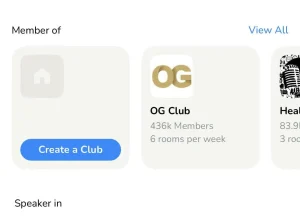 Step 2.
A new window will appear where you have to fill in details about your Club. While adding description and image is optional, giving a name to the Club is mandatory. You can also change whether the Club is public or invite-only. Moreover, you can also decide who can start chatrooms. It is better to select the topics beforehand.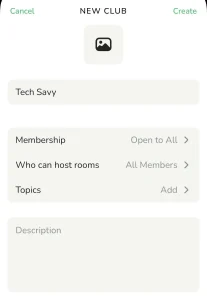 Step 3.
The app requires you to add people by inviting them. You can send an invitation to recommended members or share it through a direct link.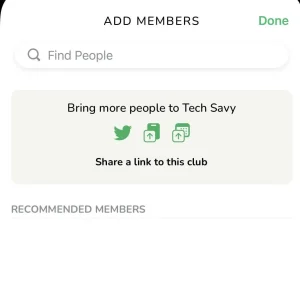 Just like that, you have created your own Club. Hurray!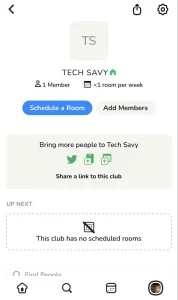 A Guide to Club Management
After creating a Club, you will be brought to the homepage of the Club. Here you can do certain things that we are going to discuss below. At the bottom of your Club's page, you have a list of all the participants. You can change the role of each member by tapping the icon next to their name. The following options are available:
Member
Leader (can start chatrooms and also schedule events)
Admin (has all the authority to choose the
Leaders and every other Club setting)
You can also kick out the member by tapping Remove from Club option.
There is a gear icon on the top left of the Clubhouse's homepage. It allows the user to customize various options, like editing the Club's rules, changing its description, adding more topics, and managing who can join your chatrooms and Club. Also, Club allows you to schedule an upcoming event: you can describe the event, set the date and time, and make it public or exclusive for the members. It will be notified to the chat members as soon as it even begins.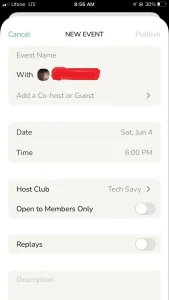 Related: Why Does The Clubhouse App Icon Change So Often?
How to Leave or Delete the Club
If you want to leave or delete the Club for some reason, tap the gear icon in the top right corner again. In the pop-up menu, you'll see the options to Leave Club and Delete Club.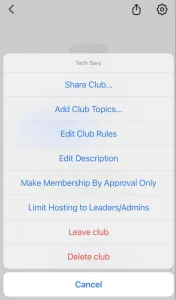 Conclusion
The Clubhouse is a relatively new app. When it was first launched, the Clubhouse app became a huge hit. It is still widely used, but its popularity has waned due to competition. At the start, the app wasn't flexible, and for simple tasks, you had to ask for help from customer service. Now, things have pretty much eased off, and you have lots of freedom.