Are you tired of using any code words to talk with a particular person in the chat room? Or do you want to send a personal message or details to someone? Well, it's all possible now. I know you might be looking for a way to do that process. Let me tell you that along with all the latest features, twitch has come up with a new trait, "whisper." You might have got some thought from its name. Hence, just like its name, this feature allows you to send any details or personal information to the people you want. Therefore, today I have covered all the essential information about this topic so that you can know every bit of this tool. So, without any further details, let's see what gift twitch has for you and how you can use it.
How Whisper Works?
It's pretty easy; it can be done no matter if you and your friend are on one different channel and watching streams. You have to do is give the command by writing their username. Well, I will tell you about that process in detail. Moreover, if you are afraid that someone will troll you for this, then you can easily block that person from invading your privacy. Undoubtedly, it's true that when twitch launches a feature, it's sure that there will always be a safe end to that.
How to Whisper on Twitch in Browser?
Whispering to some streamer on the browser is a bit daunting than whispering on mobile. This process requires some effort. Therefore, to make it simpler, I have shared comprehensive steps. Here are those threads:
"sign-in "to the twitch account and go to "channel" and "stream chat."
Once there, type "/w username" and write the actual name of that person in the username.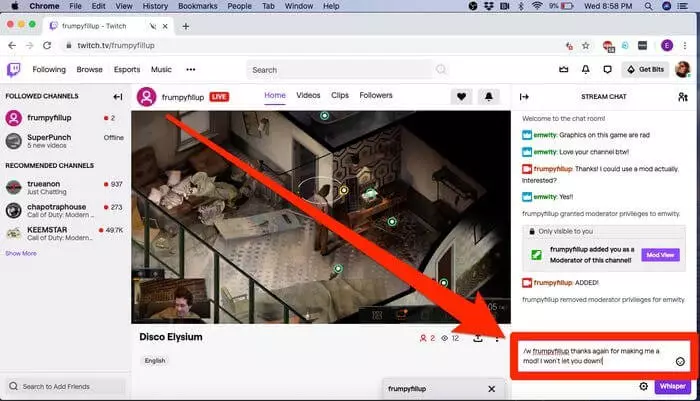 Send a message when you are ready to whisper.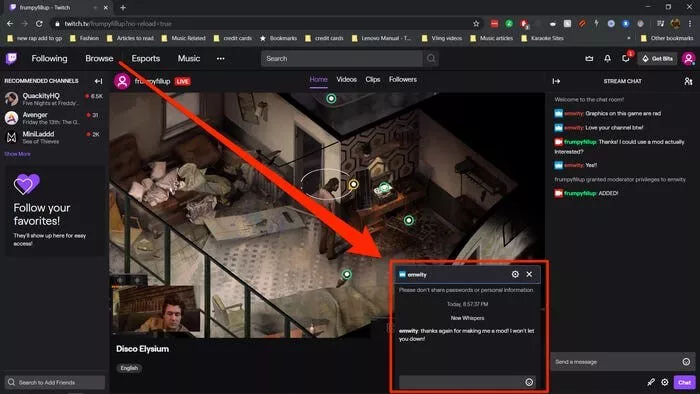 In the "new private chat" window will pop up where you can share all the essential details.
Related:
How to Add Friends on Twitch?
How to Whisper on Twitch Via Mobile App?
Well, this is easier than whispering on bowers. Only a few settings are needed to complete this procedure. Here is what you need to do to whisper on mobile.
Open the "twitch" app and find the "profile" on that username you want to whisper.

On Android, press on "whisper," and a chat window will pop up.

On the iPhone, press on "three dots" and choose "whisper."
How to Block Twitch Users on Browsers?
There are many cases where streamers get trolled for using a whisper tool, and it has affected their reputation. Therefore, to protect from this mishap, I have the best way to block certain users you are afraid of. This process is as simple and easy as pie.
So, let's see at those steps where you can stay away from those demotivators.
On the window where you whisper to someone, a small window also pops up there. Press on the "cog" sign of that window.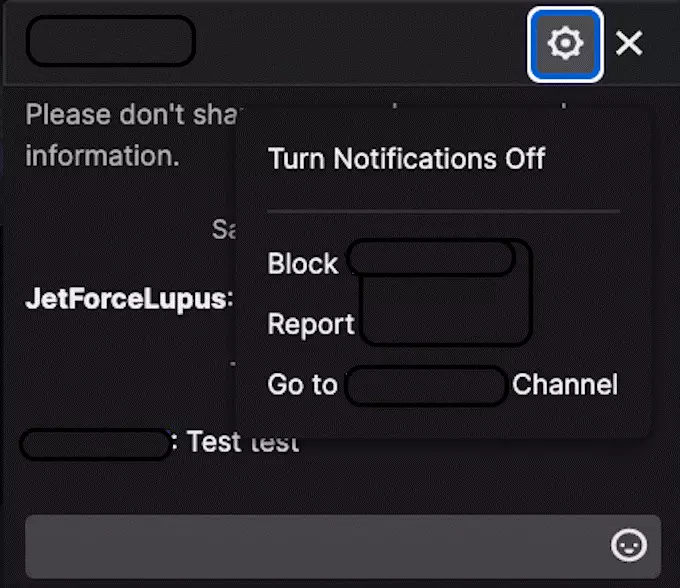 Press and choose "block @username", write the name of that person here, and he will no longer be a threat.
How to Block on Chat Window
Are you now afraid of the person you were whispering with? Well, it can be stopped right there by following some basic steps. To get this process done in a few seconds, have a look at what you have to do.
Choose the "user name" by clicking on the "three dots."
Choose "settings," then click on "Security and privacy" and "block whispers from strangers."

How to Block a Mobile App?
If you were whispering through a mobile app and someone is bothering you now, block them immediately. Here are those threads that you can follow to do the process hassle-free.
Tap on the "username" on the window where you were whispering.

Press on the window, and you will see the option of "block and report."

Click on "block," and you are done here.
How to Block from Whisper Window?
Did the person whom you were whispering with threaten you or harass you? Immediately block them while whispering with the most straightforward steps discussed below:
Choose "accounts setting" then "security and privacy."
Press on "block users from whispering."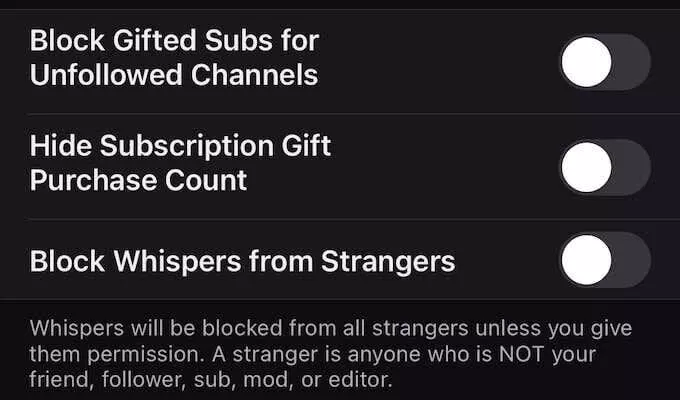 Frequently Asked Questions
It's simple
Go to "settings."

Choose" notifications."

Enable browser notification and "save."
Open a "twitch account."
Press on "avatar" and open "settings."
Click on "notifications "and choose "twitch."
Dialable the notification box if it's enabled already.
Well, yes, you can whisper with any streamer in a separate chat window by just giving them commands.
Conclusion
Sometimes you have to share personal information or tools with your fans or favorite streamers. Therefore, using whisper streamers is the best possible option. There are different methods where you can enable this feature either o a mobile app or on computers. Hence, take advantage of this feature and block anyone if they are causing any trouble. Above are those short strands that you can use to secure your reputation in the market.